Tougher Emissions Standards Driving Sales Higher at ISE
Monday, April 21, 2008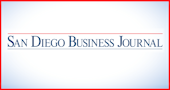 The newest San Diego Transit bus gets better gas mileage, spews out less pollution and isn't as noisy, but it's the most expensive bus in the system.
To create a prototype hybrid bus that runs on compressed natural gas, or CNG, and electric power, it took Poway-based ISE Corp. a year, and more than $1 million, but transit officials say it'll be well worth it if tests prove the technology is reliable.
"We have been in the process of retiring our old diesel buses and replacing them with cleaner and more efficient technologies since 1997. We have already replaced almost 75 percent of our fleet with CNG buses and will complete the conversion over the next five to six years," said Paul Jablonski, chief executive at the Metropolitan Transit System, which operates the regional bus network.
MTS maintains a fleet of 476 buses. The cost of new buses ranges from about $400,000 to $550,000.
While the $1 million for MTS' newest bus may seem steep, it's a drop in the bucket compared with what auto makers spend to design and build a new model, says David Mazaika, chief executive for ISE, which delivered the bus to MTS on April 10.
The idea for the CNG hybrid bus came from several regional bus systems. They asked if ISE could develop a hybrid system to enhance the CNG engine's efficiency.
Not About The Money
They wanted to meet tougher emissions standards mandated by the state, Mazaika says.
"California has probably the toughest air emission standards in the nation, but Southern California emission standards are tougher than the state's," he said.
The average mileage for a CNG-powered bus is about 2.8 miles per gallon, but that improves 20 percent to 35 percent when hybrid electric systems are applied, says Mazaika.
Hybrid CNG buses emit less nitrous oxide and carbon dioxide; have reduced brake wear; require less maintenance; and are quieter than regular CNG buses, says MTS spokesman Luis Gonzalez.
To share the costs involved in building the new bus, the project obtained funding from four agencies: $320,000 (the cost of an existing CNG bus) from MTS; $200,000 from the South Coast Air Quality Management District; $180,000 from the San Diego Air Pollution Control District; and $100,000 from the state's Air Resources Board. ISE invested about $250,000, bringing the price to $1,050,000, according to the MTS.
In January, the MTS board approved a five-year, $28.6 million deal with New Flyer of America, based in Canada, for 50 CNG buses that are 40 feet long, and 12 diesel-hybrid buses that are 35 feet long.
If the testing of the CNG hybrid goes well, MTS may purchase more, says Gonzalez.
Because CNG is a cleaner burning fuel than diesel, most California transit agencies are either converting to this type of fuel or other alternative fuels such as ethanol, hydrogen or bio-fuel, says Gonzalez.
To comply with the state's pollution control standards, transit agencies must remove or retrofit all diesel or gasoline burning bus engines by 2015.
Steering Business To ISE
Mandates such as these and from other states are boosting sales at ISE, which was founded in 1995 by San Diego engineers Mazaika and Mike Simon.
The company has been producing hybrid engines that use batteries to supplement gasoline or other types of fuel to improve efficiencies and emit fewer pollutants.
In 2005, the company did $19 million in sales, but has since stopped stating sales. Mazaika said continued high demand for hybrid drive systems from mass transit systems and the heavy duty truck market has helped to double sales every two years.
"We expect the industry to continue growing at about 5 percent a year, and last year, there were 6,000 buses sold, about 5,000 in the United States and 1,000 in Canada," he said.
With its sales backlog building, ISE has also increased the size of its work force. About a year ago, it had 90 employees; today it has 140, and by year end it will have 150.