Best Places to Live Poll: California 1st Among States, San Diego 2nd of Cities
Monday, September 24, 2007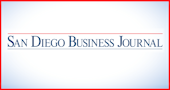 According to a recent Harris Poll, Americans are California Dreamin'. The state ranked No. 1 for the fifth year in a row as the most desirable state to live in, and San Diego was in second place behind New York when people were asked to cite their top choice of a city.
That falls in line with an 84 percent occupancy rate at the county's inns on Sunday, Sept. 2, the day before Labor Day, which was an increase of 2 percent from the same day a year ago and put them in second place behind New York City with a rate of 84.5 percent.
But, hey, if it hadn't been so hot that weekend
The county's inns logged occupancy of 77.9 percent for the 28 days ending on Sept. 8 , the latest statistics available , which represents an increase of 1.4 percent from the like year-ago period.
The average daily room rate was $143.78, an increase of 4.3 percent and the revenue that hotel owners raked in from the rooms sold nightly was $137.91, up 5.7 percent.
While all of the 25 markets that Tennessee-based Smith Travel Research tracks , it does not survey Las Vegas , showed year-over-year gains, PKF Hospitality Research is forecasting a slowdown in the pace of annual RevPAR growth for the next few years.
RevPAR is an industry term that refers to revenue per available rooms, or the money taken in from the number of rooms let among the total inventory.
By year's end, PKF, a national analyst with offices in Los Angeles, expects to see RevPAR go up by 5.5 percent nationwide, due to a slight , 0.1 percent , increase in occupancy and a 5.4 percent boost in the average daily room rate.
For 2008, PKF is forecasting that occupancy will be flat nationwide, while the average daily rate and RevPAR will both increase by 4.2 percent.
When you compare that to the last three years when RevPAR grew at an average annual rate of 8 percent, the 5.5 percent and 4.2 percent forecasted growth rates are "somewhat disappointing," according to PKF.
However, according to Smith Travel, the growth rate for 1989 through 2006 was 3.1 percent, so the lodging industry is projected to continue to perform "above average" this year and next, according to PKF data.
- - -
Outstanding Leadership: Carol Wallace, president and chief executive officer of the San Diego Convention Center Corp., was given a "Woman of Influence Award for 2007" by Venues Today magazine.
The honor, announced this summer, recognized Wallace's "visionary leadership and guidance" that brought success to the Convention Center and made "an indelible mark on the venues industry as a whole," said Cheryl Kendrick, chairwoman of the corporation's board of directors.
- - -
Hilton To House Fox Sports Grill: Upon completion in the fall of 2008, the Hilton San Diego Convention Center Hotel will be home to the city's first Fox Sports Grill, according to Beverly Hills-based Hilton Hotels Corp.
The upscale eatery will offer contemporary American cuisine. The 30-story, 1,190-room hotel is currently under construction on San Diego Bay. It broke ground in 2007.
Fox Sports Grill will feature a number of plasma and large-scale projection screens that offer high-definition viewing of a range of sports and entertainment programming.
Currently, Fox Sports Grill has locations that include the Promenade in Scottsdale, Ariz.; Spectrum Center in Irvine; downtown Seattle; the Palisades Center in West Nyack, N.Y.; the Galleria in Houston; the Shops at Legacy in Plano, Texas; and in the Westgate City Center in Glendale, Ariz.