Sunny Day Sweepin' the Clouds Away at SeaWorld's Sesame Street Attraction
Monday, September 17, 2007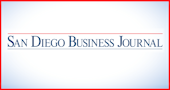 "S" is for SeaWorld and the number of the day is 2.
That's how many "Sesame Street" branded attractions that Anheuser-Busch Cos. Inc. will have under its umbrella when Elmo, Bert, Ernie, Cookie Monster, Big Bird and other characters from the long-standing children's PBS TV show drop anchor at SeaWorld San Diego next spring.
Busch Entertainment Corp., a unit of the St. Louis-based company, which has an array of parks across the country, including three SeaWorld parks and Sesame Place in Pennsylvania, plans to open the "Sesame Street Bay of Play" with three new kiddie rides here in late May. Construction on 2 acres near the main entrance off West Mission Bay Drive is scheduled to begin this month.
Andy Fichthorn, SeaWorld San Diego's general manager, declined to cite what it would cost to build, but said that it is "a multimillion-dollar attraction."
As with the Journey to Atlantis, a splash-down roller-coaster ride that, according to public records, cost about $35 million to build in 2004, and "Believe," a Shamu show launched last year, SeaWorld San Diego expects the new "Sesame Street" attraction to increase attendance and revenue.
More Reasons To Come Back
That's the name of the game in the theme park business , adding new rides, shows and attractions every year or so to give people more reasons to come back, said Carl Winston, director of San Diego State University's School of Hospitality and Tourism Management.
Theme parks and attractions are very capital-intensive businesses, he added, but they offer high-dollar returns, particularly in top-tier tourism destinations such as San Diego. Furthermore, they all compete with each other, including the nonprofit San Diego Zoo and the San Diego Natural History Museum, which this year spent $6 million to exhibit the Dead Sea Scrolls.
As a matter of policy, the Busch theme parks don't report gate count and revenue figures. However, Fichthorn said attendance to date is up this year compared with last year.
"We had strong attendance both in the spring and the summer," he said. "It exceeded expectations and was well up over 2006."
While the biggest bump in attendance was attributed to travelers who stayed overnight at local inns, expectations are that the Sesame Street Bay of Play will have its greatest appeal among year-round pass holders.
"This is more about loyal SeaWorld fans and encouraging pass holders to come back and enjoy the park at their own pace," he said, explaining that parents with young children and tots don't stay for seven or eight hours at a stretch, but are apt to make repeat visits of shorter duration.
Broadening the relationship of the two major brands, SeaWorld and "Sesame Street," is good from the standpoints of marketing and strategy, Winston said.
"This is a good, tactical move to get parents of younger children into the park," Winston said. "Legoland is reaching up and SeaWorld is reaching down."
Within the last few years, Legoland California in Carlsbad has added rides such as Knights' Tournament that appeal to children ages 8 through 14, which is older than its traditional target market of 2 to 12.
Changes at Legoland in North County helped the park grow its attendance by a wider margin , 16 percent , than any other theme park in the world last year, according to a study by Themed Entertainment Association and Economics Research Associates. Total attendance at the Carlsbad attraction was 1.6 million.
SeaWorld San Diego was in 12th place among the top 20 North American attractions and 23rd among the top 25 attractions in the world, with an estimated attendance of 4.3 million, the report said. A SeaWorld San Diego park executive, however, disputed the estimate, saying that its count was much higher.
Party Animals
The "Sesame Street" characters will get into the swim of things with "Big Bird's Beach Party," a musical production that will command the stage at SeaWorld's Pets' Playhouse stadium in March.
Also scheduled to start a run at SeaWorld in March is a new 4-D movie featuring Elmo, Bert and Ernie, Cookie Monster and Big Bird swimming through the ocean and flying across the sky at the park's Mission Bay Theatre. Digital 4-D technology gives audiences visual and audio impressions as well as sensations of height and movement.
Adding to the fun, guests also will have a chance to eat with Big Bird, Elmo and the gang, who will mingle and pose for pictures with diners before and after breakfast buffets at a newly themed "Sesame" eatery.
The creation of SeaWorld's Sesame Street Bay of Play is part of a long-term relationship announced last year between the nonprofit educational organization Sesame Workshop and Anheuser-Busch.
Some of the elements currently at the park's kiddie play area will be moved to another area when construction begins.