Lindbergh Field Offering Free Wireless Access to Travelers
Monday, September 17, 2007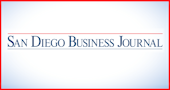 San Diego's Lindbergh Field joined the list of airports that provide free wireless Internet access last month.
The service, known as Wi-Fi, is often available to travelers at airports for an hourly or daily fee. About 60 U.S. airports, mainly smaller ones, provide the service for free, according to wififreespot.com.
Airport spokesman Steve Shultz said the service is available throughout the airport's three terminals. It cost about $250,000 to install the network, which incurs maintenance fees of about $20,000 a year.
Staffers from the information technology department of the San Diego County Regional Airport Authority, the government agency that operates Lindbergh Field, or San Diego International Airport, did the installation, Shultz said.
The agency's board considered free Wi-Fi to be a desired customer enhancement, and part of the airport's master plan, Shultz said.
"Also, given the fact that San Diego is one of the most wired cities in the country, we felt that it was appropriate that San Diego be at the forefront of providing this free service," he said.
Among the airports providing free Wi-Fi are John Wayne in Orange County and ones in Sacramento, Phoenix and McCarran in Las Vegas. The state's two largest airports, Los Angeles International and San Francisco International, both charge users for accessing Wi-Fi.
While laptop users can check the status of their flights, figure out how their stocks are doing or see if the San Diego Padres are winning, forget about trying to download the latest YouTube video, or that great song you recently heard.
The average speed varies according to the number of users at any time, but the maximum speed of 128 kilobytes per second is just a bit faster than dial up Internet access, making broadband downloading problematic, Shultz said.
"We are looking at improving the connection speeds," he said.