Joanne and Frank Warren Donate $5M to Rady Children's Hospital
Monday, September 10, 2007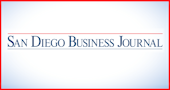 Rady Children's Hospital has received a $5 million gift from Joanne Warren and Frank Warren and family. In recognition of this gift, the hospital will name its soon-to-be-constructed surgical center as the Warren Family Surgical Center. "We are honored by this gift and thrilled about the impact it will have on the children in San Diego," said Kathleen Sellick, president and chief executive officer. The Warren Family Surgical Center will be at the heart of Rady Children's new Acute Care Pavilion, scheduled to be completed in 2010.
- - -
The Downtown San Diego YMCA held its second annual Summer Night on the Midway on Aug. 17. The Fish Market was the title sponsor and the Breslauer-Soref Foundation supported the event. Other sponsors included Envision Solar, Lankford & Associates, Burnham Real Estate, TSA Construction and CityMark Development. The Youth Outreach Programs will receive the $42,000 raised to support after-school programs, literacy education, physical education and career luncheons for at-risk and urban children.
Daniel Duncan, executive director of the Downtown YMCA says, "Not only is this the Downtown Y's 125th anniversary, we definitely have reason to celebrate the difference we are making in the community , all while benefiting children in need."
- - -
Boys & Girls Clubs of Carlsbad honored Muriel and Irving Roston at the Aug. 18 FantaSea Annual Dinner Auction at the Four Seasons Resort Aviara. The Rostons were instumental in planning the infrastructure of La Costa as well as suppporting many nonprofit organizations in addition to Boys & Girls Clubs. The Presenting Sponsor was the Carlsbad Desalination Project and $190,000 was raised to support after-school programs. Other sponsors included Aspen Properties, H. G. Fenton Co. and Wells Fargo Private Client Services.
- - -
LNR Commercial Property Group of San Diego recently collected donations and coordinated an event to help children of military families serving at CAamp Pendleton. LNR joined Armed Services YMCA Camp Pendleton on Aug. 24 to deliver 100 backpacks filled with summer items for the children. Project Liberty Call, a program of Armed Services YMCA Camp Pendleton, provides year-round support to families of military. "For this project, we wanted to do something special for the children," said Steve Williams, chief accounting officer of LNR.
- - -
Petco and the Petco Foundation as well as the evening's honorees, T. Boone and Madeleine Pickens, were major sponsors of San Diego Humane Society and SPCA's 21st Annual Fur Ball on Aug. 25. Jeffrey Strauss and Pamplemousse Grille were contributing sponsors. A record $335,000 was raised and proceeds will benefit the animals and vital community programs and services of the San Diego Humane Society and the Society for the Prevention of Cruelty to Animals.
- - -
San Diego State University established a $100,000 endowed scholarship fund in memory of SDSU alumna Carol Forrest. She was a civil engineer, national expert in erosion and sediment control, and an active alumna prior to her death one year ago. The scholarship is funded by Carol's employer, Geosyntec Consultants, and husband, Michael Harding.
- - -
Project Walk Spinal Cord Injury Recovery Center of Carlsbad received a grant from the Fuserna Foundation to support the cost of opening a center in Boston. Currently operating in Carlsbad, this is the continuation of the Project Walk campaign to open centers nationwide. The mission of the organization is to improve the quality of life for people with spinal cord injuries through intense exercise-based recovery programs, education, support and encouragement.
- - -
Sharp HospiceCare, along with host Coronado Yacht Club and community race partner Cortez Racing Association, held its Fifth Annual Benefit Regatta on Aug. 25. The $160,000 raised will benefit Sharp HospiceCare's Homes for Hospice, an initiative to build hospice-care homes in San Diego. Grossmont Healthcare District was the title sponsor of the regatta, donating $25,000.
- - -
The Eighth Annual Fore the Children Golf Tournament was held Aug. 20 at Vista Valley Country Club to benefit Casa de Amparo. Grant General Contractors was the title sponsor for the second year in a row. The $60,000 raised will benefit the child abuse and prevention and treatment services programs of Casa de Amparo, an Oceanside nonprofit organization.
- - -
Symphony at Salk was held Aug. 25 on the Theodore Gildred Court at Salk Institute in La Jolla. The event raised $250,000 which will directly benefit the groundbreaking biological research at the institute and support community programs, such as the Salk Mobile Science Lab and the High School Science Day. Qualcomm Inc. and Audrey Geisel/Dr. Seuss Fund each donated $50,000 to the event. Other sponsors included Pfizer, JC Resorts and Rudolph and Sletten Construction. Honorary chair of the Symphony at Salk was internationally renowned artist Francoise Gilot-Salk, widow of Salk Institute founder Jonas Salk.
- - -
Haute with Heart was presented by St. Madeleine Sophie's Center on Aug. 25 at the Sheraton Harbor Island Hotel. Collections Salons & Day Spas was the Title Sponsor. Other sponsors included Sycuan Resort & Casino and The San Diego Union-Tribune. The event raised $170,000 which will be matched by the Dickinson Family Foundation, John and Pat Seiber and Joan Eichen bringing the total to $300,000. All proceeds will go towards the Education Center Building Fund.
- - -
The Youth Tennis San Diego Foundation celebrated Billie Jean King at the 2007 MatchPoint Ball held at Manchester Grand Hyatt. The event raised $125,000 for tennis and educational programs held at the Barnes Tennis Center and San Diego County schools.
Please send Giving items to San Diego philanthropist and contributing writer Joyce Glazer at jglazer@sdbj.com .