For Better or Worse, Internet Takes Mystique Out of Art Dealing
Monday, September 10, 2007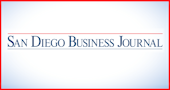 There is a famous quote that goes, "He knew the price of everything and the value of nothing." For the art world, that saying is taking on a new resonance.
Consider that the once top-secret pricing structure enjoyed by art galleries , for better or worse , has been steadily eroding, courtesy of the Internet.
"The Internet brings in a lot more collectors," said Mark Quint, owner and director of Quint Contemporary Art, a La Jolla-based gallery. "That would not have happened 10 years ago."
But, while entire shows can sell out because of this cyber word of month, the new openness also has made it more difficult for the sellers, said Quint.
"It's much more transparent," he explained. "Now, you find out the figures right online. Before, it was a more secretive business , wheeling and dealing, a cutthroat business."
Quint's role has changed, too.
"Now, it's mainly collectors buying art, not dealers," he said. "It's easier to get on the Web, and find out what's available."
Just type in a name, and up come 100 galleries that carry the artist's work, said Quint.
"Before, you knew two galleries, and you'd call me," he said. "I'd get a little piece as a finder's fee. It doesn't happen that way anymore. Instead of coming to me, you go on the Internet, Google and call directly."
Pricey Question
Double-edged sword or not, more and more galleries are realizing that they need a Web site to stay competitive, said Patricia Frischer, a Cardiff-by-the-Sea-based artist and a founding member of the nonprofit San Diego Visual Arts Network, a comprehensive database of information about the local visual arts community.
There has been power in pricing, said Frischer, especially when a gallery is handling a prestigious work.
"If a gallery wants to sell to a prestigious collector, the gallery can sell for less than the going price to encourage them to buy," she said. "So, if Joe Public walks in and asks the price, he would get the current market value, established by the high-end public auctions."
But the Internet is changing that to some degree.
"We are seeing two different auction markets," said Frischer , the Christie's and Sotheby's auction houses on the high end, and the e-Bays on the lower end.
"For the high-priced auctions there are dead or living artists with reputations, but online there are all sorts of people putting their work in the auction world," said Frischer. "What sells in auction is pretty much a definitive value-making exercise. It is the public domain."
What this ultimately will mean for art sellers and art buyers remains to be seen, she said.
"I have more confidence in the actual value of a masterpiece , not because somebody jacked up the prices," she said. "That the work is a masterpiece-quality work is intrinsically recognizable by everybody. It has a power."
Hugh M. Davies, the David C. Copley director of the Museum of Contemporary Art San Diego, considers the Internet to be a positive development in the art world.
"I think that it's very healthy, and the transparency has been a big plus," he said. "I remember going to galleries when I was younger, and there were no prices listed. If you had the temerity to go up to the snotty assistant and ask, 'Is this for sale?' they'd say that they were all sold , unless you looked well-heeled. Then, they'd take you into the back room."
But, Davies added, it's still a question of what the market will bear.
"The market is determined by what an individual is willing to pay for a singular work," he said. "Even if there is a way to determine fair market prices, if I have something that you want, I can make you pay for what I have, if you want it badly enough. There is still creativity in the pricing. It's still supply and demand. There is a lot more knowledge out there, but it's still a case of buyer beware. This is a business that is largely unregulated."
Not that Davies is pushing for government intrusion.
"I would like to see better self-regulation," he said. "I'm not a great believer in government intervening on this, because then the solution can be worse than the problem."
Assessing Value
Hillcrest-based art appraiser Joan Seifried, a board member of the International Society of Appraisers, said that assessing the value of a given piece of art can be "a real challenge."
"You don't always have a sense of how much they are actually worth," she said. "The Internet makes it easy to sell works, but as far as researching the value of living artists, it is very difficult to do."
Even trying to get an artist to discuss a work's value can be frustrating.
"Sometimes they don't really understand why that is important," said Seifried. "It's not why they are painting."
Popular culture has produced e-Bay and the TV series "Antiques Roadshow," showing that "everything is marketable," said Seifried.
But, she added, "For my clients, the decision to purchase, strangely enough, does not have a lot to do with value. They are interested in the artist's training and resume. They want to know who taught them, where they studied, what influenced them, if they've had a museum show or not, what galleries they've shown in."
Some artists, she said, "choose to play that game. Some don't."
"Some of the greatest artists never had any of that in their backgrounds," said Seifried. "It's a matter of talent and vision."