Artists Flourish in a Lesser-Known Market
Monday, September 10, 2007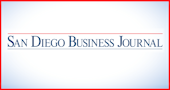 San Diego's art galleries , along with others nationwide , have long struggled to survive in the shadow of the mighty New York market. But, in recent years, there have been some rays of hope breaking through.
Hugh M. Davies, the David C. Copley director of the Museum of Contemporary Art San Diego, credits a gradual shift in the market to the first-rate art schools at the University of California, both in San Diego and Los Angeles, as well as a half-dozen others in Southern California.
"As a result of these good art programs, at both the undergrad and graduate levels, we in Southern California have produced a greater quantity of first-rate, quality artists than anywhere in the country for the last 20 years," said Davies.
But, he added, "We still find a heartbreaking number of Los Angeles-based collectors who prefer to buy from New York."
Where does that leave San Diego?
"It's hard to operate a commercial art gallery within 100 miles of the current epicenter of contemporary art in Los Angeles," said Davies. "But this also tells you that those who are doing successfully are not only local galleries, but national entities. These people are extraordinary at being able to survive and thrive in a difficult geographic location."
Among the players who are making it, he said, are Joseph Bellows and Mark Quint, who operate "nationally recognized galleries that happen to be based in San Diego."
Making It
For more than a quarter of a century, Quint has been the owner/director of Quint Contemporary Art in La Jolla. He's had several locations over the years, along with his share of ups and downs.
"It's a difficult place to have a gallery, in close proximity to L.A.," he said. "And, lately it's easier for people to get artwork over the Internet."
But when Quint started out it was a different world , or so it seemed.
"I got into it because it looked like an easy business," he said. "I was a painter myself. I decided on a whim to open a gallery. My first show, everything sold out. And then, for three months, I didn't sell a thing."
What did he learn?
"The way the business is, you can have a great month, then a terrible month," said Quint. "I was a nervous wreck all the time. But, then you learn you can't be that way in this business. It's not like a restaurant, where you need a steady group of people every night. It only takes a couple of people every month to keep a studio going , if you sell some expensive works."
How expensive?
Pieces ranging from $20,000 to $80,000 should do it, said Quint.
Galleries normally split the income 50/50 with the artist, but the overhead can be daunting. Consider that one featured artist can generate spending that includes advertising, refreshments and entertaining for the show's opening, shipping and insurance, even the cost of materials, in some cases, along with the usual expense of paying the rent and covering the payroll. That scenario can leave a gallery owner barely breaking even, or not making any money at all, he said.
"It can be a lucrative business in New York, Chicago or L.A.," he said. "But it can't be that lucrative in San Diego."
Spreading The Risk
That's why many gallery owners here don't put all of their artistic eggs in one basket, but find a way to diversify. This can include everything from selling at auctions, to collecting finder's fees for matching up buyers with art exhibited at other galleries, said Quint.
"I'd rather make 5 percent of something, than 50 percent of nothing," he explained.
For Quint's part, his business pulls in about $2 million in revenue these days , a solid take for San Diego. But, Quint added, it's all relative.
"In a New York gallery, you get thousands of people coming through the gallery every day, but in San Diego you get five or 10 people every day," he observed.
But Quint knows how to run his business, said Davies.
"Quint has built relationships with artists, and they know he will do right by them," he said. "I've heard a lot of tales of galleries that stiff artists who are very trusting people."
It's all about cultivating ethics, as well as artists, said Davies.
Tourist Trade
San Diego galleries have long survived on a good helping of the tourist trade, along with the serious collectors. The seaside village of La Jolla, a particular draw for visitors, seems to have an art gallery on every corner. Quint refers to them as "tourist galleries, selling stuff that people buy when on vacation and wonder why they got it when they get home."
"I deal a lot with collectors , people who spend time and effort, and they are not buying art on a whim," he said.
In fact, Quint relocated his gallery five years ago , from the well-traveled and bustling commercial strip of Girard Avenue in La Jolla , to nearby Fay Avenue , a spot so off-the-beaten-path that it can only be accessed through an alley entrance off of Drury Lane.
"I got so sick of people coming in there, tourists taking up time," said Quint. "I don't mean to be an elitist, but I moved and this gave me more time to work on things. I'd rather have one person a day who is serious than 40 or 50 a day saying, 'What the hell are you showing here?' "
But, he added, not all of his patrons are high rollers either.
"Lookers can turn into buyers real easily," he said. "I have a lot of work for $500. You'd be surprised how many people come to look and walk out with something , a print, a small drawing."
The Joseph Bellows Gallery, adjacent to Quint, happily took over that space as well.
"There are tourists, and we welcome them here," said owner Joseph Bellows, whose gallery specializes in both vintage and contemporary photography. "We always have a great show here, and you never know who your next client is going to be."
La Jolla as a market covers a broad spectrum , catering both to tourists and aficionados, said Bellows.
"I sell fine art, and I deal in vintage work by master photographers who have been recognized for many years," he said. "I do a lot of business outside the area to collectors, and I work with museums out of the area as well."
But, Bellows said, he also does a lot of home-grown business, and believes in the power of cross-pollination. From Oct. 20 to Dec. 29, Bellows will be exhibiting the fashion photographs of renowned Lillian Bassman, whose cutting-edge work appeared in such publications as Harper's Bazaar in the 1950s and '60s. As part of that catered event, Bellows is working with retail neighbor Laura Gambucci, who runs a fashion boutique by the same name.
"It will be good synergy, the two of us working together," he said.
A Disconnect
Carlsbad artist Dennis Batt spends as much of his time trying to change the arts business landscape as some artists do painting it. He is past president of the San Diego Museum of Art Artists Guild, founder and Webmaster of the San Diego Visual Artists Guild, and executive director of the Museum Artists Foundation.
"It is very difficult for our galleries to survive here," he said. "Most people buy art elsewhere , in L.A., New York. A few galleries here are fortunate, but many have gone under in the last five years."
Why is that?
"People in San Diego have so much to do that buying art is not one of their priorities, even though there is a tremendous volume of artists here," said Batt.
Batt, himself, has sold his work to national and international collectors outside the region, as well as in San Diego, which he considers to be "a culturally stimulating area." But, while the region is rich in artistic talent and diversity, there is a disconnect, he said.
"Visual artists don't work together," said Batt. "They are very independent. And the galleries are more competitive than cooperative. In other industries, you don't have that problem."
Stan Sowinski, 80, a Rancho Bernardo-based artist, has been successfully selling his oils and watercolors for several decades , much of it outside the region.
"San Diego is one of the worst art markets," he said. "There are many retirees down here, and they have no more room in their houses. We have a lot of students and they don't buy, and tourists buy souvenirs, but that's it."
A prime market for selling art is Scottsdale, Ariz., said Sowinski, where he can get better prices.
"The attitude with the big buyers is if it's too low-priced they won't buy it," he observed. "It can't be any good."
So, while in Scottsdale, Sowinski makes sure that his prices are "right up there."
Like all small businesses, the success of a gallery requires patience and preparation, said Patricia Frischer, a Cardiff-by-the-Sea-based artist and booster of the regional art scene.
"I know that there has been boom periods and flat periods," she said. "This is a period when I am seeing a lot of gallery startups. Many are not prepared and will go under. This is a very difficult world to make money in."
Consider that a gallery needs at least seven years to become established, she said.
"You need to have finances in order to survive that period," said Frischer. "You are lucky if you start in a boom period and have it carry you through those seven years."
Support System
Frischer moved here 10 years ago from London, "one of the top markets in the world for art."
"It was difficult to find out what was going on here," she said. "There wasn't anything like a visual arts guide to the city."
So, she helped start the San Diego Visual Arts Network, which provides a comprehensive database of information about the local visual arts community.
"I uncovered more and more of the richness that is going on in San Diego," she said. "There are artists of the same caliber of anywhere else in the world. There was huge potential that wasn't being realized, and is still not being realized."
Why is that?
"We don't have a market here as they do in Paris, London and New York," she said. "This is not because we don't have the artists, but we don't have the support system , an art-buying public in San Diego. This is the reason why we never built up a really secure system of galleries."
While Frischer discovered some 100 visual arts organizations in the region when she arrived, she also found that they lacked marketing savvy.
"They are supporting each other and showing their work to each other, but they don't know all the things that build the market and do the real job of selling art," she said. "They need to step up to create a new audience, so that galleries actually have somebody to sell to."
But San Diego's visual arts market is evolving, observed Kevin Freitas, a San Diego arts writer, critic and founder of cultural blog, www.artasauthority.com.
"Most of the new spaces opening up are by young emerging artists who find spaces, take on the responsibility, take charge of their own careers, organize shows and rent spaces," he said.
Freitas agrees that it's up to the artists to stimulate the market.
"Artists need to take the lead and be more involved , on every board and movement that is being put into play," he said. "You have to step up to the plate, and show people that you've got courage and spirit, and the artwork to back up what you are promoting."
Batt also would like to see his fellow artists take more of an initiative for boosting the San Diego market.
"If artists worked together they would improve the quality of art," he said. "It is their responsibility. Artists are the most qualified to say what should be sold and seen."
Day Jobs
Most artists in San Diego have to rely on the proverbial day job to make ends meet. Nanette Newbry, for instance, is principal and creative director of Studio 2055, a Carlsbad-based design firm. In her spare time, such as it is, she runs the Newbry Gallery, where she gets to showcase her talents as a performance and fine artist.
"I try to have a show or performance art piece once a week," said Newbry.
How does she consider San Diego as a market?
"I think it is a great art-making place, but I'm not sure if it is a great art-selling place," said Newbry.
Her recent show attracted more than 100 people, and she sold about 25 percent of her work.
"I consider that a great success," said Newbry, who plans to broaden her market by reaching out to galleries outside of San Diego , places like Seattle, Chicago and Los Angeles, which she considers to be "probably the strongest market."
Meanwhile, she's paying for the gallery space, the refreshments and entertainment required at her exhibitions, and all the rest of the expenses that make up her overhead.
"I'm breaking even," she said. "The nice thing about having my own space is that I have not only a showcase for my work, but I have a place to work."
Jen Trute, another Carlsbad-based artist, helped support herself early on by working on storyboards , what she calls the "emergency room of commercial artwork."
"These ad agencies come up with concepts for TV commercials, and play with them for weeks on end," she said. "Then, they call the storyboard companies before presentations, and the artists have to be able to produce very quickly."
Trute, who has racked up her share of arts awards, and has exhibited her work throughout the region, now is busy putting together a portfolio rich in surreal images with environmental themes.
"I'm about one or two paintings away from having enough work done that I feel I can present to galleries," she said. "It took me seven months of full-time work to do a lot of these pieces. It's a very slow process. The last piece was 6 feet tall, and it took me three months to paint."
Trute, who also has worked as a portrait artist, finds that her background in commercial art doesn't open many doors.
"I have been drawing all my life, but, as far as the fine art world goes, they don't think illustration counts for much," she said. "I know artists who hide the fact that they used to work as illustrators."
But she is holding her own. Coming up Nov. 4-30 is a four-person show at the Cannon Art Gallery in Carlsbad.
Frischer is optimistic about the arts community in San Diego.
"I see amazing things happening," she said. "We have a long way to go, but I am very heartened by the support I am seeing."
Davies is equally heartened.
"San Diego is growing by leaps and bounds," he said. "I have tremendous admiration for these mavericks that put themselves on the line, when the meter is running, and the buying public is fickle."