National Health Organization Honors Local Group for Business Assistance
Monday, September 3, 2007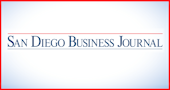 Health Care Award:
On Aug. 28, the San Diego Business Healthcare Connection was awarded the 2007 Honor Roll for Coverage by the Healthcare Leadership Council.
The Washington, D.C.-based organization recognized the BHC for its work providing no-cost assistance to businesses in San Diego County trying to obtain health care for its employees.
The BHC, a not-for-profit organization which has received its core funding from the California Endowment since it was founded in 2002, has provided assistance to 10,000 employers, said Kamal Muilenburg, BHC executive director.
"We're unique in that we work with businesses," Muilenburg said. She added that at least 1,000 employees have been covered after employers received assistance from the BHC.
The BHC has a staff of five full-time employees and also works on health reform issues and arranges educational roundtables.
The award was presented at Flag Crafters Inc. in Chula Vista. The BHC helped the designer of custom flags and banners establish health care coverage for its employees. Since 2000, the Healthcare Leadership Council has recognized organizations that provide access to health care.
BHC was the second local organization to receive the national award. Sharp Health Plan's Financially Obtainable Coverage for Uninsured San Diegans program, known as FOCUS, received the award in 2000 for providing health care to 1,700 of the working uninsured of San Diego County.
- - -
Spas Become Partners: Destinations Medical Spa, a San Marcos-based mobile, doctor-managed cosmetic care service, will partner with 13 spas mainly located in North County.
The new partnership will allow DMS employees to treat clients at spa facilities, said Dr. Donna Richardson, company founder and medical director. Before forming the partnership, clients received their laser, Botox, injectable and other spa treatments at home since the company was founded less than 10 months ago.
"It's the client convenience factor," Richardson said. "I thought, 'We could offer this with a day spa.' "
Each spa partner will receive 20 percent to 25 percent of laser and injectable treatment fees.
Botox prices range from $250 to $875, while single-treatment massages cost $130 per hour or $160 for 90 minutes. Restylane runs $550 per syringe and Cosmoderm for collagen treatments costs $400 per syringe. Most procedures are offered by cost based on a single treatment, or packages of either three or five treatments.
Richardson said that the company can treat anywhere from five to nine clients a day , depending on travel time for staff , and provides all medical devices and instruments, laser treatment equipment, medication, safety devices, medical personnel and applicable insurance coverage.
The staff treats about 60 percent of clients in their homes and the remaining 40 percent at spas. She expects that number to hit 50-50 within three to four months.
Richardson added that although the company's client base is mainly in North County, she hopes to continue expanding into San Diego proper by the end of the year. With clients as far north as Beverly Hills, she is also planning to develop spa partnerships in Los Angeles and Orange counties.
The company staffs five full-time employees and three part-time nurses.
- - -
Modern Healthcare List: Chris Van Gorder, chief executive officer and president of Scripps Health, was named one of the 100 Most Powerful People in Healthcare by Modern Healthcare magazine.
The Chicago-based national health care trade publication named Gorder No. 21 in its Aug. 27 issue. Gov. Arnold Schwarzenegger, Bill Gates, Sen. Hillary Rodham Clinton, President George Bush and Sen. Barack Obama were listed in the top 10.
"I think this is great for California health care, San Diego health care and, certainly, Scripps," Van Gorder said. "It's nice to see that nationally we're being recognized."
Readers submitted more than 12,600 nominations; an online vote on the magazine's Web site for the 300 finalists resulted in the sixth annual list, according to Modern Healthcare.
Van Gorder, who joined Scripps Health in 2000, was the only honoree from San Diego County and one of eight in California. He said Scripps plans to invest more than $2.2 billion in hospital improvements during the next 10 years.
Van Gorder was recognized for "engineering a $150 million turnaround" at Scripps Health, which was recognized as "an active leader in state and national disaster-preparedness initiatives," said Modern Healthcare.
Send health care news to Jaimy Lee at jlee@sdbj.com . She may also be reached at (858) 277-6359, ext. 3107.