Calendar
Monday, September 3, 2007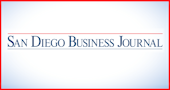 Thursday, Sept. 6
SCORE presents "Internet Marketing," from 9 a.m. to 3 p.m. at the Mission Valley campus of Point Loma Nazarene University, 4007 Camino del Rio S., San Diego. Cost is $64 in advance; $74 at the door. For information, call (619) 557-7272 or visit www.score-sandiego.org.
Monday, Sept. 10
National Association of Professional Organizers presents its 2007 vendor showcase from 6:15 to 8:30 p.m. at the Lawrence Family Jewish Community Center, 4126 Executive Drive, La Jolla. Cost is $20. For information, visit www.naposandiego.com.
If you would like your business event that costs $75 or less to attend included in the calendar section, make sure your press release arrives at our offices at least 15 working days before the event.
Send requests to: Emily Knight, San Diego Business Journal, 4909 Murphy Canyon Road, Suite 200, San Diego, CA 92123 or e-mail eknight@sdbj.com .