Nonlocal Big Banks Report Sharply Lower Profits in Wake of Mortgage Crisis
Monday, October 29, 2007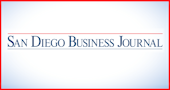 As the year moves into the final quarter, national banks are taking a beating caused by turbulent credit markets and customers not repaying debt.
Looking at third-quarter results, nearly all major banks with operations in San Diego showed reduced profits, mostly due to setting aside higher reserves for problem loans.
Washington Mutual, based in Seattle and with 74 offices here, reported net profits were down 72 percent to $210 million from $748 million last year.
Bank of America, based in Charlotte, N.C., and with 74 offices here, reported net profits declined 32 percent to $3.7 billion from $5.4 billion last year at the same time.
Wachovia Corp., also based in Charlotte, with 11 offices here, had net income drop 10 percent to $1.7 billion from the prior year third quarter.
The only mega-banks that appeared to escape profit plunges were Wells Fargo and U.S. Bancorp. At Wells, based in San Francisco and with 93 offices in the county, profit rose 4 percent to $2.2 billion. Net profits at U.S. Bancorp, with 44 offices in the county, declined 2 percent, but were still at a high level, $1.1 billion.
The headlines sound dire, especially for investors, but banks are still showing profits, not losses.
In the early 1990s, problems affecting the savings and loan industry and commercial lenders were far worse. Banks took huge write-downs on real estate loans, which resulted in hundreds of millions of dollars in losses in San Diego alone.
Eventually, those losses eroded many savings banks' capital bases below minimum levels, triggering takeovers by government regulators. Four major savings and loans based here were seized: Central Savings, Imperial Savings and Loan, Great American Bank, and HomeFed Bank.
The situation today is different. Except for mortgage banks, most institutions are still raking in profits, and capital levels have not been impacted by write-downs.
Still, there's no denying that numbers being reported by the mega-banks look scary. For example, WaMu (a savings and loan that has some of the biggest exposure to mortgages) was forced to increase loan reserves to $967 million, up from $372 million in the second quarter.
Like many lenders, WaMu bundles loans it originates and sells them on the secondary market. But because of the low investor demand for mortgage portfolios lately, the bank has retained $17 billion in loans it has originated. It has also written down the value on mortgages by $147 million.
Wachovia also was forced to write down $1.3 billion in assets during the past quarter because of losses sustained in mortgage-related products.
- - -
First Community Bancorp Net Rises: The turmoil swirling around the credit markets apparently had little effect on San Diego's largest local banking firm, First Community Bancorp, parent of San Diego-based Pacific Western Bank. The $5 billion bank reported net income of $22.2 million for the third quarter, up 3.8 percent from the like period of 2006.
For the full nine months, FCB reported net income of $73.3 million, compared with $53.2 million for the like period of 2006, up 30 percent.
But the big increase in profits was mainly the result of growing larger through acquisitions. Starting in May 2006, the banking company acquired four other banks with $2.5 billion in assets, including $1 billion from its October 2006 purchase of Escondido-based Community Bancorp.
Compared with results in the second quarter, FCB net earnings decreased 1.5 percent. Among the causes for the reduced earnings were reduced net interest income and lower gains on the sale of loans.
Pacific Western is the result of a consolidation of two subsidiary banks owned by FCB, First National and Pacific Western. The single bank now has 61 offices in Los Angeles and San Diego, and $5.1 billion in assets.
While the mega-banks may have seen huge increases in problem loans, Pacific Western's total as of the end of September was $23 million, or 0.59 percent of the total loans. That's up slightly from $22 million in problem loans in December, when that figure made up 0.51 percent of its loan portfolio.
As for the makeup of that portfolio, $2.1 billion of $3.9 billion is in commercial real estate. The next largest parts of the portfolio include $864 million in commercial loans and $795 million in real estate construction.
Like most banks, FCB stock hasn't fared well. A year ago, it traded about $57; but on Oct. 19, shares closed at $48.48, a decline of 16 percent.
- - -
Seacoast Commerce Shakes Things Up: Rick Sanborn knows he has got a tough job ahead as the new chief executive and president of Seacoast Commerce Bank, which has been among the smallest and slowest-growing lenders in the county.
"I'm not looking at this as a startup, but as a start-over," said Sanborn, appointed to the post Oct. 15.
Sanborn, 45, replaces Doug Shearer, who resigned in August.
His 23 years in banking, including 19 in San Diego, should provide Sanborn with lots of ideas of how to get things moving at the bank, which has been losing money in recent years.
"That's one of the reasons that I'm here," said Sanborn. "I give credit to the board of directors at Seacoast. They recognized they needed to do something different."
Seacoast Commerce, which opened June 2003, is one of the smallest lenders in the county, with $63 million in total assets as of June 30. To give an idea of just how slow things have been at the struggling bank, Seacoast's loan portfolio actually shrank during the year by $300,000 to $46.2 million.
The loan portfolio isn't doing well either. For the first half of the year, it reported a net loss of $367,000, compared with net profits of $124,000 for the first half of 2006.
Most losses came from increased reserves the bank had to set aside for a single loan of $1.6 million that fell into non-accrual status. That problem boosted the non-accrual ratio to 3.46 percent of total loans, a level that would scare most bankers.
The single credit was a construction loan for a nine-unit condo complex in El Cajon. Sanborn said the loan is well-secured, and the borrower needs to push sales along.
Sanborn says his first task is to get the bank back to a healthy status, and then bring on a few new loan officers to help grow assets.
Before taking over at Seacoast, Sanborn was an executive vice president and chief banking officer at Pacific Western Bank, where he made the transition after Community Bancorp was merged into Pacific Western in 2006. At Community, formerly based in Escondido with $1 billion in total assets, Sanborn was executive vice president and chief administrative officer for about two years.
Previously, he was executive vice president at 1st Centennial Bank in Redlands, and president and chief executive officer at Palomar Community Bank in Escondido.
As part of Seacoast's strategy to right the ship, the bank named three new directors: Allan Arendsee, Rick Levenson and Ronald Bedell. Arendsee, a former director at Southwest Community Bank, owns a commercial real estate leasing company; Levenson and his father, Howard, own a local investment banking and brokerage firm; and Bedell heads up a group of private bankers and owns a property management company.
The three directors replace resigned board members Greg Cox, a county supervisor for the South Bay area; Carl Hemesath; and Lane Pearson.
In a positive vein, Seacoast Commerce announced it was the largest maker of 7(a) loans backed by the U.S. Small Business Administration among local banks for the fiscal year ended Sept. 30 as measured by loan dollar value. Seacoast made 16 SBA loans for $6.2 million.
- - -
Coronado First Breaks Into The Black: Two-year-old Coronado First Bank reported good news for September, netting $5,000, its first-ever profit. For the third quarter, it had a net loss of $96,000.
For the nine months, Coronado First had a net loss of $557,000 compared with a net loss of $948,000 for the like period of 2006.
Total assets at the end of September stood at $47 million, up 61 percent from the same period last year, while total loans were $38 million, an increase of 218 percent from last year's third quarter.
CEO Bruce Ives said the bank was extremely proud to reach profitability before its two-year anniversary.
- - -
California Community Profits Dive: California Community Bank, based in Escondido, with three branches, reported net income of $13,000 for the third quarter, compared with net profits of $246,000 for the like period of last year.
For the first nine months, the bank reported net income of $230,000 compared with $568,000 for the first nine months of 2006.
CEO Larry Hartwig said the 95 percent decline in quarterly net profit was caused by increased expenses from the bank's relocating and expanding its Escondido branch location, and the hiring of three experienced bankers for that market.
Total assets as of Sept. 30 were $136.9 million, up 5 percent from the prior year's third quarter, while total loans were at $111 million, up 36 percent over the like period of 2006. The bank had zero delinquencies at quarter end.
- - -
Neighborhood National Gets Municipal Deposit: Neighborhood National Bank said it obtained a $2 million deposit from National City following an effort by the bank to amend the laws permitting local governments to deposit larger amounts in a single institution.
Before the law was changed, local governments were limited to a maximum deposit of $100,000, said Robert McGill, chairman and CEO of Neighborhood National Bank.
"This new legislation enables cities, counties, and local agencies to keep more deposits in local institutions, recycling local tax dollars to benefit California taxpayers," McGill said. "More deposits mean more loans in the community , loans to homeowners, small businesses, and families."
- - -
Wescom Acquires Great American CU: Pasadena-based Wescom Credit Union, with $3.9 billion in assets, said Oct. 17 that it acquired the assets of Great American Credit Union in a planned merger.
The transaction entails $57 million in assets, and four branches. That would boost Wescom's local branch network to nine.
No relation to defunct Great American Bank, Great American CU has about 8,800 members. The credit union was founded in 1928 by and for employees of the U.S. Postal Service. It has 20 employees.
Wescom attempted to acquire La Jolla-based Silvergate Bank last year in what would have been a precedent-setting deal of a credit union buying a bank. However, the transaction was unable to get the approval of federal regulators, who put a moratorium on any purchases of industrial loan companies such as Silvergate. Also influencing the decision was the pending acquisition of a Utah bank by Wal-Mart Inc.
Mike Allen writes about banking and finance, among other topics. He can be reached at (858) 277-6359 or at mallen@sdbj.com .