WD-40 Closes Year With 12 Percent Profit Gain
Wednesday, October 17, 2007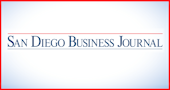 WD-40 Co., a San Diego-based maker of lubricants and other household products, reported Oct. 17 net profits for the fiscal year ended Aug. 31 of $31.5 million on revenue of $307.8 million.
Profit was up 12 percent, while sales increased 7 percent compared with the results of the prior fiscal year.
Chief Executive Officer Garry O. Ridge said the revenue growth came mainly from Europe, Asia Pacific and Latin America. The company also benefited from improved gross margins, reduction in debt and a lower tax rate, Ridge said.
For the fourth quarter, WD-40 reported net income of $9.2 million on revenue of $78.9 million. That compared with net income of $6.3 million on revenue of $75.2 million for the prior year's fourth quarter.
In the 2008 fiscal year, WD-40 forecast net sales to grow 7 percent to 10 percent, or to $329 million to $339 million. Net income is expected to range from $31.1 million to $32.8 million.
Traded on Nasdaq under WDFC, shares closed Oct. 17 at $36.47, up 44 cents from the prior day's closing price. In the past 52 weeks, the stock has ranged from $30.56 to $39.31.
, Mike Allen