Conference to See What Future Holds for Qualcomm's Technology
Monday, October 8, 2007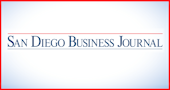 To borrow a line from Shakespeare, and give it a modern twist: "O brave new world, that has such tech stuff in it."
The morphing world of wireless phones, related devices and wireless services will take center stage this week in downtown San Diego, with an emphasis on the Code Division Multiple Access, or CDMA, technology standard.
The 3G CDMA North America Regional Conference runs Oct. 8-10 at the Westin Horton Plaza. It's a production of the Costa Mesa-based CDMA Development Group.
Speakers will include Paul Jacobs, chief executive of Qualcomm Inc., the San Diego chipmaker and software writer that is a force in all things CDMA. Jacobs will speak on what's ahead for CDMA at 1:30 p.m. Oct. 10.
Conference topics include the new services that wireless carriers will offer once the United States clears more airwaves for wireless devices. There will also be discussion of the services that overseas carriers offer.
The U.S. cellular market is maturing, said James Person, chief operating officer of the CDMA Development Group. Market penetration is "fairly high," he said. Growth, therefore, will come in new applications on established networks, Person said.
One new application may be mobile payments.
Event speaker Carol Realini makes the audacious statement that her company will "transform the wireless industry." Realini is chief executive of Obopay Inc., a Redwood City-based company that lets people make payments using their mobile phones. The company is already working with Verizon Wireless and Citigroup Inc.
"We are moving the mobile phone beyond communication and into the world of monetary transactions, providing a practical and convenient service to consumers," Realini said. She will elaborate when she speaks at 9:15 a.m. Oct. 10.
Obopay closed its third round of funding, of $29 million, in July. Qualcomm is one of the company's investors.
Mobile Payments Catching On
Mobile payments have caught on in Japan, South Korea, India and sub-Saharan Africa, Person said. Like text messaging, the younger generation takes to it naturally, he added.
Other services are in the works. In the future, North American CDMA networks may carry more machine-to-machine traffic, Person said. Data services will be enhanced by faster speeds. The latest technology, put into commercial use in 2006, offers speeds of 3.1 megabits per second , on par with a cable modem, Person said. He said a faster version may go commercial in 2008.
Meanwhile, the industry mulls what to do with more wireless spectrum.
In the United States, telecom companies are anticipating the availability of more wireless spectrum. So are nontraditional operators: In July, Google expressed an interest in the 700 megahertz spectrum.
U.S. cell phones currently operate in the 800 or 1900 megahertz bands, said Person.
The 700 megahertz spectrum will become available with the switch to digital television. An auction for the spectrum is planned later this year.
A second area of spectrum, dubbed AWS for "advanced wireless services," will open room in the 1700 and 2100 megahertz bands. San Diego-based Leap Wireless International Inc. successfully bid for some AWS licenses.
Though the conference covers North America, the CDMA Development Group takes a world focus. The trade group counts 394 million CDMA subscribers in 98 countries.