South Bay Expressway New Tool in Toolbox
Monday, November 26, 2007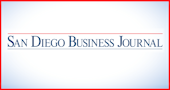 The highway that's been on the drawing boards since 1959 finally opened Nov. 19.
It had been scheduled to open 13 months ago.
Under a partnership between Caltrans and South Bay Expressway Ltd., a 10-mile stretch of concrete and asphalt running from state Route 54 in Spring Valley to Otay Mesa is designed to ease congestion on surrounding roads, including heavily traveled Interstate 805.

Opening day "couldn't have been smoother," said Chief Executive Officer Greg Hulsizer.
"We think the road will follow regular traffic patterns, and should absorb about 20 to 25 percent of I-805, state Route 905 and arterial traffic. I-805 alone sees about 200,000 cars a day," Hulsizer said.
The new Mater Dei Catholic High School, located at the state Route 125/Olympic Parkway interchange, which has 300 students commuting from Tijuana, may benefit the most, said Hulsizer.
"I talked with school representatives who reported that the shortcut reduced the Tijuana commute from 30 minutes, after crossing the border, to four minutes," Hulsizer said.
Previously, those passengers would have used SR-905, connected to I-805 and taken the Olympic Parkway exit.
The cost for the private toll road from SR-905 to San Miguel Road was $644 million. The remaining portion from San Miguel Road to SR-54 cost $159 million, funded through a program sponsored by the San Diego Association of Governments, or Sandag.
Rights To Tolls
South Bay Expressway, or SBX, will be granted the right to charge tolls for 35 years before handing the road over to the state. The company did not say when it hoped to turn a profit.
"We're fully at risk here," Hulsizer said. "Just like any business we owe money to investors, and we'll either do well or we won't. It's a long-term investment."
The company said it hired Caltrans to do routine maintenance, but would not discuss operating costs until SBX files an annual report in late 2008.
When asked if truck traffic might negatively affect passenger car traffic on the expressway, Caltrans spokesman Steve Saville said that there's room for everyone.
"The South Bay Expressway is really just another tool in the toolbox for us in dealing with congestion. Some truckers will use it, and some won't, but I see it as a win-win for all commuters," Saville said.
The highway features two lanes in each direction.
Hulsizer says the car-to-truck ratio on SR-125 will probably mirror that of I-805, where trucks account for about 12 percent of all vehicles.
Saville said that since "Mexico is our No. 1 trade partner, the road will be useful for travelers crossing the border, too."
The expressway "was a vital segment to our transportation system, but state money just wasn't there to build it. Not only will the road eventually revert back to the state, but it didn't cost taxpayers a dime," Saville said.
He also said that the gas taxes previously used to fund state roads are no longer a viable means of funding.
He also said usage counts won't be available for a few months.
While Caltrans relies heavily on Sandag's ability to raise money to finance transportation projects, Saville says, teaming with private companies is a viable option to consider for future projects.
Smooth Ride
Despite a smooth ride for SR-125 commuters on opening day, the San Diego Regional Water Quality Control Board was not totally satisfied.
Board spokesman Dave Gibson said that when the board granted authorization for South Bay Expressway, with offsets for the project's impact, in 2001, one requirement was to implant storm water vegetation at the base of the road's hillsides to remove metals and total suspended solids from storm water runoff.
The plants were to function with 80 percent metal removal efficiency the day the road opened.
"SBX didn't get them finished. They're in a mad dash to get them in shape and are employing interim measures to replace these necessary biological functions," Gibson said.
Whether temporary measures work, he says, will depend on the amount of rain for the season.
"Caltrans and SBX are certainly doing their best to remedy the problem," Gibson said. "We're embarking as a community on a lot of big transportation projects like the widening of I-5 and others. We have to make sure that best management practices are in effect."