New Spinal Products Tapping Big Markets
Monday, November 26, 2007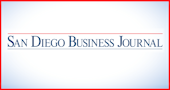 NuVasive Inc.'s Nov. 8 announcement that it will occupy the building Elan Corp. will vacate in January marked the first of a small flurry of activity surrounding spinal device makers.
Five days after NuVasive announced its expansion plans, Pennsylvania-based Synthes Inc., billed as the world's No. 3 manufacturer of spinal-implant devices, said it would buy San Diego-based N Spine Inc. for $75 million, given it meets certain benchmarks.
The privately held business makes a spinal implant device that fits into Synthes' equipment, providing what the company deemed an "attractive" fit to its product portfolio.
"We just realized it's not possible to develop everything internally," said Gilgian Eisner, who heads investor relations out of Synthes' Swiss offices.

Mergers and acquisitions are nothing new for a rapidly growing industry that promises to reduce the amount of time surgeons need to perform spinal procedures. Minimally invasive surgeries, or procedures that do little damage to surrounding tissues, have emerged as a new method in an age where time matters. Shorter hospital stays mean fewer insurer payments and quicker procedures mean surgeons spend less time performing more surgeries.

At least a handful of San Diego companies have tapped into the multibillion- dollar spinal device market.
Biggest Player In Space
NuVasive, the biggest player in the space, makes and sells products that allow surgeons to perform procedures from the side of the body instead of the back.
It also sells a kind of "smart instrument" product called NeuroVision that alerts surgeons through sight and sound if they've ventured too close to vital nerves.
The company said it expects to move into the No. 5 spot next year. It reported a loss of $2.3 million, or 7 cents a share, for its third quarter, compared with a loss of $18.7 million, or 56 cents a share, in the same quarter of 2006.
NuVasive's third-quarter revenues were $38.5 million, a 52.9 percent increase over the third quarter of 2006.
"They've been doing a great job at growing the business and taking share from some of the bigger spine companies out there, particularly Medtronic and Johnson & Johnson's DePuy," said Michael Matson, a senior medical device analyst with Wachovia Capital Markets in New York.
Besides Alphatec Spine Inc., which was acquired in 2005 by private equity group HealthpointCapital for $76.5 million, NuVasive is the only local publicly traded spinal device maker. Other privately held companies include Vista-based SeaSpine Inc., which makes products for spinal fusion procedures, and Carlsbad-based Spinal Elements Inc., formerly Quantum Orthopedics Inc., which offers products for fusion and joint motion preservation.
Matson attributed an overall lack of publicly traded spinal device companies to buyouts by larger players such as Medtronic and Johnson & Johnson.

He said NuVasive could prove an attractive candidate for a buyout, but pointed to recent management discussions that stress plans to build the business during the next decade.
NuVasive Chairman and Chief Executive Alex Lukianov reiterated those sentiments during a phone interview last week.
"I'm not interested in selling the company, nor is the management team and nor is the board of directors," he said. "We're not moving to that Elan location in order to position ourselves for anything but rapid growth."
Positioned To Grow
Lukianov said the company is positioned to grow its revenues to about $500 million in five years. "We look forward to opportunities for us to acquire companies," he said.
One area of interest larger companies are looking to invest in involves a kind of surgical procedure that allows movement while healing. Motion preservation products are intended to provide a better treatment than spinal fusion for patients with pain and degeneration.
According to First Albany Capital, now Broadpoint Capital, motion preservation products revenues increased more than 70 percent in 2006 to $155 million from $90 million, with the bulk of revenues derived from Kyphon Inc.'s X-Stop, a kind of decompression system placed in the lower spine. Medical device giant Medtronic Inc. acquired Sunnyvale-based Kyphon for $4.2 billion this year.
Medtronic dominated the markets last year, with Synthes, Johnson & Johnson, Stryker, and Zimmer also accounting for a fair share, but analysts predicted smaller firms would be a bigger presence in coming years.
"Nascent firms generated $275 million in revenues during 2006, and many more firms are expected to enter the market pursuing a piece of the motion preservation business," wrote First Albany Capital in a February report.
Carlsbad-based Alphatec, which recently gained FDA approvals to market its Dynamo rod system, said it has plans to announce more product offerings in the area of motion preservation in the future.
Gordon Bigler, a spokesman for the company, said the company has grown through innovative product offerings in the areas of fusion and motion preservation.
"It's a large and fast-growing segment of orthopedics," he said. "Whenever you have those two, you have interesting investment opportunities."