Newspapers' Circulation Drops: It's Not a Black and White Issue
Monday, November 12, 2007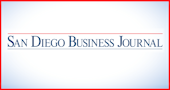 Black and white, but read increasingly online that's what major newspaper publishers, including Copley Press Inc., have been saying in response to reports of declining circulation figures.
Now a report by the Audit Bureau of Circulations gives Copley, which owns the San Diego Union-Tribune, the county's largest metro daily and one of the top newspapers in the nation, and other publishers the chance to back their claims with audited Web site figures.
For the six months ended Sept. 30, the ABC's Fas-Fax circulation report of U.S. dailies, which was released Nov. 5, showed that the Union-Tribune's Monday through Friday circulation dropped 8.5 percent to 278,379 from the year-ago period, while its Sunday circulation was off 8 percent to 359,355 and Saturday circulation was down 6.7 percent to 328,988.
Industry-wide, average circulation was down 2.6 percent. Yet the Union-Tribune's sharp decline came as no shock to the publication's executives.
"We were not surprised by the numbers, since much of the decline can be attributed to changes we've made in distribution," said Bill Nagel, vice president of circulation and consumer marketing. "We have moved away from sponsored copies, hotel copies and bonus days, since that circulation is not valued as highly by our advertisers and was not driving reach or readership."
However, ABC's Audience-Fax, which reports audited online readership, painted a rosier picture. It showed that the Union-Tribune's Web site, signonsandiego.com, generated 3.6 million total unique users, meaning different individuals, during September. While it provides a basis from which future Web site traffic can be measured, the initial metric nonetheless underscores the importance of Web readership, said Chris Jennewin, vice president of Internet operations.
Large Audience
"The ABC numbers show that a very large audience is reading our newspaper content online," he said. "The 3.6 million users cited in the audit represent a larger audience than we have ever reached in print, which can be attributed to the fact that our Web site can be accessed 24 hours a day from around the world, and it provides news in a multitude of ways that meet consumers' needs."
Nagel said that the unique user total for September was up 43 percent from September 2006, and Jennewin said that the paper expects to be able to leverage the ABC data to boost ad revenue.
"These online numbers are excellent sales tools and the Audience Fax report indicates that the combination of our newspaper readership with our online audience reaches 59.9 percent of San Diego County adults," Jennewin said.
By comparison, the Los Angeles Times, which had total weekday circulation of 779,682, had 5.3 million unique users on its Web site in September. The Orange County Register, which had weekday circulation 278,507, had 2 million unique users, and the San Francisco Chronicle, which had weekday circulation of 365,234, had 8.3 million unique users.
The Union-Tribune does not give out revenue figures, but BIA Financial Network, a financial and advisory firm serving the media, estimated that the Union-Tribune's advertising revenue in 2006 was $292.9 million, while circulation contributed $57.8 million, for a total of $386.7 million. In 2005, estimated total revenue for the paper was $400.5 million, with advertising amounting to $302 million and circulation at $62.9 million.
The Union-Tribune's Enlace circulation was not counted in the recent ABC report because it is a free weekly publication that is distributed in Latino communities of San Diego and in Tijuana. Neither was Today's Local News, a free newspaper distributed Wednesday through Sunday in Escondido, Vista, San Marcos, Carlsbad and Oceanside.
Only 206 dailies reported their Web traffic, and while the North County Times was not among them, publisher Peter York said it may release those numbers in the future. He said he didn't have online figures on hand, but knew that they were trending upward.
Although circulation was down slightly at the North County Times, it was better than that of the industry overall. Owned by Lee Enterprises Inc., the smaller daily focuses its attention on Escondido, Oceanside, Vista and San Marcos. Total Sunday circulation of 90,000 was off by 426, or 0.5 percent, while weekday circulation dropped by 158 to 86,852 and Sunday circulation at 80,882 was off by 391.
York said he thought the circulation numbers would pick up in the future.
"Historically the North County has been a good print consumer," he said.
The North County Times also publishes the Californian, which is circulated in southwest Riverside County.
BIA Financial estimated that total revenue for the publication was $71.4 million in 2006, including $54.4 million from advertising and $8.5 million from circulation. That compared with the 2005 estimated total of $72.6 million, of which $55.1 million was derived from advertising and $9.2 million from circulation. In commenting on the estimated figures, Publisher Emeritus Dick High declined to cite revenues, but said that they were up both for advertising and circulation in 2006 compared to 2005.