With Elan Gone, NuVasive to Occupy New Space
Friday, November 9, 2007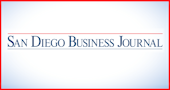 NuVasive Inc., a San Diego-based maker of minimally disruptive surgical treatments for the spine, will move its headquarters into the Sorrento Valley buildings formerly occupied by Elan Pharmaceuticals in the first half of next year, NuVasive said Nov. 8.
The company signed a 15-year lease on the property at 7475 Lusk Blvd., with an option to extend. It is currently located about four miles away, at 4545 Towne Centre Court.
Irish drug maker Elan announced it would close its San Diego headquarters in August following a series of cutbacks at the company.
NuVasive Chairman and Chief Executive Officer Alex Lukianov said the location, highly visible from the southbound Interstate 805 and Interstate 5 merge, will accommodate the company's expanding work force and make it easier to host large groups of surgeons who test and train at its headquarters.
He estimated that 400 to 500 surgeons visit the company's headquarters each year.
"A big part of what we offer surgeons is state-of-the-art training," he said.
One of the two existing Elan buildings will be dedicated to NuVasive research and development, marketing and surgeon training. The other will house the company's administrative functions, along with sales and corporate training. A third planned facility, which would bring the total space to 300,000 square feet, would provide room for growth.
Lukianov did not reveal financial terms of the lease but did say it would cost NuVasive about four times what it pays now.
He estimated that the company would grow revenues by 25 percent to 30 percent a year, with the prediction it could reach $500 million in about five years.
NuVasive competes with larger players Johnson & Johnson and Medtronic and smaller ones such as Michigan-based Stryker Corp. and Pennsylvania-based Synthes Corp.
NuVasive trades on the Nasdaq under the symbol NUVA. Shares were at $41.94 late in the trading day Nov. 9, down 37 cents from the previous day's close.
, Heather Chambers