Sempra Energy Establishes $5M Fund to Aid Victims of Recent Fires
Monday, November 5, 2007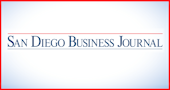 In response to the recent wildfires, Sempra Energy said it has established a $5 million fund to aid its Southern California customers and impacted local communities.
The relief program, which won't be funded by ratepayers, will aid residents in the service territories of San Diego Gas & Electric and Southern California Gas companies.
The fund will be expanded with contributions from suppliers, business partners and employees.
"We are committed to helping our customers, and the communities they live in, recover fully from this terrible natural disaster," said Donald E. Felsinger, Sempra chairman and chief executive officer, in a prepared statement.
- - -
Comerica Bank gave $100,000 to relief efforts for victims of the Southern California wildfires. The bank also said it was taking additional steps to aid small businesses and people who have been forced to evacuate their homes as a result of the fires.
The Comerica Charitable Foundation is giving $50,000 to the American Red Cross, designated for victims in Los Angeles, Orange and San Diego counties.
Mike Fulton, president and CEO of Comerica's Western Market, said that in addition to the foundation grant, $50,000 would be made available to relief organizations in Los Angeles, Orange and San Diego counties.
- - -
Frances Hamilton White donated $500,000 to Mingei International Museum in recognition of its 30th anniversary. She also has pledged to match new donations from individuals up to an additional $500,000 that the Museum raises before May 4, 2008. "By matching donations one-to-one, I particularly hope to encourage new donors to become involved in supporting this fine institution," said White. The funds will be used equally to support current operations, the museum's endowment fund and future capital campaign fund.
- - -
San Diego Symphony held its opening season Opus 2007 Gala on Oct. 6 at the Irwin M. Jacobs Qualcomm Hall. The event raised $340,000 for the educational programs of the Symphony. Major sponsors included Sycuan Resort & Casino, US Bank, OliverMcMillan, Van Cleef & Arpels and Manpower Inc.
- - -
Voices for Children gala, Starry, Starry Night 2007, raised $500,000 to support its programs. The event was held Sept. 29 at the home of Joan Waitt. Major sponsors included Sempra Energy, KPBS, Residential Capital, AEG Live, San Diego County Credit Union and Pamplemousse Grille.
- - -
Mainly Mozart received a $3,000 grant from Target stores to support the educational outreach programs. Target's gift is designed to strengthen families and communities. "As we continue to expand our programming and outreach, it's a real plus to have partners such as Target working with us toward that goal," said Mainly Mozart education coordinator Steven Warner.
- - -
Urban Campout 2007 Drive-in-Rock-Out was presented by Girl Scouts, San Diego-Imperial Council on Sept. 14 at scout headquarters. Geico was the presenting sponsor. Other sponsors included CW Cares for Kids Fund, 1st Pacific Bank, Sempra Energy and AMN Healthcare. The $325,000 raised will provide assistance for camps, events, uniforms and fees.
- - -
AimLoan.com donated $50,000 for Father Joe's Village Thanksgiving Day 5K Run/Walk in Balboa Park. Father Joe's serves 1.7 million meals to San Diego's homeless each year. "We believe business can make a big difference in improving the quality of life in their communities," said Vince Kasperick, founder and president of AimLoan.com. Other sponsors of the run include AMN Healthcare, A.O.Reed, Barona Valley Ranch Resort & Casino and Carriage Trade Catering.
- - -
The San Diego Futures Foundation named three nonprofits to receive free technology services as part of their "Extreme Technology Makeover" program sponsored by AT & T.; With a $20,000 grant, Shakti Rising, Outdoor Outreach and The San Diego Food Bank were able to receive technical services, computers, software, planning and consulting at no cost.
- - -
Howard and Toby Cohen sponsored a benefit for Moores UCSD Cancer Center's Patient and Family Support Services program Oct. 19 at Pamplemousse Grille. The $200,000 raised will fund services to patients and families to ease the emotional, psychological and practical burdens of cancer.
- - -
CA (formerly Computer Associates) made a $5,000 contribution to the Hispanic Chamber of Commerce on Oct. 22 at a meeting held at the Torrey Pines Lodge. The donation will be used to help promote opportunities for Hispanic-owned businesses and the greater San Diego Community. CA is committed to supporting causes throughout the state through its CA Together global community relations program.
- - -
HopeLine, a Verizon Wireless program, which turns unused wireless phones into support for victims of domestic violence, is donating $20,000 worth of cell phones and service to the Family Justice Center. In addition, Verizon and the city of San Diego have entered into a five-year partnership worth $1.25 million to the city. The announcement was made Oct. 16.
- - -
ProjectWalk raised $25,000 at its third annual Steps to Recovery on Oct. 13. The 40 participants were individuals given less than a 10 percent chance to ever walk again due to spinal cord injury and succeeded against all odds. The funds will support the purchase of a new Robomedica gait training system for Project Walk Spinal Cord Injury Recovery Center.
- - -
Torrey Pines Bank raised $10,500 in cash, $2,500 in gift cards from IKEA along with new furniture and accessories donations to fully decorate three of the 14 units within Becky's House II. Bank staff members also purchased food and kitchen goods to stock the pantries in the units. The YWCA of San Diego County is the nonprofit organization that spearheaded development of Becky's House I and II, which are transitional housing communities in San Diego. Gary Cady, chief executive officer of the bank, said "We've created nurturing and loving home environments where families can thrive and begin to put their lives back together."
- - -
The Women's Auxiliary of Seacrest Village Retirement Communities held its 30th annual gala on Oct. 20 at the Air & Space Museum. The event raised $100,000 for development of two campuses serving seniors in retirement living, assisted living, Alzheimer's care and health care. Major donors included Sheila and Jeffrey Lipinsky, Elaine Lipinsky, Barbara Bloom and Jo and Bernard Arenson.
- - -
Harley K. Sefton, Barney & Barney, Cox Communications, Encinitas Tile & Stone and McKenna Long & Aldridge were sponsors of Wine D'Vine, a benefit held Oct. 17 at the Mingei International Museum. For 31 years, Walden Family Services has provided support to children with exceptional needs. The $80,000 raised will help fund programs that care for foster children with the most exceptional needs , mentally and physically challenged, developmentally delayed, autistic and medically fragile.
Please send Giving items to San Diego philanthropist and contributing writer Joyce Glazer at jglazer@sdbj.com .