Romance of the Rails? It's There, But Watch Your Step
Monday, November 5, 2007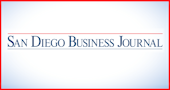 Reporter's Notebook , Brad Graves
I hadn't expected to be riding high in the cab of a 4,300-horsepower locomotive when I drove to Nebraska in September.
And though the ride on the rails was exhilarating and surprisingly smooth for 70 mph, I hadn't expected it to make me feel just a little uneasy.
I came to Nebraska because Union Pacific was having an open house at one of its key facilities. North Platte is a town the size of Lemon Grove, but a key transportation hub for this transcontinental railroad. There were tours of its sprawling Bailey Yard, where freight cars are exchanged the same way packages are shuffled at the Federal Express hub in Memphis, Tenn.
Union Pacific also has a sentimental streak (or is it shrewd marketing?) because it keeps two of its World War II-era steam locomotives in operation. It sent one to the party.
It was a Fortune 500 company putting on a show, and as a rail fan, I had to see it.
Fortunately, I packed my San Diego Business Journal baseball cap. After learning I worked as a reporter, some executives put me aboard a sold-out passenger excursion. Then they upgraded me to a cab ride.
A Hazardous Trip
The train was orchestrated by Operation Lifesaver, an organization with close ties to the rail industry that aims to cut down accidents at highway crossings.
I spent the 15-mile ride from North Platte to the outlying town of Maxwell in the coaches, listening to a railroader talk about the hazards of automobile-train collisions. Bottom line: Trains can't stop if you meet one at a crossing. They can take a mile to stop.
Shelly Harshaw, the Operation Lifesaver coordinator from Nebraska, suggested that the members of my engine crew may have been involved in an accident at some point, and they may not want to discuss it. Accidents can leave psychic scars on the crew, Harshaw said.
I decided not to bring the subject up after we stopped in Maxwell and employees walked me to the locomotive cab. They made me sign a waiver , just in case , and issued me earplugs and safety glasses.
On the trip back, I got a brakeman's eye view of Union Pacific's busy triple-track freight artery. Unlike the highway, we were traveling to the left of all traffic, whether eastbound or westbound. A dispatcher many miles away directed traffic.
Though it was exciting, there was also anxiety thrown into the mix at every road crossing, particularly where there were pedestrians. Were they headed in the path of the train? My Operation Lifesaver press kit had the statistics: Trains strike pedestrians or vehicles 12 times a day in the United States.
Thankfully, nothing happened on the day of my ride.
A Nebraska state trooper had been using my seat on the day's other excursions, looking for people driving around crossing gates or trespassing on railroad property. When he saw something, he radioed police in sport utility vehicles. That enforcement effort generated four citations in two days.
Union Pacific passed along a few other lessons during my visit. The biggest may have been the unspoken one about taking care of your intellectual property.
Honoring The Past
The two locomotives on our train were painted for defunct railroads: Southern Pacific and Chicago and North Western. Union Pacific had absorbed those roads in the mid-1990s.
It made me think back to a story the Business Journal had published in September. A San Diego company called Enth Degree Inc. had acquired Con Surfboards of Santa Monica. Key to the deal: Enth Degree acquired rights to Con's 50-year-old archive of original advertisements, artwork and surfboard designs. There was talk of licensing the artwork for a new line of apparel.
Recently, Union Pacific painted six new locomotives, including the one I rode, to honor six acquired railroads. Designers placed historic railroad emblems and color schemes in six decidedly modern paint schemes.
Sentimental streak or shrewd business move? Or both?
In recent years, Union Pacific has also stepped up its efforts to license its marks. Professional sports teams and universities do it. So do other businesses. Indeed, industries are cross-pollinating. I see Caterpillar, the tractor and gas turbine people, has its mark on a line of clothing and boots.
I'm not quite sure how much locomotives bearing antiquated company symbols might help Union Pacific in court during an intellectual property dispute. Something tells me it can't hurt.
Union Pacific is watching out for itself, because it's a dangerous world out there.
Brad Graves is Web editor for the Business Journal.