$1 Billion to Be Spent on Holiday Inns' New Look, Logos, Bedding
Monday, November 5, 2007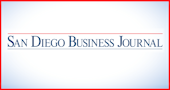 San Diego either doesn't have any of those circa 1960s round, multistory Holiday Inns that hoteliers fondly call "beer cans," or I can't find any. But there are plenty across the country, and at least a couple that changed hands, including one in Los Angeles, have been turned into retro chic relics.
Pretty soon, Holiday Inn's flag itself is going to become a collector's item. During a recent conference in Dallas, executives of InterContinental Hotels Group, the parent company of Holiday Inn and Holiday Inn Express, announced that they are tossing out its long-standing logos and signage for ones with a sleeker, more contemporary look.
It's called brand re-imaging, and it isn't just about adopting a new typeface.
The first Holiday Inn opened its doors in Memphis, Tenn., in 1952, and the company eventually evolved into a chain that now boasts more than 3,100 Holiday Inns and 1,700 Expresses. There are 10 Holiday Inns, one Holiday Inn Select and 13 Holiday Inn Expresses in San Diego County.
Meanwhile, other chains that were quicker to modernize and new ones that have sprung up resulted in a brand that looked tired, if not quite in the dust of yesteryear, by comparison.
According to Reint Reinders, retired chairman and chief executive officer of the San Diego Convention & Visitors Bureau, who is now a lodging consultant, the industry has witnessed a sea change of d & #233;cor during the past couple of decades. It all started, he said, with the Starwood Hotel Corp.'s Heavenly Beds , the brainchild of Barry Sternlicht, chairman and CEO of the private real estate investment firm Starwood Capital Group and former chairman and CEO of Starwood.
Holiday Inn's $1 billion upgrade, the cost of which would be shared between the company and its franchisees, will toss out the polyester, flowered bedspreads and replace them with new bedding. Guest rooms and bathrooms will be redesigned with new amenities; redesigned front-desk areas will sport a new backdrop; exterior lighting will shed new hues on the arrival area; and landscaping will be spruced up. In keeping with more upscale brands, the hotels will have "signature" scents and customized music in public areas.
The upgrade, which will be accompanied by additional staff training, is expected to be completed throughout the chain by 2010.
- - -
New Residence Inn By Marriott: An Irvine-based hotel development and management company, Hansji Hotels Inc., has broken ground on the 239-suite Residence Inn by Marriott in downtown San Diego.
Located at the corner of Sixth Avenue and J Street, the hotel is in the Gaslamp Quarter. The 12-story property will be an extended stay hotel with more than 8,000 square feet of ground floor retail space and three levels of subterranean parking. It will also have a street level bar and lounge, meeting and banquet facilities and a pool on a rooftop deck overlooking Fifth Avenue.
The hotel is being built on a 22,000-square-foot parcel where the 1900 Brunswig Drug Co. also stands, and its current uses and tenants remain unchanged. Hansji did not disclose the cost of construction for the hotel, which is expected to open in the spring of 2009.
At present, there are six hotels up and operating in the 16.5-block area of the Gaslamp Quarter and more right outside that entertainment district. There are about 55,000 hotel rooms in the county's inventory.
"We are pleased to break ground on a hotel that will be a major asset to the business and cultural landscape of downtown San Diego," said John Bissell, vice president of development for Hansji Hotels.
Send tourism and hospitality news to Connie Lewis via e-mail at clewis@sdbj.com . She may also be reached at (858) 277-6359.