Week in Review
Monday, May 28, 2007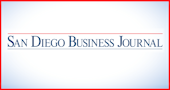 Quote of the Week
'We are facing a human and political crisis of unimaginable proportions in the meltdown of our health care system.'
, Geri Jenkins, registered nurse at UC San Diego Medical Center. Click here for the story.
Friday, May 18
Jobless Rate Ticks Up In April: San Diego's unemployment rate for April increased to 4.1 percent, compared with 4 percent in March, and above the rate for April 2006, when it was 3.7 percent.
While the jobless rate rose, San Diego's rate compared favorably with that of the nation at 4.3 percent and the California rate of 5 percent for the same period, according to the latest report from the state's Employment Development Department.
The region showed a net gain of 3,100 jobs for April, bringing total non-farm employment to 1,305,800.
From April 2006, the region had a net gain of 10,700 jobs, an increase of only 0.8 percent.
For the prior month, the biggest increase in new jobs came from the leisure and hospitality sector, which added 2,200 jobs. Three-quarters of that gain came from the accommodation and food services establishments.
Construction was the second largest job generator with 400 jobs, with specialty trades accounting for the largest gains.
, Mike Allen
Tuesday, May 22
Billions To Buy Back: Chip-maker Qualcomm Inc. announced that its board had OK'd a $3 billion stock buyback program. It replaces a $2.5 billion buyback program that had $865 million left to go.
Chief Executive Officer Paul Jacobs said in a statement that strong operating cash flows let the company buy back stock and pay dividends , as well as fund research and development.
Shares of QCOM stood at $45.98 in midday trading May 22, down one-third of a percent from the previous day's closing price. The company trades on the Nasdaq.
, Brad Graves
- - -
Veteran Manager Leaves Viejas: Frank Riolo, the first chief executive for Viejas Enterprises Inc., resigned from the position May 22 to pursue other opportunities, said Viejas Enterprises spokesman Bob Scheid.
"Frank felt he had accomplished a lot here, and it was time to pursue other opportunities," Scheid said.
Riolo was hired in 2002 after serving as the CEO of Borrego Springs Bank for seven years. The Viejas Band of the Kumeyaay Indians acquired a majority stake in Borrego Springs Bank in 1996, and became its sole owner in 2004.
Borrego Springs Bank held $86 million in assets as of the end of 2006.
Under Riolo's tenure, Viejas Enterprises has grown to become among the largest and most lucrative Indian casino businesses in the county, although the tribe does not disclose financial data. It has 2,300 employees.
The business operating unit of the Viejas Tribal Government encompasses a casino; an outlet retail center; two business partnerships that have developed hotels in Washington, D.C., and Sacramento; a concert-booking and reservations company; the bank; and two recreational vehicle parks in Alpine.
The tribe has begun what will be a national search to replace Riolo. It appointed Lyn Baxter, the former chief operating officer for Viejas Enterprises, as interim CEO.
, Mike Allen
Wednesday, May 23
Qualcomm Sows Seeds In Europe: Qualcomm Ventures is making its first investment in Europe with a $135 million boost to European wireless communications companies.
The Qualcomm Inc. investment arm will back startups and small and midsized firms that create mobile technologies, components for cell phones, network infrastructure or platform software. The first company to reap benefits from this investment is Paris-based Streamezzo.
Qualcomm said that it will provide these firms with "help getting faster access to global markets."
, Katie Weeks
Thursday, May 24
Yonder Comes The Deal: Carlsbad-based ViaSat Inc. announced that it received a follow-up deal to supply 500,000 satellite terminals to Denver-based WildBlue Communications. ViaSat said the contract , which also includes infrastructure upgrades and software support services , could be worth $200 million or more during the next three to five years.
WildBlue offers high-speed Internet service via satellite to homes, offices and governments, targeting small cities and rural areas in the continental United States. The company and ViaSat have been working together since 2001.
, Brad Graves