SDSU Students Kick-Start Startup With 'Super Bowl' of Business Plans Prize
Monday, May 28, 2007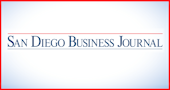 The three R's of traditional education have been evolving into the four R's , the latest requisite being real experience in the rough-and-tumble business world.
Consider Omega Sensors Inc., a fledgling company started by two students who recently earned their MBAs from San Diego State University's College of Business Administration. On May 5, they won the grand prize valued at $100,000 in cash and services at the 24th annual Global Moot Corp. Competition held at the University of Texas at Austin , an event billed as the "Super Bowl of World Business Plan Competitions."
The winning team of Brad Chisum and Nick Rhea , advised by SDSU professor of management Alex De Noble , beat out 34 teams from UCLA-Berkeley, John Hopkins, Carnegie Mellon and top MBA programs around the world, according to the University of Texas.
Chisum and Rhea won for a patented optical displacement sensing technique that can be used in a variety of applications, including navigation and seismic imaging.
The technology , known as AcXel , was the brainchild of Richard Waters, an engineer and scientist at the Space and Naval Warfare Systems Command, or SPAWAR, in San Diego, who serves as Omega's chief technical officer.
"It's an area I've always wanted to get into," said Waters, the primary author of patents for the technology. "I came up with the idea, primarily after being here for a year, and realizing a military need for this kind of technology. As I got into the different applications, I realized the large commercial application."
So did Chisum, Omega's chief executive officer, who once worked at SPAWAR as an engineer, where he got to know Waters.
"I worked on his technology," said Chisum. "I had always liked the idea of spinning out a technology company. It was obvious to us that this technology was ready for commercialization."
Waters gave him the green light to work on a business plan as part of Chisum's MBA project at SDSU, where he had enrolled.
"He wanted to develop his own company, and I was all for it," said Waters, who recently won an award from the Navy for his research and development work, as well as an award in 2005 from SPAWAR for outstanding contributions in R & D; technologies.
Market Forces
Waters said that the technology is not only suitable for existing markets, but for emerging markets as well.
In the meantime, the team is fine-tuning the product and "getting over the hurdles , a bunch of little hurdles, and they all have to come together," he said. "There is a huge laundry list that defines the quality of a sensor. What we need to do now is put together a robust package to demonstrate over all the environments."
Navigation is a potentially lucrative application, said Chisum. Navigation tools, such as Internet-based satellite tracking systems, are increasingly being relied on to identify locations and routes.
"Airplanes use GPS (global positioning system) to navigate, but the problem is, that doesn't tell you where you are all the time," he said. "It doesn't tell you how you are moving, or how fast you are going. You need sensors to have a complete navigation system."
Omega's technology, said Chisum, is designed to deliver high-performance sensors for a fraction of the cost.
"They are extremely expensive , $17,000 for one sensor , and navigation systems need at least three," he said, adding that after related expenses are factored in, the cost "can be over $100,000 easily."
While competitive sensors are built by hand, one at a time "like little Ferraris," said Chisum, "our technology is made by machines, with a discount available through volume production. We produce thousands of these at once , 2,500 is the smallest number we could make."
But the navigation application , while potentially lucrative , is on a back burner for now, said Chisum, because the potential buyers tend to be "slow adopters."
"There is a lot of government involved, and large defense contractors move slowly," he said. "They have to really be sold before they can justify switching horses in the middle of the race."
Instead, Omega is focusing on a more powerful market force , looking for oil. In this case, the technology would be used for seismic imaging, a sort of "ultrasound of the Earth," said Chisum. "The sensors can determine where potential oil pockets are."
But while seismic imaging isn't anything new, Omega's technology, again, can produce "accelerometers" that are considerably cheaper, but high-performing, he said.
"We have had conversions with several seismic imaging companies, which we see as a prime market," said Chisum. "Oil is getting harder to find, so this is a perfect scenario for us. There is a lot of interest in investing in improved methods of looking for oil."
Chisum credits Omega's marketing direction to intern Craig Braun, a dean's fellow at UC San Diego's Rady School of Management, where he is scheduled to earn his MBA in June.
Chisum said Braun's market-savvy "allowed us to conclude that seismic imaging was the best entry point at this time."
Win-Win
Omega has an agreement with SPAWAR designed to be mutually beneficial.
"SPAWAR will continue research on the core technology, and any advancements we get we share with them, and they with us," said Chisum. "We also get first right of refusal to exclusively license the patents."
Omega also gets to use SPAWAR's facilities and can employ SPAWAR engineers when needed "at a decent rate," he said.
"For a small business like us, that is a big deal," said Chisum. "Building up our own lab facilities would be very expensive. Not including the rent, it would be $500,000 right out of the gate."
Omega also has been helped by two grants, totaling $110,000, from the Center for Commercialization of Advanced Technology, known as CCAT, a public-private partnership between academia, industry and government.
Omega now is gearing up for business, in office space it leases in Scripps Ranch, while Chisum and colleagues are looking for investment partners.
Rhea, Omega's vice president of finance, considers the Global Moot Corp. Competition as, "Our roadshow to raise awareness of the company. Now, we are looking for money."
Preferably, new financing would come from strategic partners who also are customers.
"With venture capital money they are a little more hands-on in being in control of management," said Rhea.
He considers the "low-hanging fruit" , seismic imaging and navigation , to be the start of something very big.
"We think this is where the gold mine is," said Rhea.
How much gold?
"I'd say that $200 million five years out is reasonable," said Rhea. "Ten years down the road, maybe $1 billion. It depends on the applications. SPAWAR will develop other uses of the technology, and that will increase our market size."