ViaSat to Supply $200M in Gear, Services to WildBlue
Thursday, May 24, 2007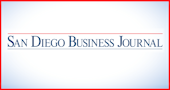 Carlsbad-based ViaSat Inc. announced May 24 that it received a follow-up deal to supply 500,000 satellite terminals to Denver-based WildBlue Communications. ViaSat said the contract , which also includes infrastructure upgrades and software support services , could be worth $200 million or more during the next three to five years.
WildBlue offers high-speed Internet service via satellite to homes, offices and governments, targeting small cities and rural areas in the continental United States. The company and ViaSat have been working together since 2001.
ViaSat trades on the Nasdaq as VSAT. In midday trading May 24, its stock stood at $31.75, down from its closing price of $32.53.
, Brad Graves