Neighborhood of Town Houses Starts to Take Shape in College Grove
Monday, May 14, 2007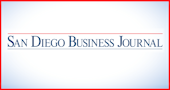 Grading began earlier this month for Intracorp Co.'s Serenata, a new town house project in College Grove. The development features 45 three-bedroom, two-bath units priced from the low $400,000s. Floor plans offer 1,100 square feet of living space.
The development is located near Market Place at the Grove, College Grove Shopping Center, Mission Trails Regional Park and Chollas Lake Park.
Gail Nakamura, vice president of marketing for Intracorp San Diego/Hawaii, said prospective buyers on the interest list will have the opportunity to preview Serenata in June. Presales are scheduled to begin in September.
- - -
Office Building Completed: Construction is complete for a new 78,000-square-foot concrete tilt-up office building in Kelly Corporate Center on Aviara Parkway in Carlsbad.
San Diego-based Smith Consulting Architects served as the project architect, San Diego-based Allen Group as the project developer and Mission Valley-based Reno Contracting Inc. as the general contractor.
The three-story office building is part of a 21-acre, master-planned corporate office park. This is the fourth building completed.
- - -
Crews Work On Apartment Walls: The framing is complete on Auburn Park Apartments, a 69-unit apartment complex located on University Avenue in City Heights. San Diego-based Wermer's General Contractors is now working on siding, stucco and drywall. Subcontractors include El Cajon-based Casteen Construction, Carlsbad-based Rowan Electric and San Marcos-based Superior Roofing.
- - -
Model Homes Opening: Three model homes at Ravinia at Calavera Hills in Carlsbad were expected to be released for sale May 12, according to McMillin Homes, the local builder.
Ravinia offers detached, single-family homes ranging from 2,200 to 2,900 square feet and priced from the high $600,000s. The California craftsman- and Spanish revival-styled homes have four or five bedrooms, three baths and two- or three-car garages.
Calavera Hills is a 900-acre master-planned community developed in partnership with the Corky McMillin Cos. and Brookfield Homes. The community comprises several neighborhoods including Ravinia. Now in its final phase of residential construction, more than 1,100 new detached and attached homes have been built.
- - -
Grand Opening For Oceanside Homes: Newport Beach-based John Laing Homes hosted a grand-opening celebration earlier this month for St. Cloud, an Oceanside development off of Mesa Drive with 349 attached homes on 35 acres. St. Cloud is within walking distance of the 400-acre Ocean Ranch Corporate Centre and features three neighborhoods: Tremont, San Luis and Palomar. The Tremont neighborhood comprises 111 bungalow-style homes. San Luis consists of 138 row townhomes and Palomar features 100 courtyard town houses. Prices are from the high $300,000s to mid-$500,000s.
Units range from 1,200 to 2,000 square feet in beach cottage, Spanish, classic Colonial and Monterey architectural designs.
John Laing Homes also incorporated a recreation center, pool, spa, outdoor amphitheater, barbecue areas and walking paths to Ocean Ranch Corporate Centre.
- - -
Chula Vista Units Set For Sales: Mosaic, a multifamily development located within the master-planned community of McMillin Lomas Verdes in the Otay Ranch area of Chula Vista, will be celebrating its grand opening May 26.
The development by Shea Homes consists of 218 units featuring two or three bedrooms with prices starting in the high $300,000s. Units range from 1,200 to 1,600 square feet and include one- or two-car garages, fireplaces, laundry areas, entry porches and balconies.
Currently selling at McMillin Lomas Verdes are McMillin Homes' residences in the Indigo, Jacaranda and Terracotta neighborhoods.
- - -
Flex Buildings Get Under Way: Design is completed and construction has begun for Venture Commerce Center on Otay Mesa Boulevard and Piper Ranch Road in Otay Mesa. The San Diego office of Ware Malcomb provided architectural design services for this project, which includes eight Class A two-story, multi-tenant office/flex condominium buildings totaling 125,000 square feet on 9 acres.
The buildings range in size from 11,800 square feet to 19,200 square feet and include office space in the front of the buildings and flex/warehouse space in the back.
Construction is estimated to be complete in December.
Lusardi Construction Co. of San Marcos is the general contractor of the project.
- - -
New Addition To Sorrento Gateway: Los Angeles-based Kilroy Realty Corp. recently tilted the walls on a 57,000-square-foot building in the Sorrento Gateway development on Directors Place in San Diego. The $21.6 million project will provide office, corporate headquarters, research and development and lab space in one two-story building.
The project, designed by Pacific Cornerstone Architects, a San Diego commercial and residential architecture firm, is scheduled for completion in the fourth quarter of 2007.
San Diego-based Pacific Building Group is serving as the general contractor.
The new building will be the fifth office and life science building Kilroy Realty has built in the Sorrento Gateway master-planned campus totaling 310,000 square feet. The other four buildings are 100 percent leased.
, Michelle Mowad