Young Entrepreneur Learns How to Ride the Wave of Success
Monday, May 7, 2007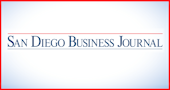 BY MARLISE KAST
Having shaped thousands of custom surfboards, Mike Walker is now shaping his own business, the Walker Project.
At 27, the entrepreneur is one of the most versatile surfboard shapers in the world.
A shaper builds surfboards out of wood, Styrofoam or pre-cut polyurethane blanks, either by hand or with specialized equipment, before laminating them with fiberglass and resin.
In January, he celebrated the opening of his new factory and retail shop in San Marcos.
Walker started out a decade ago shaping boards in his family's garage.
"I started building boards during high school when my family was living in northern Baja," Walker explains. "During my junior and senior years, I was home schooled and was able to surf every day. I couldn't afford to pay retail for new boards so I bought the tools to shape my own."
He said the process "was full of trial and error." But he kept at it until the boards looked like the ones he purchased in San Diego.
After graduating from high school, Walker landed a job with Pacific Surf Glass, where he was allowed to use the shaping room after hours.
Walker's high-quality work triggered orders for customized boards from some of the industry's most-known labels, such as Gordon & Smith, Kane Garden Surfboards, Lightening Bolt, Rawson, Rusty, Sharp Eye, South Coast and Xanadu.
For several years, Walker's factory has turned out as many as 30 boards in a week.
In 1999, the shaper introduced his own line of products under the Walker nameplate, which includes short and long boards, as well as fish shapes, retro models and, most recently, wake surfboards.
Originally focused on young surfers, Walker has shifted his focus to wake surfboarding, which allows riders to surf the wake of a speeding boat.
"The company was never intended to be branded for one type of product," says Walker. "I started the company around the shaping of surfboards and then let it grow toward the collective interests of our diverse clientele. It was very much an evolutionary and natural process."
Milo Myers, owner of Hanger '94 in La Mesa, has been selling Walker boards for eight years.
"We have a hard-core youth following who have made Walker boards our number one local brand. They know that these high-performance boards are ideal for 'aerials' and 'three-sixties.' "
Last summer, Walker said he was financially prepared to focus on his own business. He said a lot of planning went into selecting San Marcos as the company headquarters.
He said it is located near the hub of the surfing industry, and central to dealers as well as customers.
Credit Cards, Long Nights
"I used my credit cards, a lot of sweat and countless long nights," says Walker. "As the company continued to expand, I was faced with the reality of seeking outside capital. The entire process has been eye-opening, but with the recent addition of key personnel, I'm optimistic that we can compete with some of the industry's leading companies."
Walker attributes his success to the hard work of his employees.
In addition to five sales representatives, Walker's business team includes Director of Legal Affairs Sam Hellfeld; National Team Manager Scott Marvin; Art Director Ryan Leonardy; and technician Adriano Garcia. Overseeing corporate development is newly appointed Chief Financial Officer Brian Ganz, who brings 20 years of entrepreneurial experience to the business.
As chief executive officer, Walker says he has routinely devoted more than 80 hours a week to his business.
"Finally, I'm getting to the point where the workload can be distributed," he says, "which is better for the company as a whole."
Since 2000, gross sales at The Walker Project have increased 65 percent a year, he said.
Fifty percent of his revenue is generated from retail sales to customers, both from online shoppers as well as from walk-ins at his retail store.
The company generated $396,000 in sales in 2005 and is expected to exceed $500,000 in 2007.
The sales represent the annual production of 600 customized boards, which range in wholesale price from $370 to $650.
He hasn't raised prices despite rises in the cost of materials, in part caused by the closing of Clark Foam, a leading supplier of polyurethane.
Prices have also doubled for petroleum-based resin, which now costs $1,000 per 50-gallon barrel.
In the last six months, Walker launched a Web site and has sponsored dozens of riders.
He was also commissioned by Reef to shape one of the 20 boards to be auctioned off at San Diego's January ASR Trade Show.
Improvements to the redesigned Web site (www.thewalkerproject.com) include more products for sale, streaming video, gift certificates, dealer application forms and membership opportunities.
"The renovated Web site triggered an immediate increase in online sales," says Walker, "(which) keeps our clients coming back on a consistent basis."
Marketing Tools
Nevertheless, Walker believes his most effective marketing tool remains the product. "We are experiencing most of our growth from people who have seen our boards or have heard about them from their friends," says Walker. "I am constantly receiving positive feedback from my team riders. Their comments help me determine how to improve our products."
The Walker Project currently sponsors 25 surfers, including Colin Smith, a legend in the surfing community.
Winner of the 1993 Bud Tour National, Smith has been surfing for 26 years and owns 12 Walker surfboards.
"What sets Mike Walker apart," says Smith, "is that he knows about high-performance boards because he is a great surfer himself. He is passionate about the business and listens to the ideas of the customers."
Walker's goal for the remainder of the year is to streamline manufacturing, improve customer service and continue to reach a diverse demographic.
"No matter how much we expand," says Walker, "I want to make sure that we maintain the quality and values that have always been the foundation upon which our brand is based."
Marlise Kast is a freelance writer based in San Marcos.