Newspaper Web Sites Prove New Frontier for More Readers
Monday, May 7, 2007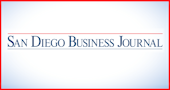 That circulation figures of the nation's daily newspapers continue to slide comes as little surprise, particularly to those who predict that the Internet will become the medium of choice for reading the first draft of history.
But in response to a recently released report of audited circulation among dailies for the six months ended in March, newspaper executives from the San Diego Union-Tribune and the North County Times, the county's two major dailies, argued that the report doesn't tell the whole story.
"We are focused on our total audience as a media company, instead of one specific metric, for instance daily or Sunday circulation," said Bill Nagel, the Union-Tribune's vice president of circulation and consumer marketing. "We are growing our reach through individuals who are paying for the newspaper and also through Today's Local News distribution and through our Enlace publication (and Web sites) enlacelink and SignOnSanDiego."
According to the Audit Bureau of Circulations, weekday circulation at the Union-Tribune dropped to 296,331 during the six months ended March 31 from 317,217 during the same period in 2006, while Sunday circulation went to 378,696 from 408,392 and Saturday circulation declined to 338,196 from 362,254.
Enlace's circulation was not counted in the ABC report because it is a free weekly publication that is distributed in Latino communities of San Diego and in Tijuana. Neither was Today's Local News, a free newspaper distributed Wednesday through Sunday in Escondido, Vista, San Marcos, Carlsbad and Oceanside.
Chris Jennewein, the Union-Tribune's vice president of Internet operations, said that the number of visits to signonsandiego is growing.
Not Problems, Opportunities
"What Web sites are doing is making up for the loss in print circulation," Jennewein said, referring to the newspaper industry overall. "It's incorrect to look at print circulation and say there are problems. It's more correct to look at combined print and online and say there are opportunities."
In the advent of the Internet, newspapers have the ability to report breaking news as fast as TV and radio, he stressed.
"What Internet editions have done is allow newspapers to break out of the once-a-day mold and reach larger audiences," Jennewein said.
Yet La Jolla-based Copley Press Inc., the newspaper's parent company, which last month announced the sale of its nine newspapers , seven dailies and two weeklies , in Illinois and Ohio for $380 million, has downsized. In December, the sale of Copley's Torrance newspaper, the Daily Breeze, was announced. It was acquired for an undisclosed price by the Hearst Corp. in collaboration with MediaNews, which would operate it. In January, the company said that 48 veteran employees, including 19 in the newsroom, voluntarily had accepted early retirement offers. The newsroom has 350 journalists.
In September, Today's Local News laid off 26 employees, half its staff, including news, circulation and administrative positions. Today's Local News has a circulation of 70,000.
The Union-Tribune does not release revenue figures.
More Northern Exposure
Dick High, publisher of the North County Times, was almost giddy about recent circulation gain. He should be. Nationwide, newspaper circulation dropped 2.1 percent on weekdays and 3.1 percent on Sundays for the six months ended March 31, compared with the same year-ago period.
One of the gainers was the North County Times, which saw its daily circulation increase from 91,135 during the six months ending in March 2006 to 91,212 during the same time frame this year. Saturday circulation, meanwhile, rose from 82,019 to 84,615, yet Sunday circulation was off from 92,223 to 91,627.
While slight, the overall gain not only bucks the national trend, but comes at a time when the North County Times is competing against the Union-Tribune's Today's Local News, which is distributed for free in North County, he pointed out.
"When the U-T launched Today's Local News against us, it took several percent of our circulation away," High said.
The freebie was launched in the summer of 2004, but the North County Times is now gaining the circulation back, he said.
"This was a serious effort to come after us, and it's (Today's Local News) still here and we're gaining in the face of it," he added.
A New Era
While High attributes some of the circulation gain to the North County Times' southwest Riverside County edition, known as the Californian, he also credits its interactive Web site, which allows readers to respond to stories.
"People go online and make comments," he said of the nctimes.com site. "On a typical day we'll run 700 comments about our stories. So we have engagement going and kids get involved." The North County Times did not have an audited tally of its Web site viewers that could parallel the ABC report.
"The main, central point is the Internet's connection with the reader is driving both sets of readership," High said.
He compared newspapers' Web sites to the Western frontier of yesteryear.
"It's out there for everybody," High said. "We've all been dealt a hand, but the newspaper's is one of the best, if not the best (among all media) in this new era." Although the North County Times laid off seven employees, including four in the newsroom, late last month, High said it represented a very small fraction of the publication's 470-member staff.
"It's a tough time, there's a lot of attention being paid to revenue and costs, and at the same time, we're a growth oriented paper," he added. The North County Times does not give revenue figures.
The Union-Tribune also has a growth strategy.
"We're focusing on a number of key ZIP codes in San Diego County that offer us a source of untapped circulation growth," Nagel said. "I can't give details because it's confidential information."
Jennewein also said that the paper's Web site recently began offering readers the opportunity to comment on news stories online.
"Readers are increasingly more sophisticated. They want to be part of the conversation," he said.