Entrepreneur Profile , Leah Thiss
Monday, March 26, 2007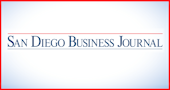 Every week, Leah Thiss commutes from the San Diego headquarters of BBBS Inc. to the company's second office in Yuma, Ariz.
And since she's a licensed pilot, the chief executive officer of the outsourced accounting company will sometimes squeezes in some of her own air time.
Thiss counts face time with clients at both offices as one of the keys of success for BBBS. It makes the travel worthwhile and keeps her clients happy.
"We interact with our clients every single day," she said.
After working at AT & T; Corp. for nearly two years, Thiss left the large company to go out on her own for that very reason.
"I think I can be much more helpful to clients out on my own," she said. "That enables us to really help small businesses."
VITALS
Name: Leah Thiss.
Title: CEO.
Company: BBBS Inc.
Company address: 11717 Bernardo Plaza Court, No. 200, San Diego.
Company phone: (858) 673-1099.
Year founded: 1992.
Prior business experience: Accounting, technical support, software training.
Average hours worked weekly: 60-80.
Source of startup capital: Self-funded.
2006 revenue: $650,000.
2005 revenue: $410,000.
Number of employees: Eight.
Web site: www.bbbsinc.com.
BACKGROUND
Birthplace: Pittsfield, Mass.
Education: Berkshire Community College, University of Massachusetts and University of San Diego.
Age: 46.
Current residence: Poway.
Family: Jeff Thiss, husband and business partner.
Hobbies: Team penning (an equestrian sport), riding motorcycles, flying airplanes.
JUDGMENT CALLS
Reason for getting into business: I saw a need for growing businesses to have timely, accurate and meaningful accounting and bookkeeping services and support , at a price they can afford.
How I plan to grow the business: This business is primarily referral based. We have a wonderful referral network of investment bankers, banks, CPAs, existing clients, venture capitalists and investors.
Biggest plus of business ownership: Seeing our clients (CEOs and managers) begin to understand and use their financial information as a tool to run their business more profitably.
Biggest drawback: When a new client comes to us after costly mistakes have been made that compromise the viability of their business. Sometimes it's too late for us to help them.
Biggest business strength: Our experienced staff and its diversified skills provide a degree of expertise that cannot be found in a single individual. This is where outsourcing really pays off , a company only pays for the expertise it needs, when it needs it, and has access to a wide breadth of talent.
Biggest business weakness: Continually finding the right employees to be an asset to our company and clients to keep up with the growing demand for our services.
Biggest risk: Starting a company in the first place.
Smartest business decision: Staying on top of the latest advancements in technology. We have always offered the most cutting edge communication and connectivity solutions to our clients so that if we are not physically at their location, we are seamlessly working as if we are in a "virtual office" down the hall.
Biggest business mistake: Possibly not seeking funding for more rapid growth sooner.
Toughest career decision: Expanding to other states, but the decision was an excellent one.
Biggest ongoing challenge: Deciding when and how to grow to the next level and determining if it's time to work with outside investors to become a leading nationwide outsourced accounting/bookkeeping company.
The most important part of my business: Working with our clients and watching them succeed using the financial tools and insights we provide to them.
My business works best when: There is a balance between our clients and our staff. The office just hums.
Best way to stay competitive: I have found if our clients are happy, it is the best way to remain competitive along with good marketing support to make prospective clients aware that we exist.
How I measure success: Our clients' success is our success.
GOALS
Goals yet to be achieved: Becoming the premier outsourced national accounting/bookkeeping company. Creating the same availability and advantages for accounting/bookkeeping that payroll companies provide today.
My five-year business plan: Continue growing as we have , through satisfied clients and referrals. Look to an outside source for a capital infusion to speed up growth.
Why I would not want to sell the business: I am having too much fun with it, but I would welcome strategic partnerships and investors to this business because, with the right capital investment, there is much to be gained.
Guiding principles I will continue to follow: Always remembering that our clients' success and achievements are our success and achievements.