Tech Law Firm Goodwin Procter Opens San Diego Office
Monday, March 19, 2007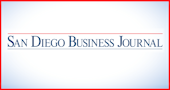 Boston-based Goodwin Procter LLP opened a San Diego law office March 19. Stephen C. Ferruolo and Ryan A. Murr, former partners with Heller Ehrman LLP, will chair Goodwin Procter's new office in the University Towne Center area.
Ferruolo has worked on public and private financings, acquisitions, joint ventures, strategic partnerships and technology licenses for companies in biotechnology, material sciences, medical devices and diagnostics, software and telecommunications. In addition, he serves as a member of the executive committee, vice president and general counsel of Biocom San Diego.
Murr specializes in corporate and securities law with an emphasis on representing publicly traded companies in connection with securities offerings, mergers and acquisitions, Securities and Exchange Commission reporting and corporate governance matters for the life sciences, information technology and software industries.
The local expansion marks the start of a third California office in less than a year. In April, Goodwin Procter opened San Francisco and Los Angeles offices. San Francisco employs 12 attorneys and Los Angeles seven. A second Los Angeles firm was announced March 19 as well.
Regina M. Pisa, chairman and managing partner of Goodwin Procter, said serving clients on the West Coast is a key component of the firm's long-term bicoastal strategy.
In addition to the offices in California, Goodwin Procter has offices in Boston, New York and Washington, D.C., and employs more than 700 attorneys.
Goodwin Proctor's practice focuses on advising life sciences and technology companies with more than 150 of the firm's attorneys representing 330 technology and 170 life sciences clients.
, Michelle Mowad