Encinitas-Based Fast-Food Owner Rides Wave to Success
Monday, March 19, 2007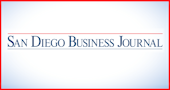 When Reza Karkouti began scouting sites to locate the first of what would eventually be a chain of Hawaiian-style fast-food restaurants, landlords were reluctant to take an 18-year-old who borrowed his startup capital very seriously.
Now, 15 years later, with customers lining up outside his third Surf Bros. Teriyaki restaurant, which opened four months ago in Carlsbad, and another slated to open soon in Escondido, landlords are becoming believers in the business.
"When I first opened up in what was literally a hole in the wall in Encinitas, everybody said I'd go out of business," Karkouti said. "They said I didn't have that much experience and questioned what I was doing selling only three menu items."
By cobbling $35,000 together in loans from friends and maxing out credit cards, Karkouti, whose family fled Iran and went to Germany in 1980 following the overthrow of the shah, envisioned the restaurant business as a route to financial security.
"We moved here from Seattle with no money and nothing," he said. "My mom and dad had no jobs, and here I was a kid driving around looking where to open a restaurant. Once I did, I didn't sleep for the first two years fearful that we'd go out of business."
Though his family wasn't initially sold on the idea, Karkouti, 33, credits his father Ahad, 65, and brother Amir, 27, with making the venture a success.
"I convinced them that by working hard together as a family we would succeed, and I believe that there was no way that would have happened without them," he said. "It was teamwork, but you don't see too many family-owned restaurants becoming chains these days.
"It's very difficult, because every step involves my whole family's destiny, not just me personally. If I worked for somebody else's corporation and added 15 restaurants and goofed up, the worst that would happen is I'd lose my job. If I goof up in our business, we could lose our homes and our cars."
Steve Zolezzi, executive vice president of the Food and Beverage Association of San Diego, said that landlords tend to shy away from mom-and-pop restaurants because of the industry's high-risk factor.
"They want to pre-qualify tenants and get as close to AAA tenants as they possibly can so they can write up leases based on high volume," he said. "They want to lease to a deep-pocketed company, so they have that company to go back to in case a location fails."
As far as chains are concerned, the restaurant industry has become a more "cash intensive" business than in the past, he said.
Being a successful chain also involves hiring more employees, hiring others to manage those employees, training them, securing locations that will generate high volume traffic and selling products at prices that net a good return, Zolezzi added.
A Chicken And Egg Proposition
Having opened his first eatery in November 1992 in an El Camino Real shopping center that offered no visibility from the main street and which then lost its anchor tenant, Karkouti is now determined to focus only on high-visibility locations.
After Camino Village Plaza, home to the chain's first eatery, secured a Vons grocery store as an anchor tenant, traffic improved at the shopping center, and Karkouti has no plans to move.
Street visibility for his second location in the Rancho San Marcos Village shopping center in San Marcos is nothing to boast about either.
But his newest restaurant in Carlsbad's Loker Business Center has high visibility "and the line of guests is out the door from 11:30 a.m. to 1:30 p.m.
"But it only takes 25 to 40 seconds to fill orders, no matter how busy we are," he said.
The fourth location slated for Plaza Las Palmas on West Valley Parkway in Escondido offers high street visibility.
Karkouti feels certain the two new restaurants will help to fuel the company's bottom line, which in turn will help when it comes time to scout new locations.
In 2006, annual sales for two restaurants were $1.2 million. With four, Karkouti projects sales could more than double to $2.5 million this year. Currently, Surf Bros. Teriyaki employs 40 people.
"My plan is to pay off the company's loans and open two restaurants a year after the fourth restaurant opens," he said. "Then we'll get bigger loans and open anywhere from three to five per year."
Karkouti's goal is to have a total of 8 to 10 restaurants in San Diego County, then to venture into Orange County.
The name of the business has been changed twice. Initially it was Tokyo's Teriyaki, then Island Bros. Teriyaki. But to avoid duplication with competitors outside the county, he settled on Surf Bros. Teriyaki five months ago.
The company's menu and its homemade teriyaki sauce, which is sold in bottles at the restaurants and in some grocery markets, have not changed.
"Another main reason we're so successful is the sauce. I really mean it," he said. Yet serving high-quality meats are equally important.
Ordering one of three items , platters of chicken or steak skewers and a combo platter of both, along with rice and salad , customers typically dine in during lunchtime. In the evening, carry-out is the norm. The chicken platter goes for $6.25, steak for $6.95 and the combo for $6.75. The company also caters.
Although the menu is simple, preparing the food is not.
"The meat is trimmed of fat and cleaned very carefully and marinated overnight," he said. "We have crews that do the prep work and skewering at night. I buy only hormone-free, grain-fed beef and our chicken has to be extremely fresh.
"We charbroil, so we need the freshest and best chicken," he said.
With three eateries now operating and a fourth due to open within the next two months, Surf Bros. Teriyaki has definitely caught a wave. Yet, Karkouti says he derives the greatest amount of satisfaction from hearing that his customers like the fare.
"When I go to the grocery store and someone comes up and shakes my hand and says, 'Hey, I had your food,' and they thank me, I feel great," he said. "I fed someone else's family and they took the time to tell me they enjoyed it. I take so much pride in that."