Scripps Mercy Receives $2.5M for ER, Trauma and Intensive Care Units
Monday, March 12, 2007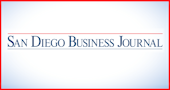 Scripps Mercy Hospital received a $2.5 million grant from the Henry L. Guenther Foundation. The money will be used to expand and modernize its Hillcrest emergency room, trauma program and intensive-care unit. "Enhancing emergency and trauma services is critical to caring for the growing number of people who live and work in central and southern San Diego," said Mary Braunwarth, executive director of the foundation.
- - -
Sharp HealthCare Foundation received $2 million in commitments toward its campaign in support of the new Sharp Memorial Hospital.
Campaign co-chair L. Robert Payne and his wife, Patricia , gave $1 million to push the campaign closer to its $50 million goal. This donation was in addition to a $250,000 gift that they made in 2003 to help launch the fund-raising effort.
The Kresge Foundation gave the other $1 million as a challenge grant, which requires that Sharp raise an additional $8 million toward its goal.
To date, the campaign has raised more than $43 million.
- - -
Pure Bioscience has donated 800 bottles of its Staph Attack product, an industrial disinfectant for use by emergency medical technicians, fire departments and police personnel in San Diego.
"We greatly appreciate a local company stepping forward to help address a serious health threat in our city, said Tracy Jarman, the city's fire chief. "Anything we can do to stop the spread of MRSA by creating a cleaner environment for the individuals coming into contact with the infection on a daily basis is a great asset not only to our teams but to public health as a whole."
MRSA, or Methicillin-resistant Staphylococcus Aureus, is a type of bacteria that is resistant to certain antibiotics.
The amount of Staph Attack donated is enough to treat 72,000 square feet of surfaces.
- - -
Tempe, Ariz.-based Sundt Construction Inc.'s Sundt Foundation selected seven nonprofits to receive $7,000 in grants this quarter. Each nonprofit will receive $1,000, and they are: the Burn Institute, Canine Companions for Independence, the Girls Are Great program of the Girl Scouts San Diego , Imperial Council Inc., Outdoor Outreach, the Salvation Army's Children's Learning Center, United Cerebral Palsy Association of San Diego County and A Youth Restoration Alliance.
- - -
Together As One, featuring as keynote speaker former President Clinton, and sponsored by the United Jewish Federation will be held March 6 at the Manchester Grand Hyatt. Corporate sponsors include Cooley Godward Kronish LLP, Equastone, Garden Communities, Lake Elsinore Storm, Levitzaks Certified Public Accountants, San Diego National Bank, Sempra Energy, Strata Equity Group Inc. and Sunroad Enterprises.
- - -
The Oceanside Museum of Art held its annual Royal Mardi Gras Brunch on Feb. 18. The event raised $17,000 to support museum programs.
- - -
Madcaps , Mothers and Daughters Club Assisting Philanthropies , presented a musical extravaganza, "Stepping Up and Standing Out," benefiting local nonprofits, including St. Vincent de Paul Village, Head Start Crash/Options for Recovery, and Habitat for Humanity. Madcaps is celebrating 47 years of community service and more than $500,000 has been donated to designated nonprofits.
- - -
The 10th annual Heart of San Diego Gala was held at Hyatt La Jolla on Feb. 24. The event benefited the Sulpizio Family Cardiovascular Center of UC San Diego, and raised $550,000.
- - -
San Diego County Credit Union, Shea Homes and UBS Carlsbad and Rancho Bernardo branches sponsored Recipe for a Cure, which benefits Juvenile Diabetes Research Foundation. Several local restaurants and caterers participated in helping to raise $40,000.
Please send Giving information to Stacey Bengtson at sbengtson@sdbj.com or San Diego philanthropist Joyce Glazer at jglazer@sdbj.com .