Tourism Officials Find Unconventional Ways of Reaching Target Markets
Monday, March 5, 2007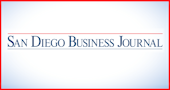 BY ANDREA SIEDSMA
As a world-renowned vacation spot, San Diego County has it all , miles of amazing coastline, nearby mountains, resorts, golf courses, the San Diego Zoo, Balboa Park, SeaWorld and other attractions. Tourism may be the third-largest industry in the region, but it didn't get that way solely from the climate and activities that support it.
What has kept visitors coming back for more? It has a lot to do with targeted marketing strategies, said David Peckinpaugh, president and chief executive officer of the San Diego Convention & Visitors Bureau.
Peckinpaugh said Convis has been extremely effective with developing brands for its three core markets , leisure, travel and meetings/conventions. Last April, Convis rolled out a campaign called "365 Days of Ahhhhhhh." The campaign promotes San Diego as a place for active relaxation.
"This whole idea of an active destination is powerful," Peckinpaugh said. "If you look at active relaxing, it's not just vegetating on the beach, but it's actively getting involved in the destination , whether it's surfing, sailing, going to the arts and cultural attractions, or playing golf. These activities give you a sense of renewing but also relaxation."
Having a strong branding and marketing campaign is essential for any region trying to strengthen its tourism base, Peckinpaugh said. One of the successful strategies Convis has used is e-advertising. For example, there is a vacation advertisement about San Diego on the home page for the Weather Channel in the East when it's snowing or raining there.
"It's been a tough winter back East; so we can use electronic channels to promote San Diego as a destination," said Peckinpaugh, who, last June, moved to San Diego from Cleveland, where 18 inches of snow on the ground is common.
Targeted advertising is important when promoting a tourist destination, Peckinpaugh said. Convis has a market research arm that does a lot of due diligence to support and drive the organization's direct-mail campaigns, he added.
"You really need to understand the marketplace," he said. "We've done a lot of the homework that is required to make the right decisions."
Hitting The Mark
Advertising to the masses , what Peckinpaugh calls "spray and pray" marketing , should be avoided. "You have to understand who the buyer is, what their income levels are, and what their interests are," he said. "The spray and pray marketing strategy is prevalent in the industry. You spray your message across to everybody and pray that someone is listening. That's ineffective. Instead of doing a massive campaign you do a target campaign to a specific demographic. That's how you drive your ROI (return on investment) up."
Individuality, he said, is the name of the marketing game for attracting tourists to a region. In a world of mass communication, regions must target individual interests, Peckinpaugh said. He added that each age group must also be communicated to differently. He pointed to custom networking communities such as MySpace, which are driven by the same concept.
In an industry where competition for visitors is fierce, tourism officials must also continue to create new attractions and products, Peckinpaugh said. A good example of how San Diego has continued to attract new visitors is through projects and attractions like the USS Midway, Peckinpaugh said. The Midway, an aircraft carrier museum along San Diego's waterfront, has attracted thousands of visitors since its opening in 2004, Peckinpaugh said.
"It has driven enormous traffic to San Diego," he said. "How you continue to create thriving, energetic and healthy destinations is through constant improvements and new product developments. Nobody does that better than Las Vegas. Vegas recreates itself every decade. That's how they keep interest high."
While tourism organizations in regions like Las Vegas have $50 million or more to spend on annual visitor marketing, places like San Diego must piggyback on other campaigns in order to compete, said Peckinpaugh, former vice president of sales and catering for the MGM Grand in Las Vegas. It's a strategy than Convis uses often. For example, Peckinpaugh said Convis works in conjunction with the state of California's tourism marketing efforts.
"The state has this huge ability to do things we can't, so we look at what they're doing and align our strategies to that," he said. "We look at the markets they are going into and do similar marketing in those areas."
Fueling Meetings Market
Meanwhile, Convis has deployed salespeople throughout the country to fuel San Diego's meetings market. These sales associates attend trade shows and industry organization meetings to promote San Diego as the ideal location for the business meetings, events and conventions.
Tourism officials in San Diego's North County also vie for business travelers but do not compete for conventions.
"We're not a convention center destination," said Cami Mattson, president and CEO of the San Diego North Convention and Visitors Bureau. "We don't pretend to be something that we're not. We know what we have so we go out and look for what matches our destination and sell our amenities."
One strategy that has worked for the North Convention and Visitors Bureau is promoting North County as a place for business travelers to bring their families for an extended stay. One of the main attractions of North County is its world-class resorts, Mattson said.
"Many destinations are trying to identify what is unique about their region so they can be competitive with their marketing strategies," she said. "We are a resort region so we market ourselves as that."
The North Convention and Visitors Bureau is also using the Internet as a virtual forum for past and future visitors. The bureau has spent a lot of time revamping its Web site, including games, sweepstakes and visitor insider tips, to boost the region's tourism attractiveness. During the holidays, the bureau even e-mails recipes from local chefs to former visitors as a way to market to them and keep them interested in North County. "We try to create relationships with people so they continue to come here," Mattson said.
Andrea Siedsma is a freelance writer for the San Diego Business Journal.