Construction Starts on North Island's New Headquarters in Kearny Mesa
Monday, June 25, 2007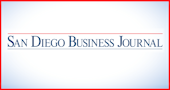 Progress Report
North Island Credit Union held ground-breaking ceremonies earlier this month for its new headquarters building, a six-story, 130,000-square-foot development at 5897 Copley Drive in Kearny Mesa.
The project, designed by H2A Architects and constructed by Swinerton Builders, will seek Leadership in Engineering and Environmental Design, or LEED, certification, a U.S. Green Building Council benchmark for sustainable building standards.
The project is scheduled for completion in late 2008.
- - -
Students Wait For Health Center: Design is under way for a 49,000-square-foot allied health building at Mesa College by Architects Delawie Wilkes Rodrigues Barker of San Diego.
The $16 million project will be located adjacent to the main campus entrance, and feature classrooms, clinical dental lab, computer lab, faculty and staff offices, medical lab and physical therapy lab.
Construction is scheduled to begin in April 2008 with completion set for August 2009.
Paul Schroeder is serving as the principal-in-charge for Delawie Wilkes, and the project team consists of Alison Morita, Javier Nava, Doug Paterson and Kerry Ringle.
Consultants include San Diego-based Hope Engineering for structural engineering, RBF Consulting for civil engineering and TKG Consulting Engineers Inc. for medical, electrical and plumbing engineering.
San Diego-based Wimmer Yamada & Caughey is the project team's landscape architect and Churchill Engineering Inc. is the code consultant. URS Corp. is serving as the construction manager for the San Diego Community College District.
- - -
Hangars Built For Navy Aircraft: Construction is complete for the first phase of a $45 million facility at the Naval Air Facility El Centro.
San Diego-based KMA Architecture & Engineering designed the project that will provide four aircraft hangars and nine support buildings.
The project incorporates sustainable features, including translucent hangar doors and high-performance heating, ventilation, air conditioning and cooling systems.
The airfield is the seasonal home of the Blue Angels and serves as a training center.
The KMA project team included architects Jim Belmont, Don Blair, Jay Guerrero, Scott Newton and Joyce Peabody. Burkett & Wong Engineers of San Diego provided structural and civil engineering services. The landscape architect was San Diego-based Garbini & Garbini Landscape Architecture Inc., and RJA Group Inc. provided fire-protection services with interior design work by Poway-based Hasenbeck Interior Design.
- - -
Maric College Expands Campus: Johnson & Jennings General Contracting has completed tenant improvement construction for Maric College in Kearny Mesa. The expansion added 14,000 square feet of space to the campus.
LBA Realty is the building owner and property manager. Hurkes Harris Design Associates Inc. provided space planning and design for the $1 million project.
Subcontractors included B & B; Acoustics, Back Quality Construction, Bingham Heating & Air, Cass Plumbing & Heating, Challenge Electric, Towne Construction, Tri-Signal Integration, Western Fire and Zephyr Painting.
- - -
Gafcon Joins Bond Committee: The Grossmont Healthcare District board selected construction management firm Gafcon Inc. to its 11-member Independent Citizen's Bond Oversight Committee. The committee reviews activities related to a $247 million bond measure used to finance projects at La Mesa's Grossmont Hospital.
Gafcon administrative support will include Web site management, as well as project management services for the proposed health occupations training center and multistory education building featuring classrooms and laboratory facilities.
- - -
More New Homes In Chula Vista: Lennar Corp. said it plans to build new homes at Rolling Hills Ranch in eastern Chula Vista. The development will feature 54 residents with homes ranging in size up to six bedrooms. Sites will range from 10,000 to 50,000 square feet.
Models are expected to be completed in late 2007 and sell for $1 million and up.
Rolling Hills Ranch is a 400-acre community featuring several developments, including Clearstory by Del Mar-based Davidson Communities, Quintessa by San Diego-based McMillin Homes and Provence by Cornerstone Communities.
The Corky McMillin Cos. is the master developer of Rolling Hills Ranch.
, Michelle Mowad