Partnership Snaps Up Largest Industrial Parcel in County
Monday, June 11, 2007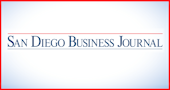 A Southern California partnership has purchased one of the county's largest industrial-zoned parcels in the rapidly changing Otay Mesa section of the county.
The Kearny PCCP Otay 311 LLC, a partnership of Kearny Real Estate Co. of Los Angeles and El Pacific Coast Capital Partners LLC of El Segundo, closed on the acquisition of 311 acres in this border community just weeks ago for $23.4 million.
The two said they anticipate developing up to 3 million square feet of industrial space within Otay Crossings Commerce Park, which borders Otay Mesa Road and Alta Road.
"This was one of the last large, key industrial properties in San Diego County that has the potential to have significant industrial development on it," said John Bragg, vice president of Kearny Real Estate Co., from his San Diego office.
The 3 million square feet would increase the current industrial inventory in the area by 25 percent.
In addition, 94 acres of right-of-way has been reserved for state Route 11, a planned freeway extension from state Route 905 to the Mexico border, where additional acreage has also been set aside for a much-needed new port of entry.
Highway Extension
Jason Rosin, a senior project manager with Kearny Real Estate, said the highway extension and planned border crossing , coupled with aggressive residential building in neighboring communities , bring both the infrastructure and access to a new work force. This easier access should bring more business opportunities south to Otay Mesa, he said.
"Otay is going to become a more and more viable location for businesses," said Rosin. "I think the future looks good for the industrial product in Otay because of those factors."
While Otay Mesa features just 12.5 million square feet of industrial land from the county's 200 million square feet of space, it continues to grow at a rapid clip.
"The Otay Mesa market is probably the fastest-growing market in San Diego," said Rosin.
Alejandra Mier y Teran, executive director of the Otay Mesa Chamber of Commerce, said the purchase is yet another example of the booming development activity in Otay Mesa.
Mier y Teran said one reason Otay Mesa is attracting interest is the lack of developable industrial parcels in other parts of the county.
"We are running out of land in San Diego County and companies who still want to be located here are looking to Otay Mesa," she said.
She also links the spike in interest in raw land to the construction of the South Bay Expressway from SR-905 in Otay Mesa to state Route 54 to the north, and the planned construction of Interstate 905 south.
Near Highways
"Before, villages set up near rivers," she said. "Now, businesses set themselves up near highways."
Otay Mesa is really starting to see the impact of highways, said Mier y Teran.
"We never had this opportunity before until now," she said.
Linda Greenberg, vice president of Colliers International's San Diego office, agreed that Otay Crossings Commerce Park was one of largest industrially zoned parcels remaining in the county.
"Every time a qualified developer purchases in Otay Mesa, we're securing the future of Otay," Greenberg said. "In addition, one of the largest impacts on future absorption is going to be the lack of industrial land countywide," said Greenberg.
Greenberg also noted that the cost of industrial-zoned land in other parts of the county makes Otay Mesa very attractive. She quotes the cost of industrial land for purchase in Carlsbad at $25 a square foot and more than $20 a square foot in Oceanside.
"That does not work for somebody in manufacturing or distributing," she said.
Land prices are generally less expensive in Otay Mesa than in other industrial markets. The landowner recognizes that this relative pricing advantage will be a key driver to the venture's success.
Entitlements
The entitlements at Otay Crossings Commerce Park are estimated to take up to three years.
Rosin says the new owner could break ground in two to three years on horizontal development, which will include grading and infrastructure improvements, such as streets, drainage and sewer lines. Building could start as early as three-and-a-half to four years out.
Kearny Real Estate will probably build a big chunk of the development, according to Rosin, with the remaining land being sold to others for build-to-suit and speculative projects.
The purchase is Kearny Real Estate and Pacific Coast Capital Partner's third investment in Otay Mesa, after Britannia Industrial Park and Siempre Viva Industrial Park.
Kearny Real Estate is currently developing Westside Business Centre in Temecula as a 56-acre industrial park, and Bakersfield Airport Business Center, a 450-acre, master-planned industrial park in Bakersfield.
Pacific Coast Capital Partners also recently invested $8.6 million in Ventana Real, a 226,000-square-foot Class A office project in Carlsbad, according to its Web site.
Britannia is a 12-lot subdivision totaling 40 acres, where construction on infrastructure has begun. Siempre Viva is 50 acres, where work is in the preliminary stages.
The seller of the 311-acre parcel was Otay Crossings Commerce Park LLC based in Solana Beach. Jay Alexander, Gunder Creager, Ryan Grove and Tom Mercer of Colliers International represented the seller.