Private Industry Now Giving the Green Light to Sustainable Building Practices
Monday, July 23, 2007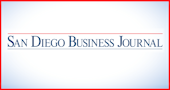 San Diego is growing greener by the month.
This seaside city is tapping into the $12 billion sustainable building industry, and earning recognition for environmentally responsible development.
More and more projects are seeking Leadership in Energy and Environmental Design, or LEED, certification from the U.S. Green Building Council.
It is the most widely recognized standard for sustainable building practices.
Christopher Day, vice president of Swinerton Builders, said San Diegans have opened their eyes to the value of LEED projects during the past year or two.
The San Francisco-based company with an office in Rancho Bernardo has a dozen LEED projects in construction or in preconstruction in Southern California.
With the green building movement largely influenced by increased awareness, advances in the construction product lines and decreases in costs, mandatory green standards are on the horizon.
"The projected impact of green building is that it will have as much influence on our industry as the invention of elevators during the turn of the century, and air conditioning," said Day.
At the start of the movement many builders wanted to build green but did not want to go through the detailed certification process.
Yet, Day finds dealing with the details is worth the trouble.
"A friend of mine has a simile that building a green project without getting LEED certification is like living together but not getting married. You are kind of committed but not really committed," he said. "And it is about making that whole level of commitment."
Swinerton built one of the first sustainable buildings more than 30 years ago.
The Green Building Council ranks certification on the amount of green features incorporated in a building and procedures used in construction. Rankings start at silver certification then advance to gold with platinum being the highest certification.
Three local projects received LEED certification this month alone.
Office Earns Silver
The San Diego Housing Commission announced that its new downtown office was awarded LEED silver certification on July 9 , the first agency in the city and one of only three governmental agencies within the county to achieve silver status.
The agency, which helps more than 80,000 low-income individuals find affordable housing each year, moved into the building in January.
Green features of the 1122 Broadway office include natural lighting, low-emission carpets and paints, construction materials with recycled content and energy-efficient heating, cooling and water systems.
Elizabeth C. Morris, president and chief executive officer of the housing commission, said it has always been committed to environmentally sound practices and smart growth concepts in housing developments and its LEED-certified building underscores that commitment.
Earlier this month, Qualcomm Inc.'s Building W was awarded gold LEED certification. Building W on Qualcomm's Sorrento Mesa campus features solar panels, high-efficiency lighting and high-performance insulated glazing.
Numerous San Diego-based companies participated in the design and construction of the award-winning property, including Architects | Delawie Wilkes Rodrigues Barker, Burkett & Wong Engineers, ILA | Zammit Engineering Group, Roel Construction Co., Walsh Engineers, and Wimmer Yamada and Caughey.
Center Takes Platinum
But taking top honor was the Ranch House at Del Sur. The community center in North County was awarded platinum LEED certification on July 3.
The Ranch House, developed by San Diego-based Black Mountain Ranch LLC, is the first private-enterprise sponsored, new building to achieve the platinum rating in California as well as San Diego.
There are nearly 700 new construction certifications awarded by the Green Building Council and only 28 have earned the top honor to date.
The Ranch House features solar energy systems, energy-efficient appliances, recycled and renewable construction materials and weather-based irrigation systems.
Fullerton Architects P.C. of Kalispell, Mont., provided architectural design services. San Diego-based Design Line Interiors provided interior design. Standard Pacific Homes, based in Irvine, constructed the Ranch House, and Benchmark Landscape Cos. of Poway provided landscape installation services.
Green Is Growing
Hernando Miranda of Carlsbad-based Soltierra Inc. served as the LEED consultant for the Ranch House.
Miranda, who has worked on 100 green projects, including 18 LEED-certified projects, is not surprised by the recent growth in green construction.
He said governmental agencies and nonprofit entities were largely the builders of eco-friendly office space, but private companies have jumped on board.
"Private companies are not just doing the minimum for certification," he said. "They are doing the higher rated projects."
Since Miranda formed Soltierra in 2002, he has provided consultation on two platinum, two gold and one silver certified project , three of the five are located in San Diego.
He said green building practices are finally being adopted by companies of all sizes.
"If it is going to stick and stay, it can't just be used by the policy leaders," he said.
The National Movement
The U.S. Green Building Council welcomed its 10,000th member company on July 5. The significant achievement comes after more than a decade of working to transform the way buildings are designed, built and operated.
"This achievement is a significant milestone in the growth and development of the green building movement because it demonstrates a broad conviction that our built environment can improve the health of our planet, our economy and our community," said Rick Fedrizzi, president, CEO and founding chair of the organization, in an announcement.
"Thousands of volunteers have contributed tens of thousands of hours to the development of the LEED green building rating system; chapter leaders all over the country are making transformation happen at the local level; and all our members are raising the bar for their colleagues throughout the industry," he said.