Comic-Con International '07 to Draw Big Crowd to Convention Center
Monday, July 23, 2007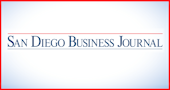 BY PRESTON TUREGANO
Last summer, when San Diego Comic-Con International officials disclosed the four-day 2006 event attracted a record 123,000 attendees to the San Diego Convention Center, one patron exclaimed to a Comic-Con administrator, "Wow, $25 (per person) times 123,000."
The attendee assumed Comic-Con ticket sales, which are called "memberships" by the organization, had generated $3,075,000.
"I wish. No way did we make that much," said David Glanzer, Comic-Con marketing and public relations director, while preparing for San Diego Comic-Con International 2007. The event has a preview for four-day registered members July 25, officially opens July 26 and ends July 29.
Short for Comic Convention, Comic-Con attracts comic book and science fiction devotees from all over the world by spotlighting comic book art, artists, writers and publishers; comic book collectors; science fiction purveyors; movie and TV talent, and other pop culture figures.
The first Comic-Con held 37 years ago in the basement of the US Grant Hotel attracted just 300 people, Glanzer said.
For now, Comic-Con officials aren't saying how much was made from 2006 memberships, or from any other sales or activities, because the organization hasn't yet submitted a Form 990 (showing revenues and expenses) for fiscal year 2005-06 to the IRS, Glanzer said. The document is expected to be completed later this summer.
Nonprofits are exempt from paying federal and state income taxes.
Despite Comic-Con's wait-until-the-paperwork-is-done stance, Glanzer disclosed there were not 123,000 paid admissions to last year's event.
Instead, 33,000 individuals got in free, leaving 90,000 who bought memberships sold throughout the year. Membership discounts are offered to the early buyers.
If purchased a year in advance, a four-day membership pass can be had for as little as $25 or $35. Discounts decrease as the comic convention nears.
At the door, an adult four-day pass costs $65. For anyone, a one-day at-the-door membership goes for $25.
According to Glanzer, non-payees last year included 1,500 members of the press (some from as far away as Japan and Australia); 20,000 professionals (such as writers, artists and actors) and their guests; approximately 9,000 convention exhibitors who bought floor space; 2,000 volunteers, and around 500 individuals who received complimentary tickets from radio stations or other sources.
'05 Convention Numbers
Although the overall profitability of Comic-Con 2006 remains to be determined, Comic-Con's 2004-05 Form 990 shows the 2005 convention , also four days , did well.
It generated just over $5.1 million in program service revenue. Broken down, that includes $18,282 from an art auction; $11,375 from program advertising; $73,850 in sponsorships; $2,268,736 in memberships, and the biggest moneymaker , $2,743,841 from booth and table space sold for the Comic-Con trade show.
This year, Comic-Con exhibit space was sold for as much as $1,800 and as little as $500, with early payment discounts available. Press tables for small publishing operations went for $350.
Surprisingly, Comic-Con doesn't make a lot from convention T-shirt sales. Just 1,000 T-shirts were produced last year by a private vendor who decided what the shirt image would be. Comic-Con got 23 percent , or $4.60 , of each $20 shirt sold, Glanzer said.
Comic-Con's Program Service Revenue has been on an up-tick for the past several years. In fiscal 2003-04, it totaled $4,495,151, up from 2002-03's $3,664,093. In 2001-02, the revenue was $2,898,195, up from $2,244,467 in 2000-01.
During 2004-05, Comic-Con's total revenue (adding $43,945 in interest on savings, and $39,586 in "other revenue" to the $5.1 million "Program Service Revenue") came to $5,208,372. After subtracting $4,229,900 in operating expenses, Comic-Con was left with a $978,472 surplus that year.
"Whatever we have left over after expenses always goes back into the organization to help prepare for the next convention," Glanzer said.
In 2005, it cost Comic-Con more than $2.2 million to stage its convention, according to the 2004-05 Form 990. The biggest bills were $326,644 for convention center rent; $315,110 for advertising; $302,999 for security; $260,922 for professional services, and $389,218 for "casual labor," such as workers who help set up the event. Approximately $616,360 more was spent on such things as insurance, awards, freight, parking, storage, utilities, and special rooms or spaces.
Comic-Con also presents two other comic events, both held in the Bay Area.
Star Mania
Much Comic-Con mania stems from movie and TV stars who attend the convention, and movie studio and TV network hype of upcoming films or series. Last year, "Spider-Man 3" created preview buzz.
This year, two new science fiction series from NBC , "Bionic Woman" and "Chuck" , are scheduled to be previewed at Comic-Con before their fall premieres, Glanzer said.
With movie studios tight-lipped about what new films will be previewed at this year's Comic-Con, Glanzer could only say Paramount and Warner Bros. studios have committed to presentations in a 6,500-seat theater Comic-Con creates in one of the convention center's ballrooms.
Warner Home Video will show the recent hit movie "300" Friday night at Petco Park to 10,000 Comic-Con attendees.
Whatever the previews turn out to be, many Comic-Con enthusiasts will come to the event dressed as science fiction characters, or comic book superheroes.
The typical Comic-Con attendee is 18 to 34 years old. Sixty percent of Comic-Con patrons are men.
Glanzer said in Comic-Con's early years "there was the impression (in society in general) that comics were either for people who couldn't read books," or that comic books were preventing people from reading books.
"That's not really the case," said Glanzer, who has been a lifelong fan of comic books, "Star Wars" movies and the Japanese superhero, Ultraman.
"There once was the stigma that comic books were a dumbing down," he said "I say, look at some of the art and story lines that are in some of these books. People in Europe and in Pacific Rim countries have been aware and appreciative of comic book art and story lines for years."
The city of San Diego's tourism industry certainly appreciates Comic-Con. Based on 123,000 attendees, Convention Center officials said last year's run resulted in $15.6 million in direct event spending (any money that goes directly from a tourist's pocketbook into the local economy) and $37.6 million in indirect spending (money that is spent by tourists that is re-spent within the local economy).
Comic-Con-related hotel transient occupancy tax and sales tax totaled $611,000 last year, according to official figures.
Steven Johnson, the Convention Center's vice president of public relations, said when it comes to attendance, Comic-Con is the single largest (annual) event at the bay front facility.
"Every square inch of the (1,104,100-square-foot) center is used by Comic-Con," he said. "We are thrilled to host Comic-Con and we value them tremendously."
Comic-Con's enormity has impacted another major annual event in the city. This year's San Diego Lesbian, Gay, Bisexual, Transgender Pride parade and two-day festival was moved to July 21-22 rather than scheduled for the last weekend in July (its traditional date for more than a decade) because of Comic-Con, said Pride spokesman Frank Sabatini Jr.
Comic-Con may also put a damper on day-long auditions at Qualcomm Stadium on July 30 for the next season of Fox Television's "American Idol." Thousands of out-of-town singers may not be able to find a place to stay since many Comic-Con attendees will not have to check out of their hotel rooms until around noon on July 30.
Modest Business Operations
Despite its size and scope, and impact on other community activities, Comic-Con , as a business , operates modestly.
Most of a year, Comic-Con has just a dozen full-time employees who work out of the organization's Spartan, but heavily comic book-decorated, offices in La Mesa.
As the event nears, the casually attired staff increases to around 20.
Full-time top Comic-Con administrators earn decent, but not impressive, salaries. Glanzer and Executive Director Dona Fae Desmond were the only employees who earned more than $50,000 each during 2005, says the Form 990 for that year. Glanzer's salary was $56,694 and Desmond's was $69,837. Despite her title and wages, Desmond never talks to the press, Glanzer said.
Of Comic-Con's 13 board members, six were "compensated" for part-time work they did for the organization in 2005. Trustees of most nonprofit organizations, particular arts institutions, do not get paid for serving on the governing body.
Board members who serve large organizations like San Diego Opera and San Diego Symphony are required to make substantial annual financial contributions to their respective organizations.
At Comic-Con, board President John Rogers was compensated with $18,000 in 2005; Vice Presidents William Pittman, Beth Holley and Robin Donlan each were paid $8,640 that year; Secretary Mary Sturhann and Treasurer Mark Yturralde each earned $4,320.
"They (the compensated board members) are people who have been involved with Comic-Con for a while," he said. "They have great expertise as it relates to the show."
Preston Turegano is a freelance writer for the San Diego Business Journal.