Sempra Earns Tidy $1.15B Profit From the Sale of Energy Trading Unit
Monday, July 16, 2007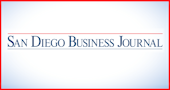 Sempra Energy confirmed last week that it is selling the majority stake in its energy trading unit to the Royal Bank of Scotland for $1.35 billion, giving the San Diego-based company a tidy profit of more than $1 billion.
Sempra acquired the business in 1997 from AIG Trading Corp. for $200 million.
The deal was the subject of speculation surfacing last month, but Sempra refused to comment.
Under the deal announced July 9, Sempra retains 49 percent of a newly formed joint venture, RBS Sempra Commodities LLP, which will continue to be based in Stamford, Conn., with 850 employees.
The Royal Bank of Scotland Group is one of the largest financial services companies in the world and generated revenue of $82.5 billion in 2006, according to Hoover's Inc.
The Sempra commodities unit that buys and sells natural gas, oil, electricity and metals contributed $504 million, or 36 percent, to Sempra's net income last year of $1.4 billion.
Despite the excellent returns the unit has been generating in recent years, Sempra said it doesn't have the capital resources to grow the business, and compete with much larger energy trading companies.
Chief Executive Officer Donald Felsinger said the transaction allows the company to continue to participate in the earnings growth, while scaling back on the risks inherent in such a business.
"We've done a lot here to remove the volatility and uncertainty surrounding this business," Felsinger said.
After the deal is completed, expected to occur this year, Sempra plans to use the profits for a stock repurchase plan that would spend $1.5 billion to $2 billion, and to boost its quarterly dividend by 4 cents to 35 cents, or to $1.40 annually.
Sempra affirmed its 2007 earnings forecast of $3.75 to $3.95 per share, but amended its 2008 forecast to reflect the lower earnings payouts, to $3.65 to $3.85 per share.
That had no ill effect on Sempra shares, which closed July 9 at $60.74, up $1.44 from the prior trading day's closing price. Traded on the New York Stock Exchange under SRE, the stock has ranged from $44.42 to $66.38 in the past 52 weeks.
- - -
WD-40 Profits Up, But Stock Skids: WD-40 Co., a maker of lubricants and other household goods, reported a pretty decent quarter last week, with higher net income and higher revenues than the same quarter last year, but because it reduced this year's forecast, its stock took a beating.
Shares of WD-40, traded on the Nasdaq exchange under WDFC, dropped to $32.23 in after-hours trading July 9, off nearly $5, or 13 percent, from the closing price for the regular session that day.
WDFC recovered July 10, but still closed at $33.25.
This comes even in the face of increased performance by the company. For its fiscal third quarter ended May 31, WD-40 reported net income of $7.6 million for the quarter compared with $7 million for the like period of 2006. Revenue for the quarter was $77.6 million, up 6.2 percent over last year's sales in the third quarter.
For the nine months, WD-40's net income was $22.3 million on revenue of $228.8 million, compared with net income of $21.8 million on sales of $211.7 million for the like period of 2006.
It was the company's revised forecast of future revenue and profit growth that clearly rattled Wall Street. WD-40 said sales should grow this fiscal year by 7 percent to 9 percent, or $307 million to $313 million, down from the prior range of $307 million to $324 million.
Net income was revised to finish in a range from $29.1 million to $30.2 million, or per share earnings from $1.70 to $1.75. That differed from the previous forecast for net income in a range from $29.1 million to $31.6 million, or per share earnings from $1.70 to $1.85.
The company attributed the lower forecast to its move to China, which is expected to reduce net income this year by $600,000.
CEO Garry Ridge also said besides the increased China expenses, the reduced profits was caused by increased employee costs, higher legal expenses, and less favorable rates resulting from currency exchanges.
On an upbeat note, WD-40's board declared a regular quarterly dividend of 25 cents per share, payable July 31 to stockholders as of July 17.
- - -
WFI Continues Its Sell-Off: WFI, formerly known as Wireless Facilities Inc., said July 9 that it arranged the sale of its wireless deployment business to Platinum Equity, a Los Angeles private equity firm, for $24 million.
WFI said the transaction for $18 million in cash at closing and $6 million in future earn-out payments through 2010 includes the Wireless Facilities name. About 450 technical and support staff in locations throughout the United States who are part of the transaction will be offered employment by the prospective owner, WFI said.
WFI, a designer, builder and operator of wireless telephone networks for telecom carriers, has been in a restructuring mode since the beginning of this year, and is exiting that former core business. The company is now concentrating on providing information technology and engineering services to federal, state and local government agencies.
In June, WFI closed the sale of its engineering unit, with 350 employees, to LCC International, based in McLean, Va. WFI has received $38 million on that sale and stands to collect an additional $6 million in accounts receivables.
Eric DeMarco, WFI's chief executive, said after the completion of the sale of the wireless deployment unit this month, WFI's remaining business should generate $200 million in annual revenue. It will have 1,200 employees.
WFI hasn't filed quarterly financial reports since the third quarter of last year because of an internal probe into the granting of stock options to its employees, and possible backdating of the options. In the course of its investigation, WFI found evidence of a major criminal fraud involving stock options that it turned over to federal securities regulators.
In U.S. District Court in San Diego on July 3, Vencent Donlan, former stock options administrator for Wireless Facilities, pleaded guilty to one count of wire fraud and one count of tax evasion. Donlan and his wife concocted a scheme to issue stock options that were converted to 728,000 shares of WFI stock, which were sold on the open market, netting the couple more than $6.3 million from 2002 to 2003, according to court documents.
Donlan, 44, a former teacher, and his wife, Robin, used the profits to purchase new homes in Del Cerro and Julian, according to court records. He faces a maximum prison sentence of 20 years for the wire fraud charges alone.
WFI has yet to complete its investigation, and obtained an extension from Nasdaq to continue to be listed on the exchange to complete its financial reports.
Its most recent report is the 2006 third quarter. For the nine months ended Sept. 30, WFI reported a net loss of $2.3 million on revenue of $254.4 million, compared with a net profit of $12.1 million on revenue of $280.5 million for the like period of 2005.
Traded on Nasdaq under WFII, shares closed July 9 at $1.92, and ranged from $1.01 to $2.98 in the last 52 weeks.
- - -
SAIC Buys Another Company: SAIC announced it acquired Benham Investment Holdings LLC, an engineering and design consulting firm based in Oklahoma City, for an undisclosed price.
Benham has 800 employees and supports clients in Oklahoma, as well as in St. Louis; St. Paul, Minn.; and Detroit.
Benham is described as providing a range of engineering services, including specialized expertise in energy management, industrial manufacturing and facilities, software development and integration, alternative fuels and process engineering, and advanced visualization and communication systems.
Joe Craver, president of SAIC's infrastructure, logistic and product solutions group, said the acquisition will accelerate SAIC's growth in the energy management services market with both federal and commercial customers.
The acquisition is expected to close in August. Benham and its subsidiary companies will become subsidiaries of SAIC, and Benham's headquarters would remain in Oklahoma City, the company said.
Also known as Science Applications International Corp., SAIC is one of San Diego's largest public companies with annual revenues of more than $8 billion, and more than 44,000 employees.
Traded on the New York Stock Exchange under SAI, shares closed at $18.02 on July 9, and have ranged from $16.60 to $21.10 since the shares went public in October.
- - -
Ticker Takes: Websense Inc. gained clearance from British regulators on the proposed acquisition of SurfControl PLC for $400 million. A federal judge in Santa Ana denied a motion by CKE Restaurants Inc., parent of the Carl's Jr. brand fast-food stores, to stop television ads by Jack in the Box Inc. that poked fun at Carl's Jr. hamburgers. Maxwell Technologies Inc. said it obtained a worldwide license for a patent covering the use of its ultracapacitors, or power storage and delivery systems, in wind energy systems. NextWave Wireless Inc. launched a Latin American business unit. Axesstel Inc. said revenue for its second quarter will be $28 million and 2007 annual revenue will be $110 million, reduced from an earlier forecast of second-quarter revenue of $35 million and annual revenue of $135 million.
Send any news of locally based public companies to Mike Allen via e-mail at mallen@sdbj.com . He can be reached at (858) 277-6359.