Clark's Real Estate Empire Has Become a Part of Local History
Monday, July 16, 2007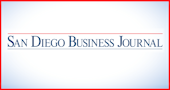 Since founding the Golden Triangle's first commercial real estate services firm in 1974, Craig W. Clark of C.W. Clark Inc. in La Jolla has led the development of more than $500 million in commercial, hotel and urban real estate.
A Texas native and a 1965 graduate of the U.S. Naval Academy, Clark sold the brokerage division of his company in 1988 to focus his efforts on commercial real estate development.
Clark, 65, said it's the hands-on community aspect that he enjoys about his work.
Jeff Rogers, director of development for C.W. Clark since 2003, worked with Clark in the 1970s. Clark was then a leasing agent with Willis Allen Real Estate, and Rogers was a project architect with SGPA Architecture and Planning in San Diego.
"Craig has never been afraid to take on challenging projects," Rogers said. "He's the opposite of a formula-driven developer , he engages in urban and mixed-use projects that require technical challenges and involvement with the community."
Rogers also worked on the entitlements and approvals for the Gateway Center office buildings in Escondido, and the Los Coches Village medical offices in Carlsbad. Both projects were approved commercial sites, but it required working very closely with neighbors, he said.
Current projects under way include the $50 million Marketplace at Liberty Station, which opened officially in February in Point Loma.
C.W. Clark is handling the leasing and property management of the 160,000-square-foot retail and office center off Rosecrans Street.
Trader Joe's and Starbucks were the first merchants of several to open at the Marketplace, which is part of Liberty Station's $850 million mixed-use development being built on the site of the former Naval Training Center.
The 361-acre bayside project is a collaboration of the city of San Diego's Redevelopment Agency and The Corky McMillin Cos., and it will serve the estimated 350 families in the area.
"Being in the historic core of the old NTC, every component of the project from original concept to the ongoing nuts and bolts of implementation is unique and challenging," Rogers said. "We're working with very old, historic buildings."
Historic Chapel Renovation
At Liberty Station, C.W. Clark undertook a rare project in the restoration of the historic North Chapel.
Clark lightheartedly calls it, "A great loss leader not exactly a money-maker."
Built in 1942, the two-story non-denominational chapel was closed by the Navy in 1997 and sat vacant until the nine-month makeover began last year.
Rogers said the chapel became a kind of "pet project" for Clark.
"Few properties in San Diego have as much meaning for residents and visitors of a certain age as the North Chapel," Clark said. "The building has become a part of people's life experience, and they're unwilling to relinquish it."
According to Martin "Dusty" Ucker, director of design and construction at C.W. Clark, the scope of work needed to bring the 7,868-square-foot chapel from old guard to new rank was extensive.
"Hitting major renovation high notes were the replacement of the outdoor music system that provides traditional bell rings for the military chapel and modernization of the sanctuary's pipe organ," said Ucker.
San Diego-based Legacy Building Services Inc. was the general contractor on the project, and other design consultants were El Cajon-based Nadel Architects Inc., San Diego-based Heritage Architects and San Diego-based ONA Landscape Architects. Rogers said that with a myriad of input from the local Save Our Heritage Organization, the city planning staff and local community groups, the outcome of the chapel restoration fit nicely into the vision for Liberty Station.
"What I've always seen for Liberty Station is that we're creating part shopping center, part park and part museum," Rogers said. "You need to work within that total formula to make it work."
SOHO presented Clark with a preservation award for the chapel's refurbishing in June.
Diverse Projects
Maintaining its reputation of project diversity, C.W. Clark was approved by the Escondido City Council last August to proceed with its $56 million Marriott Hotel development plan.
The project would become Escondido's first full-service hotel.
The City Council agreed to invest $16.5 million to help build the 196-room Marriott on what is currently 1.3 acres of parking lot. Phelps Development LLC of Greeley, Colo., plans to begin construction in early 2008.
In addition to the hotel, the project also calls for renovation of an existing 25,000-square-foot conference center at the California Center for the Arts, Escondido.
As for future projects in San Diego County, Clark said the company is always looking for opportunities, but also said he's worried about nuisance lawsuits.
"If it weren't for the absolute strength of the Southern California market, I'd have a hard time encouraging anyone to develop here," Clark said. "We've created a system where there are way too many regulations, legal consequences, federal compliances , fees alone make up a serious part of your business."
C.W. Clark has already taken business outside of California, and the company has plans to continue seeking development opportunities in the Western region of the country.
One such project is the Yuma Historic Riverfront Area and City Hall project, in Yuma, Ariz., on the Colorado River.
According to Larry Kimball, director of hotel development for C.W. Clark, ground will break this year on the project, known as the Pivot Point Riverfront Redevelopment, and its planned completion is mid-2008.
In March, building permits were issued for a $30 million Hilton Garden Inn and Riverfront Conference Center, part of a long-term plan to redevelop Yuma's riverfront.
"The hotel and conference center will be the northern-most anchor and key focal point of the $100 million Pivot Point plan," said Clark.
San Diego-based Joseph Wong Design Associates Inc. and SGPA Architecture and Planning of San Diego and San Francisco are part of the project team with Summit Builders Construction Co. serving as general contractor for the project.
"A big draw for me before the Pivot Point contract was awarded to us was that I thought I would be able to do some hunting and fishing there," Clark said. "Once I learned more about its history and what the pivot represented during the Gold Rush, I felt very lucky to be involved in that evolution of bringing back some history to Yuma."
Yuma served as the gateway to the new Western territory of California, as it was one of the few natural spots to cross the very wide Colorado River.
Keeping Busy Locally
Clark said he's plenty busy for the time being, with several local projects under way.
C.W. Clark teamed with property owner, the Bruce Burgener family, for a $30 million redevelopment of a 1950s-era shopping center overlooking Mission Bay Park.
The developer has also proposed a commercial center to be called the Civic Center Marketplace, near San Marcos City Hall, on the corner of San Marcos Boulevard and Twin Oaks Valley Road, following its 2004 purchase of the nearly 20-acre parcel.
According to Steve Warfield, C.W. Clark's director of acquisitions and development, construction of the first phase of the San Marcos project should start within a year.
Credited for his pioneering contributions in real estate development and property management in the La Jolla-Golden Triangle area, Clark received the annual Ernie Hahn Visionary Award on behalf of the La Jolla Golden Triangle Rotary Club in June.
Also active in forming the local Rotary club, Clark was singled out for "bringing the right retail and commercial mix to the area," said Dale Barnes, president of the La Jolla chapter.