Small Business Spotlight , Joy Acupuncture
Monday, January 22, 2007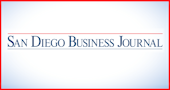 Small-business ownership and stress go hand in hand, especially for Jocelyn Joy, whose success literally hangs on how much stress she can handle.
Only instead of her own stresses, Joy makes a living helping rid others of their aches, and pains.
Joy, a licensed acupuncturist, is owner of Joy Acupuncture in downtown San Diego.
"Acupuncturists can be great health care practitioners, not always the best business people," said Joy, who accepts the things she cannot change by outsourcing needs such as marketing and Web site development.
Joy, who launched her business in 2002, reported $105,000 in revenue last year, up from $87,000 the year before.
"I really try to keep my treatments simple, laugh lots and realize that when it comes to healing many times slower is faster and less is more," Joy said of what types of principles guide her.
Also helping guide her into success as a business owner has been Joy's networking skills. Joy said the smartest move she ever made in business was joining a chamber of commerce.
She also believes in creating professional partnerships with other medical professionals who can help steer new clients to her via referrals.
VITALS
Name: Jocelyn Joy.
Title: Owner, licensed acupuncturist.
Company: Joy Acupuncture.
Company address: 2602 First Ave., Suite 103, San Diego.
Company phone: (619) 322-4492.
Year founded: 2002.
Prior business experience: Worked as a massage therapist.
Average hours worked weekly: 40 to 50.
Source of startup capital: Family, self.
2006 revenue: $105,000.
2005 revenue: $87,000.
Number of employees: One.
Web site: www.joyacupuncture.com.
BACKGROUND
Birthplace: Los Angeles, but raised in very small Central Valley town of 1,600 people.
Education: Bachelor of Arts, Anthropology, San Diego State University, 1987; Master of Science of Traditional Oriental Medicine, Pacific College of Oriental Medicine, 2001.
Age: 44.
Current residence: Encanto.
Family: Married to Thomas Patrick Joy; two grown stepchildren; a Jack Russell Terrier named Tucker Elvis Joy; and four cats: Calvin, Molly, Zuni and Orange.
Hobbies: Needlepoint and studying Chinese.
JUDGMENT CALLS
Reason for getting into business: To be of service in a way that also supports me physically, financially and emotionally.
How I plan to grow the business: Continuing to develop and nurture strategic alliance relationships with other health care practitioners, especially doctors of several specialties, including orthopedics, family medicine, dermatology, etc.
Biggest plus of business ownership: Being able to structure my business in a way that serves my patients best. Treating only one to two patients at a time, spending much of a session actually with the patient.
Biggest drawback: Tending to the day-to-day details of the business.
Biggest business strength: Knowing I can't do it all and hiring people to help me.
Biggest business weakness: Thinking too small.
Biggest risk: Opening the business with no patients and a huge student loan.
Smartest business decision: Joining a chamber of commerce and a networking group.
Biggest business mistake: Thinking too small about my business early on.
Toughest career decision: To make the move to a larger space so my business can expand.
Biggest ongoing challenge: Taking care of myself as well as I take care of my patients.
The most important part of my business: My patients.
My business works best when: I am focused on being of service, I listen to my patients, and I maintain a sense of humor.
Best way to stay competitive: Provide my patients with service, compassion and time, plus attention they might not get with other health care practitioners.
How I measure success: Referral business, a patient's progress and lastly, profit and loss statements.
GOALS
Goals yet to be achieved: Teaching, mentoring, translating Chinese medical material to make it more accessible for English-speaking practitioners.
My five-year business plan: To expand my practice to include associates.
I would sell my business only if: I had to move or retire, and the person or persons share my sense of honor and privilege in being able to help people.
Guiding principles I will continue to follow: Laugh a lot, slower is faster, less is more, keep it simple and ask for help when I need it.