All Is Not Lost, Despite the Bitter End of the Football Season
Monday, January 22, 2007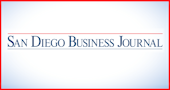 As sales of yellow and blue face paint drop off the charts, I'd like to suggest 10 things to do in San Diego since post-season football ended in tears and before baseball begins.
1. Play pool upstairs at Dussini Mediterranean Bistro on Fifth Avenue in the Gaslamp. You'll enjoy yourself, even if you've never played a game before in your life. I recommend this as a respite for the Chargers, too. And if they want to go incognito, they could slap on some yellow and blue face paint and wear a nylon jersey, the kind with the little holes in it.
2. Take in the La Jolla Music Society's Peng, Peng, Piano at 3 p.m. on Sunday, Feb. 18, at 10640 John Jay Hopkins Dr., La Jolla, and think where you could be today if you'd kept up with those piano lessons. Chinese pianist Peng Peng, 14, is a seasoned veteran of the concert stage.
3. Afterward go to Zenbu Sushi Bar and Restaurant on Fay Avenue. Try the red rock cod if it's available. Caught locally, and deep-fried whole, tempura-style, it melts in your mouth.
4. Go to the beach near Naval Air Station North Island in Coronado right before sundown. Take a blanket or a couple of lawn chairs, some wood, kindling and newspapers , this column will do , and start a fire in one of the fire pits. Sift sand through your toes and forget the fatal playoff game, or walk straight west like Norman Maine in "A Star Is Born," the Judy Garland/James Mason version.
5. Take in the view of San Diego Bay from the patio at Bertrand at Mr. A's on Bankers Hill, comfortable in the knowledge that you don't have to shell out big bucks to go to the Super Bowl as you watch jets landing at Lindbergh Field.
6. Bake a four-layer cake from scratch with an untried recipe that calls for very expensive ingredients, and invite two or three of your best friends over. If it doesn't turn out, you, unlike Marty Schottenheimer, will still have their love. And you can sing the lyrics from "MacArthur Park." "Someone left the cake out in the rain. I don't think that I can take it 'cause it took so long to bake it "
7. Get in the fast lane on the freeway, then move into the slow lane. You'll know how the Chargers feel. Wear some leftover yellow and blue face paint and get behind the rest of the fans still driving aimlessly after the game.
8. Take a peek at the new muni golf course under construction, The Crossings at Carlsbad, then complain about it. You'll know how sportswriters with little else to do before baseball gets under way feel.
9. Keep saying: "It's only a game."
10. If you're still depressed, repeat steps 1 through 9, eliminating step 2, of course, unless Peng Peng decides to stay in San Diego and give piano lessons. If not, go to the bar off the lobby at the Hotel del Coronado and ask the piano player to play "Rhapsody in Blue." And before you know, it will be baseball season.
Send tourism and hospitality news to Connie Lewis via e-mail: clewis@sdbj.com . She may also be reached at (858) 277-6359.