Times Are Good for North County Daily
Monday, January 8, 2007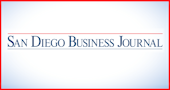 While the county's largest newspaper struggles with dwindling circulation numbers, a small-by-comparison little-daily-that-could is sporting a well-deserved grin.
The North County Times, a 90,000-plus daily based in Escondido, is touting its first circulation increase in years for the month of November and December. It's also named its first director of online operations.
"It's nice when things go right," said Publisher Dick High, who believes a strong interactive Web site has driven interest in the print editions.
On average, 500 or more reader comments are logged on the paper's site each day in response to stories that have run in the print edition. The paper has also been blessed with the recent Escondido controversy that dealt with an attempt to ban renting to illegal immigrants, a news story that's drawn enormous attention.
But High doesn't believe one story alone could have caused the increase.
"Frankly, we're all fumbling forward with the new age," High said. "It's a really interesting development that certainly I did not anticipate."
The circulation increase is small , an average of just 171 more copies per day on a year-over-year comparison for November and 150 more copies per day on a year-over-year comparison for December. But it is significant when you consider the Times' turf was "attacked" this past year by a free paper distributed by the Union-Tribune Publishing Co., said Mark Henschen, the Times' circulation director.
"It's been a heck of a fight given that Today's Local News came in with 75,000 free copies, but we've done it and I think we're going to continue to improve those numbers," Henschen said.
By the publisher's own calculation, the Times reported an average circulation of 92,257 on weekdays, 86,380 Saturdays and 91,701 on Sundays for November. Unaudited reports for December show 87,949 on weekdays, 83,276 Saturdays and 90,839 on Sundays.
December figures are generally lower than November because more people leave town for the holidays, Henschen said.
The numbers pertain only to core circulation counts, which reflect home delivery and single copy sales, and are important to advertising sales. Henschen said part of the increase could be credited to consumers taking advantage of easy pay plans. In all, some 72 percent of Times home subscribers have their bills paid automatically, he said.
The Times also picked up several Today's Local News employees this past fall when the five-day-a-week paper , two months shy of its second anniversary , eliminated 26 positions. Altogether, the Times employs the full-time equivalent of about 430 people, plus more part-timers and contractors.
Both North County papers target the cities of Escondido, San Marcos, Oceanside and Vista. The Times also covers the Poway/Rancho Bernardo area, Ramona and coastal cities north of state Route 56.
David And Goliath
La Jolla-based Copley Press Inc. owns the Union-Tribune Publishing Co., which includes Today's Local News and the San Diego Union-Tribune , the 21st largest circulation daily newspaper in the nation at 300,000-plus.
While the Times, owned by Davenport, Iowa-based Lee Enterprises Inc., is gloating over rising numbers, the Union-Tribune is not.
Like most large dailies, the Union-Tribune is suffering declines in circulation even after winning a coveted Pulitzer Prize last year in connection with the Randy "Duke" Cunningham bribery scandal.
The U-T's weekday circulation dropped more than 3 percentage points in the six-month period ending in September; as did rates at every other major daily in the state. In the same six-month period preceding September 2005, the U-T circulation dropped 6.24 percent on weekdays and 3.98 percent on Sundays.
To counter the trend, the Union-Tribune announced its own key hire recently. Frank Horvath, 41, is the paper's new circulation director, taking on duties previously handled by Bill Nagel, vice president of circulation and consumer marketing. He reports to Nagel and comes from the Oakland-based Alameda Newspaper Group.
"Frank's position increases the operational focus in the U-T's circulation department," Nagel said. "His hiring will help us reach our goals: to increase circulation and improve service throughout our circulation area."
Many industry analysts blame circulation declines on increasing Internet usage, but High, who's been publisher of the Times since it was created 11 years ago, believes the Web has helped his publication.
Embracing The Net
Brett Sondrup, formerly online sales manager for the Times, was named its first director of online operations last month. Sondrup, 37, started with the Times three years ago in its information technology department and has worked in sales the last two years.
High said Sondrup will supervise both editorial and advertorial content at nctimes.com, which receives on average 6.5 million to 7 million impression views per month and has an estimated audience of 150,000 people per month.
"I need somebody to pull it all together and make sure it all makes sense," said High, who added that it's a mistake to run separate print and online operations because it can breed internal struggle.
Instead, he wants one editorial staff supplying content for both simultaneously and a sales staff selling print and online packages whenever possible.
Besides making sure the site is aesthetically pleasing and easy to navigate, Sondrup will oversee the implementation of a new partnership with Yahoo Hot Jobs. Soon, help wanted ads placed with the Times can also be placed with Yahoo for an additional charge.
The Union-Tribune, like other papers nationwide, is in the process of rolling out a similar program.
The Times' offering is expected to start this month.
Sondrup declined to discuss other new developments in mind for '07, but did say a "handful" of new IT and sales staff will likely be hired to help with the changes.
"There's not going to be any attempt to control content at all except as a means of leveraging the site itself," Sondrup said.