Marketing Firms Better Get Tech Savvy or Risk Getting Left Behind
Monday, January 1, 2007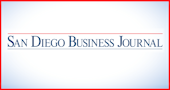 Marketers may be facing a pivotal year as technological advances give advertisers virtually unlimited opportunities to persuade the public.
Cell phones that play videos and Web sites that run TV shows are just a couple of examples of how traditional venues for advertisements are changing.
"As consumers spend less and less time with a single-media vehicle marketers will continue to be forced to diversify their media plans and build campaigns that take an advertiser's brand across multiple vehicles," said Andreas Roell, president of the San Diego Ad Club.
Founded in 1911, the Ad Club has more than 300 members and hosts educational workshops and networking events.
Another change prompting marketers to re-evaluate their strategies this year is an increase in the number of Web sites controlled by the user; sites driven by blogs and uploaded home videos.
With all that technology influencing the marketplace, Roell expects companies will be slightly more generous with their online spending in '07. Statistics were not available by press time.
Online marketing budgets are traditionally less than conventional print and broadcast budgets partly because it costs less money to produce an online campaign. But as emerging technologies pull consumers away from conventional media, that might change.
Getting Online
In addition to his role with the Ad Club, Roell is founder and chief executive officer of Geary Interactive, an online ad agency in downtown San Diego since 2000 with about 50 employees and satellite offices in New York and Las Vegas.
He estimates that online spending currently accounts for about 6 percent of media dollars spent but that number is likely to climb to about 9 percent this year.
"Budgets will continue to shift to online," Roell said. "The majority of the budget shift will come from small to midsized operations. As for larger advertisers, the shift in budget will be less felt industrywide as the cost of online media is still much lower than traditional media."
Of those who are spending more on online marketing, much of the extra cash may go to Google, according to Dana Todd, executive vice president of Site Lab International Inc., a La Jolla-based Internet marketing and design firm Todd co-founded in 1996. She also co-founded the Search Engine Marketing Professional Organization, or Sempo, a worldwide trade group based in Massachusetts.
"Forty percent of all online ad dollars are going into search marketing," Todd said. "One out of every four dollars is going to Google."
Roell predicts that 2007 will be an awakening year of sorts for local marketers in the online space.
"There will be marketers (this year) who will wake up and realize that the things that they have done online for a while are not working anymore," Roell said.
Roell is not alone in his theory.
Michael Nottoli, president of San Diego's High Tech Marketing Alliance, says this is the year a new user-driven trend in the industry , Web 2.0 , explodes.
"Everyone is going to have to shift their thinking around more than we've ever done before," said Nottoli, a 14-year marketing veteran who does consulting work for several companies, including San Diego's Mtelligence Corp. Mtelligence produces asset performance management software that can improve a company's efficiency, reduce costs and increase revenues, according to its Web site.
Welcome To The Future
Web 2.0, a phrase coined in 2004, refers to the evolution of sites that are controlled largely by the everyday people who use them, such as MySpace, Facebook, YouTube and Wikipedia.
Nottoli said it's important that veteran marketers understand and accept that the consumer is in charge now.
"People are going to have to make the mind shift from the C-level on," said Nottoli, whose professional group was founded in 1985 as the Computer Electronics Marketing Alliance but renamed the High Tech Marketing Alliance in 1999.
It hosts mixers, luncheons and other industry-specific events for its members.
Like Nottoli, Todd expects a lot of action out of Web 2.0 this year.
"Web 2.0 is still evolving in its adaptation to business," Todd said. "People are still learning how to monetize it."
According to Geary Interactive's Roell, those figuring out how to monetize 2.0 might want to skip pioneering sites, such as MySpace, and try to appeal to an even newer generation of online communities.
"I predict that we will see a tremendous slowdown in user-generated content. Looking at some of the statistics out there with social networking sites, you start seeing a slowdown in frequency of posting," Roell said. "On the other hand, I see a rise in networking sites that focus on what I call 'passion' interests. These are your affinity groups towards brands, products or categories, such as sports."
Still, some believe even pass & #233; sites can be worthy of attention in the U.S. advertising industry, which generates hundreds of billions of dollars in annual revenues.
"Yahoo never went away, AOL chat rooms never went away," Todd said. "They're not as popular as they once were but people still use them today."
Renewed Spirit
Wherever marketers choose to focus their efforts, many agree that a renewed entrepreneurial spirit can be found online, thanks in part to Web 2.0.
"Just the sheer depth of communication is going to cause marketing to be more nimble, less bureaucratic and more innovative than ever before," Nottoli said.
Todd hasn't seen this kind of action since the late 1990s, with more startups than ever before abounding.
"I think we're definitely going to see a lot of consolidation this year," Todd said. "Google can't buy them all. This has been a huge startup year, bigger than I think we've ever seen since the late '90s."
Because there is so much going on online, Nottoli suggests that companies not be lax about the competition, as more options are debuting all the time.
"We've learned so much from the dot-com years that we can't spend indiscriminately anymore," Nottoli said.
The much tighter race is full of marketing competitors of all sizes with somewhat equal shots at winning.
"I actually think they are on the same playing field," Nottoli said. "It's the one that's going to show the most results that is going to succeed."
While Nottoli expects leaders in the Web 2.0 space to emerge by the end of 2007, he sees room for this trend to carry over into 2008 and possibly beyond.
"I think we're in for a wild ride," Nottoli said. "It's exciting."