Lack of Land, Traffic Congestion Forcing More Mixed-Use, Infill Projects
Monday, February 26, 2007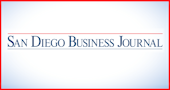 The age of large-scale, mixed-use, master-planned communities in suburban areas of the county may be over.
Tony Pauker, regional president of the Olson Co. and chairman of the Urban Land Institute of San Diego/Tijuana, said future development will shift from master-planned communities to smaller infill mixed-use projects.
"With the exception of a couple large parcels, master-planning is over in San Diego," said Pauker.
While we are at the end of that era, Pauker said future projects may be as small as a few acres on the waterfront downtown to a few hundred acres in and around Otay Mesa and in North County.
Craig Clark, president of La Jolla-based commercial real estate developer C.W. Clark Inc., said a number of factors played into the growing use of mixed-use, redevelopment projects in San Diego and elsewhere in the past few years.
Clark said the lack of land, congestion and demand for shorter commutes are the leading causes for these adaptive uses.
Shortening The Commute
He stressed the importance of having work and home closer together.
"When you can find a community where a lot of these things are intermingled in a general geographic area, it is much better," said Clark, citing areas in the city such as Mission Valley.
With the benefits of having a self-contained, self-sufficient community come drawbacks.
"The negative is cost, cost, cost. It is expensive to operate. It is expensive to build," said Clark.
Nonetheless, Clark said he and other developers would continue pursuing mixed-use development.
"We don't have a choice," said Clark.
Seeking Liberty
C.W. Clark has participated in a number of mixed-use communities locally, including the retail component of the $850 million Liberty Station in Point Loma, which includes a blend of residential, retail, office, cultural and educational space. Marketplace at Liberty Station is a $48 million, 160,000-square-foot retail center on the 430-acre former U.S. Navy training base.
Jeff Rogers, director of development at C.W. Clark, said retail space is more than 60 percent leased. The first shops and restaurants at Marketplace opened Feb. 9.
Cold Stone Creamery, La Salsa Fresh Mexican Grill, Navy Federal Credit Union, Panera Bread, Postal Annex, Sammy's Woodfired Pizza, Starbucks and Trader Joe's have signed leases.
David Onosko, senior vice president of Coldwell Banker Commercial in Carlsbad, said the trend toward infill mixed-use development is here to stay because of traffic congestion and the desire for residential and commercial users to have amenities close by.
"The cities and planning groups are making sure that developers include the amenities of office and retail and hotels as part of the development requirements, because we are running out of land," he said.
Major Projects
Onosko is handling leasing for North County's Ocean Ranch, a mixed-use project by Foothill Ranch development company Stirling Enterprises. When completed, the project will feature office, retail, medical, hotel and residential pieces.
The business park will feature 4.5 million square feet and generate between 4,100 and 8,000 jobs. Genentech Inc., Ashworth Inc., OneSource Distributors, and Coca-Cola have leased office or industrial space in the park.
A 347-unit condominium project is under construction by Newport Beach-based John Laing Homes called St. Cloud at Ocean Ranch.
Additional mixed-use, master-planned communities include Brookfield San Diego Builders Inc. and Shea Homes' newest neighborhood in Chula Vista, Windingwalk. Windingwalk will include 2,300 residences, community facilities, public parks, retail and office space and schools.
And the Corky McMillin Cos.' Eastern Urban Center in Chula Vista will be a 230-acre site with 3.4 million square feet of commercial space and 3,000 multifamily housing units.