The Experts Debate How Big Nascent Nanotech Industry Will Become
Monday, February 5, 2007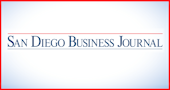 The local nanotech industry is small in more than one way.
And even the attitude of those who have successfully built and sold nanotech startups, such as Joel Martin, now of San Diego's Forward Ventures, casts a local shadow on the industry.
First, there is a disagreement about whether it is an industry or technology.
Martin notes that the biotech industry grew from a term for classifying a set of tools , essentially manipulating DNA. But he's not sure the term nanotech can make the jump because of its broader uses.
Martin, who sold Quantum Dots to Invitrogen last year for an undisclosed amount, says nanotechnology is a "buzzword."
Yet the hundreds of enthusiasts, including investors, executives and scientists, who attended the sixth annual Nanotech Investing Forum in Palm Springs last month disagree.
A Growth Spurt
In fact, UC San Diego has seen a significant increase in the number of patents businesses are licensing from researchers.
In 2005, just 2 percent of UCSD's licenses were nanotech related. In 2006, the number jumped to 19 percent, according to April Kilburn, senior licensing officer at UCSD.
Nanotechnology is the manipulation of materials at the nanoscale, which can take on different properties at that size, such as altered electrical, magnetic or optical activity, or increased chemical and biological activity. To give one an idea of how small a nanometer is: A human hair is 80,000 nanometers thick.
Investors in life sciences have not fallen into the hype, because proposed medical uses for nanotech have to pass so much more muster than using the technology to improve the strength of a golf club.
Some obstacles should be moved aside now that the Food and Drug Administration formed a task force to determine the appropriate regulatory pathways for nanotech products in medical uses.
"Nanotechnology is a means to an end, not an investment in itself, but the important thing for business is the end," said Martin, now a venture capitalist. "Somebody needs to put a successful product made with nanotech out there, and I think that's hard to do."
Local Focus
Carlsbad-based PowerMetal Technologies Inc. makes parts for golf clubs, tennis rackets and other sporting equipment with nanomaterials.
Chief Executive Officer Edward Hughes said his company recently announced a partnership with Memphis, Tenn.-based golf club company Grafalloy. Hughes said nanoparticles improve the club's strength, while decreasing its weight.
He declined to say if PowerMetal is profitable, but said, "We have more projects than we can handle at this point."
Another local firm, nanoComposix, produces engineered nanoparticles and nanocomposite materials for industrial and research markets, according to its Web site.
Nanotrope is a local, early stage nanotech company founded by the former director of device development at Nanogen Inc., a diagnostic company that employs nanotech in some devices.
Founder and CEO Don Ackley licensed nanotechnology from UC Irvine to help better deliver drugs into the body.
Ackley and his five employees are located in the San Diego Science Center in Pacific Beach.
In a year, he said his technology would be ready to sell to drug companies that make protein drugs, such as insulin or human growth hormone.
Seeking Capital
But he doesn't think venture capitalists here are easy to lure to the nanotech sector.
Now that the life sciences industry has matured, and venture capitalists have been burned, they aim to finance companies that already have products, said Adriana Vela, founder of the local trade group NanoBioNexus.
Money invested in nanotech research and development worldwide increased to $9.6 billion in 2005 from $8.4 billion in 2004, according to Lux Research, a New York City research firm.
Still, local venture capitalist Elliot Parks of Hamilton BioVentures said he doesn't know of local VCs focusing on it.
"It's in a lot of what we do, much like bioinformatics," Parks said. "But like bioinformatics, nanotech is more obviously a technology than it is a potentially successful business model."
Local venture capitalists aren't the only ones taking precaution. Nationally, the U.S. government and corporations invested $5 billion each in 2005, compared with $497 million from venture capitalists, said Lux.
Vela aims to increase the interest in nanotech locally, nationally and globally. NanoBioNexus is spending $700,000 to carry out an educational component for the Center of Cancer Nanotechnology Excellence at UC San Diego.
Vela is arranging a program on nanotech for UCSD Extension in April and a three-day credit course this summer. NanoBio & #173;Nexus also offers monthly educational forums with networking receptions.
"The next big thing is for NanoBio & #173;Nexus to move into doing consulting and our own research, which would then be licensed out," Vela said. "The possibilities are infinite. It will be a matter of focus, energy and dedication to make things happen."