Food Bank Receives Nice Block of Support From Quarterback Club
Monday, December 17, 2007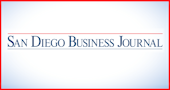 The San Diego Food Bank has launched the Chairman's Quarterback Club to raise funds for operations and food purchase programs. The food bank is partnering with the San Diego Chargers, who hosted the food drive at Qualcomm Stadium on Nov. 11. Other supporters include Tyson Foods Inc. and Citigroup. Quarterback Club supporters include Dan Shea, Ron Fowler, Malin Burnham, Steve Hoffman, Jack McGrory, Mitch Lynn and Steve and Larry Cushman. To date, $175,000 has been raised.
- - -
Hawaiian Airlines, Clear Channel Communications and the San Diego Wild Animal Park teamed up to recognize those who helped fight the recent wildfires.
Hawaiian Airlines gave $105,000 in airline tickets, and Clear Channel Communications and Wild Animal Park gave $66,000 in park tickets for the Dec. 8 Festival of Lights to the San Diego County Deputy Sheriff's Association, San Diego City Firefighters' Association, San Diego Police Officers' Association and San Miguel Consolidated Fire Protection District.
- - -
The Burnham Institute's Toast to the Future fund-raising event was held Nov. 18 at The Grand Del Mar Hotel. The event, which raised $1 million, was sponsored by Betsy and Douglas Manchester, along with Invitrogen Corp. and Tiffany & Co. "We aim to reveal the fundamental molecular causes of disease through discovery research and to devise the innovative therapies of tomorrow through transitional research," said John Reed, president and chief executive officer of Burnham.
- - -
Solar Turbines Inc. raised $1 million for the United Way/CHAD Campaign. Through its workplace giving campaign, the company raised the funds through individual donations, kickoff fund-raising events and dollars matched by Caterpillar, Solar Turbines' parent, which matched all payroll deductions and donations of $1,000 or more.
- - -
Kim Blickenstaff and his family donated $1.5 million to create the Brian's Scholars Foundation for Blessed Sacrament Parish School. The foundation was established in honor of Dr. Brian Bennett, principal of the school for 18 years who later served as director of the Office of School Choice for the San Diego Unified School District. Each year the foundation will fund scholarships for up to 100 students.
- - -
The Sycuan Band of the Kumeyaay Nation hosted its Second Annual Gift-Giving Ceremony on Nov. 29. A total of $176,000 was given to 32 charities. Among the recipients was the Monarch School with a $25,000 check; the El Cajon area American Red Cross, which received $35,000 towards the purchase of an emergency response van; and the Ronald McDonald House Charities, which received $11,000.
- - -
State Farm Insurance is contributing $250,000 to the California Department of Forestry & Fire Protection, or Cal Fire, and to the California Fire Safe Council to help firefighters keep communities safer from wildfires. Cal Fire will use the $150,000 donation to purchase firefighter protection gear and the California Fire Safe Council will use the $100,000 donation to help educate the public about fire protection.
- - -
The Thanksgiving Day Run/Walk for the Hungry benefiting the San Diego Food Bank and Jewish Family Services of San Diego raised $50,000, which will be divided between the two organizations. Father Joe's 5K Run/Walk raised $250,000 to help support the daily meal programs at Father Joe's Villages.
- - -
Donovan's restaurant owner Dan Shea, County Supervisor Ron Roberts and Karolyn Dorsee helped put on a celebration to help Jay Jeffcoat rebuild his sports memorabilia collection that was lost in the fires and to raise money for the San Diego Fire Rescue Foundation.
- - -
The Rancho Santa Fe Foundation awarded a three-year grant to Community HousingWorks for the expansion of its Los Robles Learning Communities After-School Program. The $38,000 per year will allow the program to operate year-round.
- - -
Golden Care Academy received $25,000 in foundation funding and donations from Kaiser Foundation Hospitals Inc., $3,225 from the San Diego County Employers' Charitable Organization and $10,000 from Frances Hamilton White. Since 2004, The Frances Hamilton White Foundation has donated $130,000 to Golden Care Academy. Funds received will be used for expansion, equipment purchases and core operational support. "Because of the strong demand in our community for highly trained, compassionate caregivers, expanding our certified nurse assistant program is high on our list of strategic objectives over 2008," said Jennifer Williamson, executive director.
- - -
Patterson Dental Foundation donated $2,500 to Fresh Start Surgical Gifts in support of its dental clinic. Orthodontists, dentists and dental assistants donate their time to teach dental health education to underprivileged kids. The donation from Patterson Dental Foundation will enable Fresh Start to serve more kids, giving them a fresh start in life.
- - -
The Parkinson's Disease Association of San Diego received a $16,395 grant from Las Patronas to purchase a Toshiba printer, copier and scanner. In addition to business applications, this equipment will be used to produce educational materials for people affected by Parkinson's disease.
- - -
The Merrill Lynch La Jolla and San Diego International offices presented a $5,000 scholarship to Arturo Castro, a fellow at the USC Marshall School of Business. The scholarship was presented at the third annual gala hosted by the San Diego chapter of the National Society of Hispanic MBAs.
- - -
Cox Kids Foundation awarded 15 area middle schools $59,000 in Innovation in Education grants. Sponsored by Comerica Bank, the grants will be used to create a new classroom project, build upon an existing one, purchase equipment and materials, or promote student learning and participation.
Please send Giving items to San Diego philanthropist and contributing writer Joyce Glazer at jglazer@sdbj.com .