Gateway Founder to Help Fund Expansion of La Jolla Jeans Retailer
Monday, December 10, 2007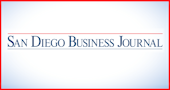 Avalon Capital Group Inc. has invested in the next phase of growth of the Cardiff-by-the-Sea boutique L.A. Fairchild Denim Bar.
Avalon, the wholly owned private investment company owned by Gateway Inc. co-founder Ted Waitt, made a "significant" investment in the apparel company in a deal that closed Nov. 1.
Laura Ann Fairchild co-founded the Denim Bar in 2005 with her sister Julie Fairchild and said Waitt became interested in helping the company grow about a year-and-a-half ago.
"(Waitt) had previously shopped in the store and thought we were a different type of concept," Fairchild said.
The specialty jeans boutique caters to customers between ages 30 and 50, offering a trendy saloon-style atmosphere complete with pool table, plasma television, dartboard and draft beer tastings.
William Parker, former president of Gateway Retail Stores and a professional general manager for retailers for 35 years, was appointed chief executive officer and member of the board of directors for the newly expanded retailer.
"Ted noticed that more and more people are wearing premium fashion denim at events. The Denim Bar offers the kind of customer service and presentation of the brand that distinguishes it from other retailers," Parker said.
Between the Denim Bar and its neighboring L.A. Fairchild Boutique, business from denim sales is about 50 percent of total sales, which Parker said is on par with the demands of the apparel market.
While Parker says the validation process for the business will take some time, the next step is real estate, he says.
"Real estate is an opportune business, so we won't know where we will be expanding for a while," he said.
"We will try to hit San Diego first, then the submarkets of Carlsbad, Encinitas and others. The key is to focus on your primary market first," Parker said.
Initial thoughts are to open two stores in San Diego, two in Orange County and two in Los Angeles in time, Parker and Laura Fairchild say.
As chief merchandizing officer, Laura Fairchild will also be involved in store design, customer marketing and sales promotions. Her sister, Julie Fairchild, will act as chief administrative officer, also playing a big role in real estate site selection, says Laura Fairchild.
"Bill Parker is a longtime retail veteran that I've learned immensely from already. It's exciting to go to the next level of my career and also live out my dream," said Fairchild.
- - -
The 30-year-old restaurant franchise Submarina Inc. has seen growth of 17 percent since announcing national expansion plans last year.
Self-described as "fast-casual," the company has franchised 53 store locations, with 42 currently open in San Diego. By the end of the year, four more stores are set to open.
In November 2006, Submarina, then a local sub sandwich franchise, announced plans to expand nationally.
President and Chief Operating Officer of Submarina Mimi Zeller said that the company has commitments for 985 stores during the next 10 years through area developers and franchisees.
The franchise has opened stores in New Jersey, Maryland, Virginia, Arizona, Texas, Florida, Oregon and Tennessee, outside of California.
Having renewed a seven-year contract with Purchase, N.Y.-based Pepsi-Cola North America, the beverage unit of PepsiCo. Inc., Submarina has chosen Pepsi as its exclusive beverage supplier in all U.S. store locations.
The cost of franchising ranges from $200,000 to $300,000 per store, according to a spokesperson.
Submarina attributes its growth to its announcement to go national, and company representatives say that they hope to surpass the 17 percent growth figure in 2008.
Send retail news to Liz Wiedemann via e-mail at lwiedemann@sdbj.com . She can also be reached at (858) 277-6359.