Stem Cell Agency Lures Richard Murphy Out of Retirement, Temporarily
Monday, August 27, 2007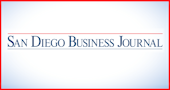 Retirement proved short-lived for former Salk Institute of Biological Studies President and Chief Executive Richard Murphy.
On July 1, Murphy said goodbye to the institution he led for almost seven years.
Slightly more than a month later, on Aug. 8, Murphy was named to lead the state's stem cell agency as its interim president while it seeks a permanent replacement.
He will serve as a consultant for up to six months at a salary of $300,000. His appointment is effective Sept. 1.
"I think everyone here is delighted he's willing to essentially postpone his retirement for up to six months so we can have him here," said Dale Carlson, a spokesman for the agency.
During his Salk tenure, Murphy initiated master planning activities that would allow the institute to double its research and administrative facilities space. He also helped renovate nearly a third of its research space.
Murphy said his decision to accept a position in San Francisco was contingent on a few important factors.
"They had asked me to compete for the permanent presidency, which I didn't want to do because my wife and I wanted to return to Boston to be with my kids and grandkids," he said.
Keeping good on his promise, Murphy said he'll move from San Francisco to Boston in March.
As its interim president, Murphy will guide the agency as it prepares to approve $85 million in grant money to help fund the research of promising scientists in their early years. It will also approve $225 million in major facilities grants in early 2008.
"The legal hurdles have all been overcome so the institute has been able to relieve large amounts of money in support of research," Murphy said.
The California Institute for Regenerative Medicine was formed in 2004 following the passage of Proposition 71, the state ballot measure that provided $3 billion to fund stem cell research in California.
To date, the agency has awarded grants worth more than $208.5 million.
San Diego research institutions such as Burnham Institute for Medical Research, Salk Institute for Biological Studies, The Scripps Research Institute and UC San Diego have benefited from CIRM dollars.
In June, CIRM awarded $50 million in grants to fund shared laboratory space for the culture of human embryonic stem cells, and San Diego institutions accounted for $10.7 million.
Governed by the Independent Citizens Oversight Committee, the stem cell agency has come under fire in the past for potential conflicts of interest in its granting of awards.
Murphy said new guidelines were prepared to prevent such circumstances from happening.
"One of the requirements I had in my agreement to serve is I wouldn't be involved in any way with the applications that come out of any place in San Diego simply because I had too many friends and I wanted to ensure there'd be no conflicts of interest," he said.
Murphy's recent appointment, coupled with two other vacancies, has left the oversight committee three members short, according to Carlson.
The board typically consists of 29 members, and because members are appointed by the state, Carlson said there's no true measure of when it might fill the vacant spots.