Organic Quick-Serve Concept Arrives in La Jolla With New Restaurant
Monday, August 27, 2007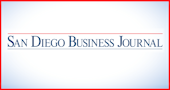 Miguel Patterson says that walking into his La Jolla eatery, Lean & Green Organic Health Bar, will be like setting foot in a gym.
"The minute customers walk in the door, they'll know they are making a healthy decision," said Patterson, owner of the independent restaurant that celebrated its opening Aug. 13.
The outlet serves healthy, organic food on the go, while promoting an environmentally conscious atmosphere.
Customers pick from organic-certified ingredients to create their own made-to-order wraps, bowls, salads, shakes, juices and shots.
Packaging, straws, plates, cutlery and all other products are biodegradable and can be recycled.
Perhaps, its most unusual eco-friendly touch is the Lean & Green business card , printed on recycled paper with soy-based ink and embedded with seeds, which turn into wildflowers when planted.
A Natural Fit
Following the principles of feng shui, the Chinese practice of arrangement of space to achieve harmony with the environment, Patterson says he wants his restaurant to look and feel natural and healthy, while blending in with the architecture and landscape of La Jolla.
"We want the ambience to remind you of how naturally beautiful our mother Earth is," said Patterson.
The company employed La Jolla-based David Robinson Design Inc. for the final concept, as the designers also worked for Jack's La Jolla restaurant.
Patterson says organic farming was traditionally the only farming method before people found cheaper ways to grow and mass produce products.
"For years now we've been putting unnatural substances into our bodies that we can't even pronounce, so we're starting to realize the damage on a larger scale and move again towards organic methods," said Patterson, who added that the price of organic foods will drop as more people become aware of them.
Certified Organic
Organic farming as a popular trend is relatively new, but the demand for organic and naturally grown foods in restaurants is growing. But when customers see the "USDA Certified Organic" label, what does that guarantee?
The U.S. Department of Agriculture requires a five-year process of analyzing the soil where crops are grown, the farms where animals are raised, and how farmers plant and grow their products, says Patterson.
United Natural Foods Inc., a Connecticut-based distributor, is supplying Lean & Green with organic and natural foods.
Frank McCarthy, UNFI's director of brand positioning, says that the USDA has a set strict of rules for what is an organic product, and the department licenses third-party certifiers to inspect and enforce regulations.
While rules vary among agricultural products, McCarthy says certifiers check records, test soil, check products for residue, ensure the absence of added hormones and antibiotics, and that animals have had access to pasture before giving the USDA organic-certified seal.
So what does "natural" really mean?
Chipotle's Natural Beef
Denver-based Chipotle Mexican Grill claims it uses natural beef, which means that cattle have been raised on a farm free of hormones and antibiotics.
McCarthy says that "natural" has a different meaning for each food category. Poultry, for example, is considered naturally raised if it is free of hormones and raised in a free-range environment.
Organic poultry, contrarily, must be fed all organic grains.
"The term 'natural' requires no certification process. But if you say on your label that your product has no hormones or antibiotics, you better be telling the truth or the USDA will come down on you like a house," said McCarthy.
Still, a shift toward naturally grown foods is a fit for national restaurant chains such as Chipotle.
In July, the fresh-Mex restaurant chain rolled out a menu free of the commonly used synthetic growth hormone recombinant bovine growth hormone in its sour cream and cheeses. RBGH stimulates milk production in dairy cattle.
Marnie McGranahan, responsible for marketing Chipotle restaurants in San Diego, says that the chain strives for higher food quality to achieve a better taste within Chipotle's "Food With Integrity" motto.
"It's a never-ending philosophy, but the trick is that currently the demand for healthy, organic foods is much greater than the supply," said McGranahan.
By next year, McGranahan says the restaurant's chicken will be naturally raised, or fed a vegetarian diet, free of antibiotics or growth hormones.
Currently, two-thirds of its chicken supplies, half its beef supplies and all of its pork supplies are raised naturally. About a quarter of the beans it will buy this year will be organically grown.
"(The term natural) varies in meaning from place to place, but we guarantee that our meaning is 'no antibiotics, no animal byproducts, naturally raised in open pastures or deeply bedded pens,' " said McGranahan.
There are 12 company-owned restaurants in San Diego County.
Previously owned in majority by Oak Brook, Ill.-based McDonald's Corp., Chipotle went public in January 2006, and McDonald's divested its Chipotle stock in October.
With 2006 sales reaching $822.9 million, the company grew 31 percent over sales in 2005.
One of the first successful quick-casual eateries of its kind, Chipotle employs 15,000 nationally.
McGranahan says Chipotle has not raised its prices since eliminating rBGH from its beef supplies.
"We are proud that we can give the consumer amazing taste from a quality environment at a $6 price," she said.