Poway Medical Office Two-Thirds Cheaper Than Hospital Construction
Monday, August 20, 2007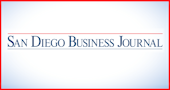 Pomerado Outpatient Services Pavilion opened the doors to its five-story, 175,000-square-foot medical office building in May as part of Pomerado Hospital's $28 million phase I expansion.
Phase II of the project will include additional medical office buildings, including a five-story, 150,000-square-foot nursing tower with a price tag of $176 million, according to Andy Hoang, communications manager for Palomar Pomerado Health, the district that operates Palomar Medical Center in Escondido and Pomerado Hospital in Poway.
Building medical office buildings on hospital campuses is both economical and convenient, said Jim Rohan, vice president of development at San Diego-based Pacific Medical Buildings.
"It's very convenient for the physician, for the patient," he said. "Dropping down an elevator to diagnostics it's convenient."
Although construction costs fluctuate, finished space in a hospital costs about $900 per foot, while finished space in a medical office building runs about $300, added John Hussey, the vice president of architecture and construction at Pacific Medical Buildings.
The Pomerado project was the first time that the health system worked with Pacific Medical Buildings, a developer of medical office buildings that also operates MOBs, outpatient facilities and parking structures for hospitals and medical groups.
The project was large compared with other medical office buildings, Rohan said, with the average MOB space running 80,000 square feet, making the Pomerado's project double the size of a typical medical office building.
Larger mixed-use MOBs also tend to be built on major campuses in urban settings, said Rohan.
Smaller Campuses
If the amount of land available is a concern, smaller campuses lean toward building two- to three-story buildings, covering 40,000 to 50,000 square feet.
In recent years, hospitals have leaned toward adding MOBs because the "average building that contains beds is very expensive," Rohan said. For ambulatory patients, it's more economical to utilize medical office buildings that can be built at a lesser cost.
"It's very typical for outpatient medical offices to be developed in or around hospitals," said Marcia Jackson, PPH's chief planning officer. "Fortunately, with Pomerado, there was enough land for the hospital."
With the campus spanning 25 acres, there was sufficient land available for the overall expansion. The nursing tower, which will double the hospital bed count, is scheduled to be completed in late 2010 or early 2011, Jackson said.
Pomerado's outpatient building will feature physician offices on its third, fourth and fifth floors. The Centre for Health Care, based in Rancho Bernardo, is housing its main clinic, general surgery office and administration on the third and fourth floors.
On the first and second floors, patients will find full-service imaging, diabetes clinic, outpatient surgery center and the 6,000-square-foot Jean McLaughlin Women's Center, slated for completion in November.
A four-story 1,170-space parking structure neighbors the pavilion.
"It's all for patient convenience," said Jackson. "It's a new, significant project."
Phase II of the project will include a bridge built from the second floor of the medical office building to the third floor of the hospital, according to Hoang. Grading for phase II is set to begin in December.
"It's convenient as a one-stop shop for everyone," Jackson said.
In the newly opened medical office building, physicians have the option for a five- or 10-year lease as well as a time-share program, on a year-to-year basis, for new residents to establish themselves, Hoang added.
Grossmont Project
Pacific Medical Buildings is also working on a medical office building on the Sharp Grossmont Hospital campus in La Mesa with completion scheduled for March.
The three-story building will be 64,500 square feet and will also have a six-level, 754-space parking structure, according to Kim Cochrane, the vice president of marketing at Pacific Medical Buildings. The parking structure is also slated for completion in March.
At the Grossmont campus, it was recently announced that the Grossmont Healthcare District, which operates Grossmont Hospital, sold $85.6 million in general obligation bonds to finance several capital improvement construction projects after Proposition G passed last year.
One project is the medical office building being developed by Pacific Medical Buildings.
Other projects include a Health Occupations Training Center, which will include classrooms, laboratory facilities and support spaces for health students, and, eventually, a multistory diagnostic and treatment building, according to John Hardebeck, Grossmont Health Care District board president, in a news release.
Ninety new beds will also be added to the hospital's emergency and critical care center.