Executive Search Firm Qualifind Scours Mexico for Best Candidates
Monday, April 23, 2007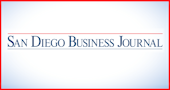 Warren Carter's Georgian drawl is still evident as he talks about his early days working as a marketing and sales manager for a San Diego customs broker, driving up and down Baja California trying to find new business.
"In those days you could drive up to a new plant that was under construction and you could literally park your car, get out, walk inside and introduce yourself. You can't do that anymore," said Carter, co-owner of Qualifind, a Chula Vista executive search firm focused on cross-border manufacturing operations.
Security measures adopted by Mexico in the late 1990s limited access to key decision-makers for maquiladoras, or twin plants operating in Tijuana and other border towns.
But that prohibition, along with a big slump in the industry from 2000 to 2002, didn't prevent Carter's business from growing at double-digit rates in recent years.
Last year, Qualifind generated $1.8 million in sales, mainly on commissions based on salaries of placed employees. This year, Carter says he's on track to reach $2.7 million.
"We've been expanding our business and getting into some new areas. In the beginning, nearly 100 percent of our business was with maquiladoras, but today it's more like 50 to 60 percent," he said.
Qualifind also serves the packaging, medical device and electronics industries , businesses with jobs located both here and in Mexico.
New Opportunities
As the global economy has altered the makeup of jobs on this side of the border, the same has been happening in Mexico, which has affected Carter's business.
Long gone are clothing and furniture manufacturing, plus consumer goods. But production in the aerospace, automotive and medical device industries is on the rise, he said.
Before Toyota Motor Corp. opened a truck manufacturing plant in Tijuana, it asked Carter to help hire the right management team. The coup came with an overwhelming amount of due diligence on Toyota's part, Carter said.
"It was the most difficult contract we ever had to get," he said. "From start to finish, the process took about six months."
At the last meeting in Long Beach, a Toyota official from Japan interviewed Carter's partner, Fernando Espinosa, about his fluency in Japanese, but did so using slang.
Espinosa, who studied the language in Japan, said he knew the official was trying to test him.
"I just answered him in Japanese that he was talking in slang, and that wasn't appropriate for this business meeting. The guy was so embarrassed, he quickly ended the conversation, said a few words to the other managers, and left the meeting," said Espinosa, who is also fluent in Spanish, English and French.
Former Rivals
Espinosa and Carter were once competitors, vying for contracts to fill midmanager and general manager positions in many U.S.-based maquilas that have operations in Mexico.
After Carter launched Qualifind in 1999, he first placed a candidate who, coincidently, had also accepted a job arranged through Espinosa's firm.
"He (Espinosa) gave him a job offer at the same time I did, and the guy accepted both offers at the same time."
The sought-after manager accepted Carter's offer because it involved a larger company that paid more, Carter said.
The two consultants continued bumping into each other at industry get-togethers, and realized joining forces would help both.
In 2000, after the men agreed to partner, Qualifind increased its sales to $450,000, double what Carter alone did in the prior year.
Boutique search firms such as Qualifind are paid commissions based on the annual salary of the candidate hired.
For the maquila placements, it works out to 25 percent of first year pay. The firm also charges fees on a retainer basis, but those contracts are the most difficult to fill because the job requirements are so specialized, Carter said.
To help them find the best candidates, Qualifind has six offices, including four in Mexico in Chihuahua, Guadalajara, Monterrey and Tijuana, and a branch office in El Paso, Texas. The company has 19 employees, including eight in Mexico.
A Proven Track Record
Because of company contacts and track record, more corporations are turning to Qualifind to find job candidates. Last year, Honeywell Aerospace opened a new plant in Mexicali and asked Qualifind to hire 300 people, ranging from managers to engineers.
It was Qualifind's largest contract and encompassed a large number of engineers who earned the equivalent of $40,000 to $50,000 paid in Mexican pesos.
Last year, Qualifind placed 157 candidates, up from 99 in 2005. Carter said the firm expects to place 180 candidates in 2007.
Practically all of the candidates have been coming from Mexico, where they have been trained in that nation's best universities. "The major universities down there are doing a good job for the most part in turning out engineers. At least, it's much better than in the United States."
While Carter, 43, doesn't speak Spanish, he says that isn't an impediment to building his business. The language of commerce in this region is really English.
"When the Japanese set up operations in Mexico, they speak English and the Mexicans speak English. It's the common language."
A Satisfied Customer
Christina Montiel, who now works for Cox Communications, used Qualifind to fill jobs while she was the hiring manager at several companies, including Sherwood Medical, Powerware, and Lambda Electronics, all with operations in Mexican maquiladoras.
"I used Warren to help me find people for all sorts of jobs, in engineering, quality control, supply chain management. I was filling jobs both on the U.S. side and in Mexico. He has a very good knowledge of the industries and the different functions. I've never had to turn back a candidate from him."
Though Qualifind is nowhere near the size of such large search firms as Robert Half International, Watson Wyatt or Russell Reynolds, the business has been doing well, because its principals and many of its recruiters have spent years in the maquiladora and manufacturing industries.
Focusing on a particular industry or occupation is the best strategy for smaller firms, said Judy Thompson, whose San Diego firm, Judy Thompson & Associates, specializes in the finance and accounting sectors.
"In recruiting, when you're handling positions (that pay) under $250,000, it's better to specialize in either an occupation or industry. The goal is to get to know the universe of the people in that arena."
Carter, a gregarious person, says job recruiting is second nature to him, and he's always meeting potential new candidates.
"If I'm in an airport, I can almost spot the guy who's probably traveling for a job interview. I nearly always go up and introduce myself. I have to meet him because he may be a client or a candidate for me sometime down the road."