Banks Find Executive Talent Thinning as Baby Boomers Hit Retirement
Monday, April 23, 2007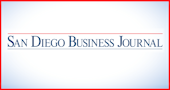 Financial Women International released a study earlier this month detailing concerns related to 78 million retiring baby boomers and the resulting toll on the banking industry.
FWI has 35 members in San Diego County and 83 members in California.
According to 168 members of the Independent Community Bankers Association surveyed, 52 percent agreed their institution is at risk of losing top talent. Another 60 percent agreed their bank needs to cultivate talent from a larger pool that includes women and minorities.
FWI Chairwoman Cindy Haas said banks are partially to blame for the pending leadership void.
"We probably haven't done a real good job at mentoring or succession planning with new hires," said Haas. "Because of that, there will be a leadership gap; they'll know the technical skills but the leadership skills won't be developed."
FWI Vice President Regina Barr said that another part of the leadership gap can be attributed strictly to attrition.
"Part of it is that it's a numbers game," said Barr. "We have 78 million boomers retiring and around 48 million in the next generation. There are just not enough people to fill those spots."
The solution, Barr said, is to expedite leadership training.
"What are missing are the leadership and negotiation skills that are developed personally and professionally, but we have opportunities at FWI to use those skills in a non-threatening environment."
To cater to San Diego's burgeoning Hispanic population, Haas recommends that local banks look to organizations such as schools or chambers of commerce, from which to draw culture-specific talent.
"Creating a culture that embraces diversity is going to be critical no matter what," said Haas.
Maru Davila, director of the proposed Conekta Bank in La Jolla, said that competition for quality management is so stiff it's tough to be picky.
"Right now, we're obviously not focusing on finding a woman or a man," said Davila. "At management, it's a challenge to find anybody.
"Management is obviously coming from other banks as they're acquired," so to look for a particular ethnicity or gender at this point in time, just isn't feasible, she said.
The proposed Conekta Bank will have its first branch location in Chula Vista and will cater to the Hispanic market. Davila said she plans on going to local schools and organizations to recruit employees, but added that finding qualified employees will still be a challenge.
"(Finding qualified employees) is one of the greatest difficulties and I don't think there is a short-term solution," Davila said, adding that finding culturally savvy employees would be harder.
Davila pointed out that the diversity problem includes customer diversity.
"(Conekta wants) to do some research so we can help promote education and development for Hispanic women and men," said Davila.