USD Law School Wins a Big Award, No. 85 Ranking on U.S. News List
Monday, April 16, 2007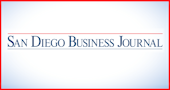 U.S. News & World Report ranked the University of San Diego School of Law No. 85 among U.S. law schools.
In addition, Thomas Jefferson School of Law's legal writing program ranked among the top programs in the nation.
The magazine released the annual rankings March 30, which listed Thomas Jefferson No. 16 nationally in legal writing.
This is the law school's second time on the list, which the magazine first published last year.
"We are delighted once again by this recognition, especially because the voters whose opinion is reflected in the U.S. News specialty rankings are faculty members with recognized knowledge and experience in a particular field," said Thomas Jefferson professor Linda Berger.
A total of 184 law schools were reviewed for the top positions in the rankings. Directors of legal writing programs nationally submitted their nominations.
- - -
They're No. 1: An IP Law360 survey ranked Fish & Richardson P.C. No. 1 among the most sought-after patent litigation law practices in the nation.
IP Law360 is a New York news service that covers stories in law, litigation and policy.
The service named Fish & Richardson, a national firm with offices in San Diego, lead counsel with the most cases in 2006. The service named Fish as the lead counsel for 89 cases last year.
"In San Diego, we have the largest IP practice, another first of which we are quite proud," said John Phillips, managing principal of Fish & Richardson's San Diego office.
The San Diego office's intellectual property practice consists of 30 attorneys.
The service ranked Knobbe Martens Olson & Bear, with law offices in San Diego, as the fastest growing patent litigation practice groups in the nation.
The survey tracks the 300 largest firms nationally by measuring new cases in 2006 in patent prosecution and patent litigation.
- - -
A New Partner: Peter Elias joined the San Diego office of Morrison & Foerster LLP as a partner.
Elias will focus on cross-border tax issues, joint ventures and mergers and acquisitions as part of the firm's tax department.
"We are delighted to have Pete with us. He will be a great addition to the team and will expand our tax capabilities on the West Coast, allowing us to better serve our corporate and real estate clients," said Thomas Humphreys, chairman of the tax department.
Mark Zebrowski, managing partner in the San Diego office, said Elias' outstanding tax skills, particularly in the corporate area, will allow the office to be truly full-service.
Elias joins the firm from Foley & Lardner LLP.
Foley & Larder lost nine attorneys last month to Procopio, Cory, Hargreaves & Savitch LLP.
Procopio created a national health care practice to represent the health care industry, including HMOs, hospitals, medical equipment and device companies, physician groups and public agencies in a wide range of issues.
Procopio now has 110 attorneys in two area offices, one downtown and one in Carlsbad.
- - -
Adding Experience: Attorney Karina Juarez joined the staff of Brown Law Group.
Juarez is a transactional law attorney formerly with Solomon Ward Seidenwurm & Smith LLP in San Diego.
Brown Law Group specializes in employment law cases involving arbitration, race and gender discrimination, sexual harassment, wrongful termination, and now transactional law.
According to firm founder Janice P. Brown, the addition of Juarez to the staff gives the firm experience it didn't have previously.
Juarez will handle the formation of corporate entities, lease negotiations and real estate purchases, mergers and acquisitions, and sales agreements.
- - -
Go West: Ben West has joined Luce Forward Hamilton & Scripps LLP's business/complex litigation practice group as an associate.
West specializes in intellectual property matters, including antitrust litigation, commercial litigation, regulatory matters, trade secret litigation, trademark litigation, and trademark trial and appeal board proceedings.
West was formerly with Santoro, Driggs, Walch, Kearney, Johnson & Thompson in Las Vegas.
Send law news to Michelle Mowad at mmowad@sdbj.com . She may also be reached at (858) 277-6359.